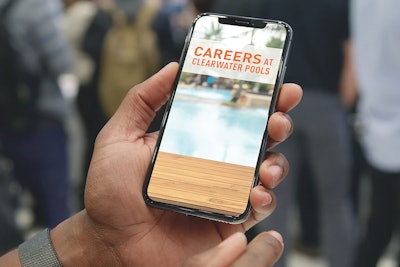 Attracting reliable and hardworking employees can be difficult. There are a lot of great potential workers out there, and many of them are a perfect fit for your company, too — but they get snapped up fast.
Still, you can improve your chances of attracting high-quality professional, reliable workers for your pool or spa business. They're out there looking for you; they just don't know it yet. With these five tips, you can smooth and straighten their path to your door, and help you build a more reliable and efficient team of workers.
1. IMPROVE YOUR COMPANY CULTURE
These days, when it comes to attracting good workers, everything revolves around company culture.
Company culture includes many things, but you could define it as the personality of a business. Your company culture influences how people feel while they're at work, the values they hold, and where they see themselves in the company. Positive company cultures sets you apart from your competitors and demonstrates that you're a great place to work.
What are the benefits of company culture? That may be hard to define precisely, but 40% of job seekers say that's their top priority when searching for a new workplace. Think of what a change that is from generations gone by.
Not only is company culture something job seekers look for when applying for a job, but it's also essential for retaining your current employees.A company that focuses on its culture and mission has 42% higher retention levels than companies that don't.
Okay, so how do you make your culture positive for your workers and potential new hires?
You can improve your company culture by:
Establishing your company's core values
Setting company culture goals
Getting your current team involved
Reinforcing positive behavior
Rewarding your employees for good work
Offering benefits and perks
Discover what motivates your employees
Always being there to help your workers when they need it
Organize team bonding events
These are all components of a strong and positive company culture, and they're what today's employees are looking for in a workplace.
But you have to market that well; how else will great employees know what a great company you have? That leads to tip No. 2.
2. HIGHLIGHT WHY YOU'RE THE RIGHT COMPANY TO WORK FOR
Similar to promoting your products or services to your potential customers, you must show off what makes your company special. You've got to demonstrate the benefits of working as part of your team.
One good way to demonstrate this is by highlighting employee testimonials and uploading images of team days out to your social media profiles and your website. It's where potential workers look first when evaluating your company, and the message has to be attractive. Also, when you're writing your job listing or updating your careers page, be sure to include a section that lists all the excellent benefits of working with your company.
This can include:
Employee Discounts
Healthcare
Fun days out
Flexible working schedule
Free training
Upskilling opportunities
Promotion opportunities
Sick days
Holidays
That flexible schedule is a big winner nowadays. According to research, a substantial number of people will reject a job offer if they can't have a flexible schedule, and far more simply don't apply if they think there will be no flexibility.
So not only are benefits essential, they're also vital for the success of your recruitment. If you don't have what your candidate is looking for, they're going to go somewhere else.
3. MAKE YOUR WEBSITE "CAREERS PAGE" ACCESSIBLE AND EFFECTIVE
Your website is where potential employees go to find a path to your company, so it is vital for your recruitment success. Take a closer look at your careers page, from the perspective of someone who knows nothing about your company.
Content should be clear and understandable. Your careers page should have everything a potential employee needs to understand your company culture and what your company is like. It should list what's involved in the open position and the traits you're looking for in a candidate.
And it should be engaging and interesting. The feel of your careers page says as much as the facts it is relating. You want to be able to grab their attention and hook them in with visuals and well-written text that say that you care about how you are presenting your company.
It's not just form, though, as function is important, too. Write down all those benefits you've discovered about your company and feature some employee testimonials to show them that you're a great person to work for.
Above all, applying for the job should be simple and straightforward, no matter what method you use to handle applicants. Create an easy-to-use online form that your visitor can fill out on the spot. Make sure it isn't too complicated, as many people will give up filling in a form if it's too wordy or too long.
Everything should also be completely mobile-friendly. Most job seekers will apply for positions on their mobile phones. So, your careers page should be visible and interactive on mobile, and your application form should also work perfectly without any issues.
If your form doesn't work correctly, especially on mobile, your potential employees won't continue with the application. Instead of getting out their laptop to finish applying, they'll simply move on to the next accessible application.
4. CONTACTING YOU SHOULD BE EASY
People will always have questions about a job, so make sure it's easy to get in touch with you. You want your potential new hire to feel welcome, so always tell them who they're dealing with during the application process and where to contact you.
If somebody is having difficulty filling in the form, or maybe their application didn't go through, they must be able to contact you with ease. Otherwise, you might miss out on the perfect candidate.
5. SHOW THEM HOW YOU'RE THE EXPERT
The last tip for attracting more reliable workers is to demonstrate why you're an expert in the pool and spa industry.
People want to work with the best in the industry, so if they can see that you're an expert, they'll feel more comfortable working and learning under you.
You can demonstrate your expertise easily by showing off the best of your work over the years, whether in service, building or retail, and highlighting how you've helped your customers.
Adding work examples on your careers page and job listings is an excellent idea, too. It shows how extraordinary your work is and gives your potential new hires an idea of what kind of work they'll be doing.
Another great way to attract top talent to your website is by writing great content. By putting together pieces of helpful, exciting, and valuable long-form content, you'll be able to demonstrate easily that you're an expert in the pool and spa industry.
I hope this helps improve your website in order to attract more reliable and hardworking employees. If you have any other tips, or want to ask any questions, then get in touch with our team — we'd love to help! Chili Pepper Design has years of experience helping people in the pool and spa industry improve themselves online. Our team will always be there for you if you want help reaching more of your potential employees.
This article first appeared in the February 2023 issue of AQUA Magazine — the top resource for retailers, builders and service pros in the pool and spa industry. Subscriptions to the print magazine are free to all industry professionals. Click here to subscribe.