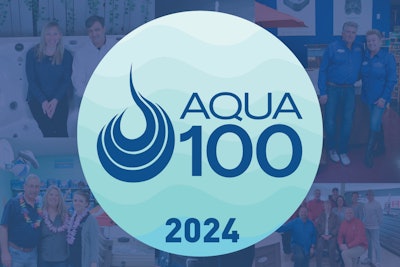 Are you a pool and spa retailer at the top of your game? Does your company excel in sales and customer service? Does your company exemplify the future of pool and spa retail?
If so, we encourage you to enter the 2024 AQUA 100 competition.
The AQUA 100 is a prestigious awards program designed to honor the best pool and spa retailers in the business. Each year for 10 years, we will induct 10 new companies into the AQUA 100. The fifth class of 10 businesses were welcomed to the AQUA 100 roster in April — will you be next?
Entry Format/Criteria:
Retailers can nominate themselves by filling out the application and answering six required essay questions, which are outlined below. (An optional seventh question is also included on the application.) To be eligible, entrants must answer all six required questions. Additional supporting materials are highly encouraged.

Application questions include:
1. Company Story: Tell us about the history of your company and your core philosophy.
2. Customer Service: Provide examples and/or anecdotes that best exemplify your company's customer service. Include photos and/or other documentation as appropriate.
3. Store Design: Include quality photos of your store design. Include information on merchandising techniques, unique locations, etc.
4. Digital Footprint: Tell us how your company stays up-to-date in today's digital frontier.
5. Marketing: How do you promote your business? What's your best success story?
6. Future Plans: What's next for your company? Tell us about your plans for the next five years of your business.
7. (Optional) Other Activities: This is a catch-all category that allows you to show the judges anything else that you think sets you apart from the ordinary retailer. Include photos and/or other documentation as appropriate.
Prizes:
Companies inducted into the AQUA 100 will receive a trophy to display in their store, a press release to submit to local media outlets and graphics that can be used in marketing materials. Winners will also be featured in the April 2024 issue of AQUA Magazine.
Fees:
It costs $95 to enter the AQUA 100.

Pay Online
Pay online by going through our pay portal. When filling out invoice details, write AQUA 100 in the Invoice # field.

Pay via Check
Send a check to us at the following address:

AQUA Magazine
22 E. Mifflin St.
Suite 910
Madison, WI 53703

Can retailers in the AQUA 100 Hall of Fame enter?
Yes! Those in the Hall of Fame are eligible to enter the New AQUA 100.
If I already am a New AQUA 100 inductee, can I re-apply?
Currently, the 50 retailers that make up the New AQUA 100 should not re-apply, as they will not be inducted a second time.

What if I have more questions?
Reach out to us at [email protected].
Fine print:
Permission is hereby granted to publish materials photographs and all other items submitted in this and future issues of the magazine, on the magazine's website and for reprints.