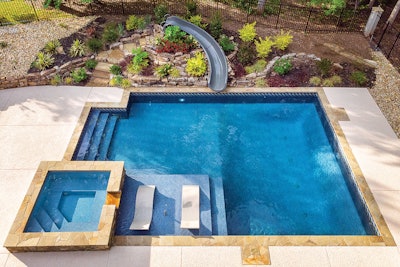 All photos courtesy J&M Pool Company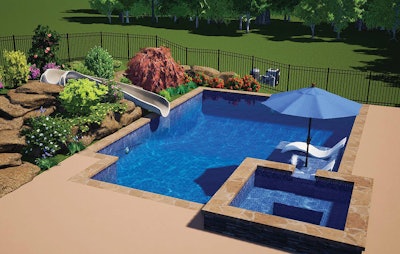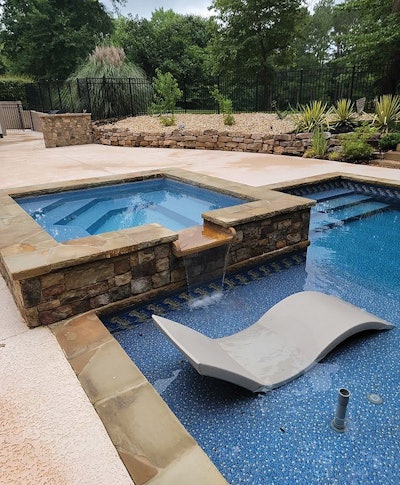 J&M Pool Company has been in business for decades, building and servicing pools in and around the state of Georgia. They won GOLD in the 2022 PHTA Awards of Excellence international competition for this gorgeous vinyl-liner projection Senoia, Ga. — which proves once again that a well-designed backyard is just as beautiful around a vinyl-liner pool as a concrete one, only faster to complete and more affordable. The project manager, Judd Wilson, took time to discuss the building process, start to finish, behind this southern belle.
"We don't have a template for this type of pool. This is all custom and based on what the homeowner wants," says Wilson. "Oftentimes, a customer will show our design team pictures from Pinterest or from our design studio, and just pictures from other jobs we've done that they really like to give the team an initial idea of what they're looking for. This couple really liked the idea of having a spa spill over onto a tanning ledge, an idea they had gotten from a picture of one of our past projects."
That design phase began with a free pool consultation and estimate, which led to a full 3D rendering of the project — complete with videos and photos, both installation estimates, and a scaled 2D construction drawing.
As project manager, during this phase, Wilson is doing mostly oversight. "Our company has in-house designers and sales staff, so in the beginning stages, I get involved a little bit to make sure everyone's on the same page as far as location, equipment and all that kind of stuff goes, but for the most part, the designers and sales team are communicating directly with the customer to envision their perfect backyard pool."
Thanks to the hands-on design team, these particular customers designed their dream vinyl-liner swimming pool, complete with the sun shelf and spillover spa that had captured their hearts, and signed off on the project, which is when Wilson came into the picture.
"My first step is to obviously go out to the property and paint the project, and then, based on if our design is correct, confirm its location and where the customer wants it," says Wilson. "All other aspects of the space — like the existing patios and house — must meet all the prerequisite code requirements. We also make sure we're offset with any septic tanks or sewer lines. Once this is all finalized, we fly a drone up above the paint job and take an overhead of it. Then, we take this image to our design team and confirm the paint job is accurate. Once confirmed, as long as we don't have to move any trees or anything like that, we move on to excavating."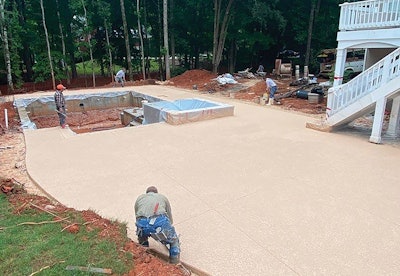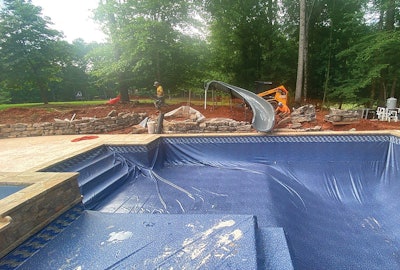 After the pool is dug, for a vinyl-liner pool, the next step is to pour the concrete walls and ensure plumbing is in the correct location. The next day, the contractor who poured the walls will pull the forms off, and then pour the rest of the structure. "On day two, the contractor poured the steps, benches, tanning ledges... basically everything in addition to the pool walls," says Wilson. "The actual spa pad is poured and the spa is set in place on day two as well."
On day three, the rough electrical and plumbing is worked on, so they can call in for inspections. Once they get the go-ahead on inspections, they start their masonry work.
"This pool had a raised spa, so we do masonry there, and then backfill it after that," says Wilson. "Once it's backfilled and everything is settled in, we pour the decks, set the equipment, drop the liner in and fill the pool up. This project was a bit more involved because of the slide and landscaping that went along with it, so we kind of worked on that in between the other phases of the project."
"The slide did present some challenges for us because it needed to be installed very specifically in terms of the placement and elevation of the footings. Making sure that the plumbing was actually coming up in the correct spot so that the slide could operate properly was very difficult, too. We were also incorporating boulder walls, planters, irrigation, and lighting — everything that goes into making this project what it is. It's not just a one- or two-day job; there's a lot of thinking and planning before we just plop something like a slide down. Thankfully, we had an in-house subcontractor who helped us out with the slide's design and landscaping. Since then, we've added an in-house landscaping team to our J&M arsenal."
This pool also had an abundance of right angles and steps, a layout that can be tricky to navigate when trying to lay in a vinyl liner; however, J&M Pools has mastered the art. "We go on site and do a full AB, and then, we go back and forth with the manufacturer — which in this case, was Latham — until everything lines up," says Wilson. "Measuring out pools like this is pretty painstaking; I think it took two of our guys about four hours to measure this one."
Being located in the sunny state of Georgia, J&M Pools gets a lot of customer requests for cooler decking material, which is why they chose Mortex Kool Deck for this specific project."Our customers really enjoy walking on something that is a bit cooler to the touch," says Wilson. "As far as colors go, we do a lot of the same types of combinations of a natural tan stone with a tan or buff Kool Deck top like you can see in this project."
J&M's VSPs circulate water through an in-floor cleaning system, two skimmers, a dual main drain in the deep end, several wall returns, and a bubbler on the tanning ledge. "We like to use bubblers on as many tanning ledges as we can because it helps keep debris off of them," says Wilson. "We also try to place returns where they make the most sense for the circulation of the pool, as well as for keeping areas like benches and steps cleaned off. For the slide, we had a separate set of suction lines so that we could have a return dedicated solely to it."
J&M Pools shares the pump and equipment between the pool and spa, allowing the spa to spill over into the pool. This specific spillover spa had six wall returns, along with a singular floor one.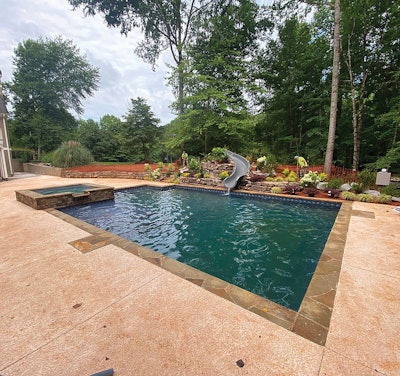 The equipment pad was placed in the back corner of the property, just inside the homeowner's fence, to hide it from blatant view. J&M Pools uses Hayward products and the Omni platform system, enabling customers to control everything — besides maintenance — from their phone. Ultimately, the couple was thrilled with the final outcome of their vinyl-liner swimming pool; however, it was their three children who couldn't wait to make a splash in it.
This article first appeared in the April 2023 issue of AQUA Magazine — the top resource for retailers, builders and service pros in the pool and spa industry. Subscriptions to the print magazine are free to all industry professionals. Click here to subscribe.