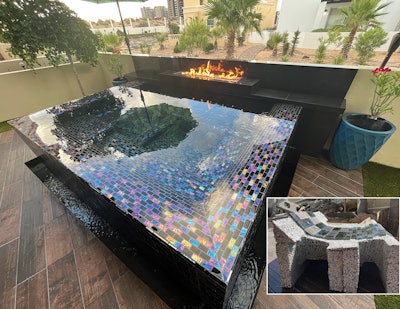 All photos courtesy Judd Smith
For 35 years, Judd Smith visited Puerto Peñasco — a Mexican fishing port and resort city on the Gulf of California also known as Rocky Point — as what he calls a "weekend warrior." Then, in 2020, the Arizona-based pool and spa builder and his wife moved to the village permanently, where he set about installing a spa at his new home.
He quickly realized that would be easier said than done.
"Despite the progress in construction over the past 30 years or so, the community is far behind the times in terms of conventional swimming pool construction methods," Judd, 61, says. "You will not find any shotcrete rigs here to pneumatically construct a monolithic concrete shell as [you would] in the States. Likewise, there are no plaster rigs to shoot plaster or pebble products. Pretty much everything is hand-built, the old-fashioned way."
Building a spa "the old-fashioned way" would have meant relying on traditional, concrete masonry units (CMU) or concrete blocks. Smith admits he didn't feel comfortable using CMU to build his spa, explaining how he's aware of several local pools constructed with that material that have structurally weakened over time.
"The walls are built vertically, with vertical rebar extending to the top of the pool wall," he says. "The walls are then haphazardly filled with a soupy concrete in an attempt to fill the voids inside the block. The reality is many of the voids do not get properly filled, resulting in a weak wall. When the pools are filled with water, the outward hydraulic pressures often cause stress cracking and leakage. I've seen that condition repeatedly here in Mexico."
If Smith (an engineer by trade) was going to build himself a spa, he needed to find a super-strong alternative to concrete blocks. That's when he found out about The Perfect Block, the brand name of insulating composite concrete forms (ICCF) made by a Peoria, Ariz.-based company called Eco Building Systems Corp.
Initially developed as an energy-efficient alternative building solution for homes and buildings to preserve forest populations, The Perfect Block products are made using 100% recycled expanded polystyrene (EPS). Just as the name suggests, the system provides lightweight forms for concrete, which is poured into the top of the wall over vertical or horizontal rebar, giving the structure strength. But the block's foam surface, which is the substrate for the tile, is easy to shape.
"I visited the factory and met with the guys there, and they're like, 'You're going to build a spa with this?'" Smith says. "And I'm like, 'I think so. I don't see why I couldn't.'"
So that's exactly what he did.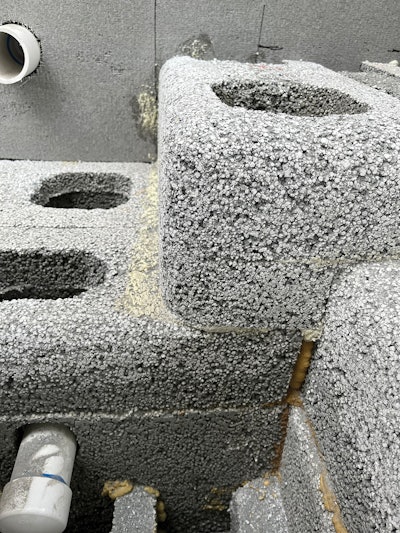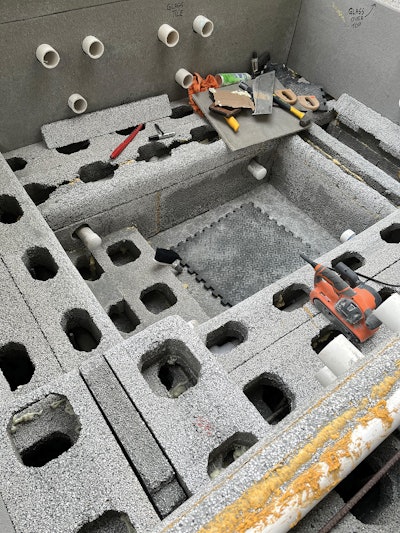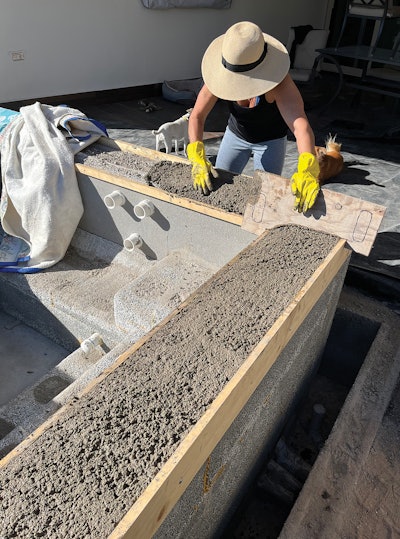 Block This Way
Smith completed his 7-by-10-foot inground perimeter overflow spa with ICCF blocks and glass tile, accented with a fireplace wall and stucco-finish garden wall in summer 2022 — and he's upfront about not wanting to be a walking billboard for The Perfect Block.
"I have no affiliation with them other than purchasing their products for my projects," he says. "They are an eco-friendly product, for sure."
The foam blocks Smith used to build his spa were 4 feet long and came in widths of 6, 8 and 10 inches. He drilled holes through the blocks for pipes and rebar, and then sealed the penetration points, just as he would for other, more traditional projects.
"My plan for this spa was to use carbon-fiber rebar instead of steel, but I was unable to source it due to supply chain issues," he says.
Like most pools and spas in the area, Smith's spa boasts a tile interior. But unlike other builders in the area, he waterproofed the walls before tiling by applying two coats of a rubber-and-cement-mix product made by Mexico City-based Fester México.
Next, he used Laticrete thin-set formulated to work effectively with the black Twilight Series glass tiles from Artistry in Mosaics that were used on the spa's interior and exterior. All tile was grouted with gray Laticrete grout, which then was covered with a liquid sealer.
"It's as solid as a rock, with no leaks," Smith proclaims. "As the manufacturer has told me, I am the only builder who has used these blocks to construct a swimming pool — or a spa, in this case. If you try to compare them pricewise to regular concrete blocks, they are more expensive. But in my opinion, that is offset by their convenience of use, simplicity to construct and insulation properties."
Additionally, Smith created contoured seats and the spa's overflow edges by taking a belt sander to the foam block. The black tile for the back fireplace wall is made of porcelain, which withstands high temperatures, and the fire feature is liquid petroleum gas with an electronic spark ignition and a gas-flow control key.
The entire process was so much less chaotic than a traditional project, he claims.
"When you're shooting with shotcrete, you've got 10 guys, concrete trucks, people stepping on pipes and breaking them. There are all these little crises happening," he says. "Then you've got the expense of the concrete, and you have to hope the subs are doing the job the right way. With this block, you're not under time and crew constraints. This is a lot more fun."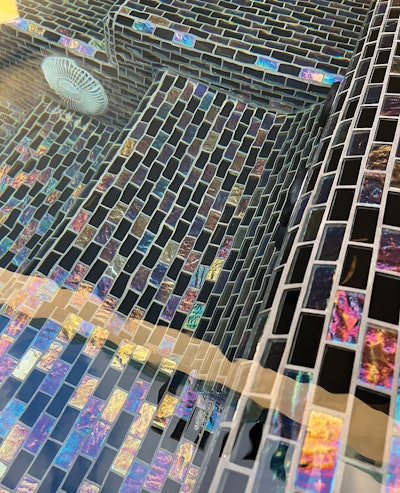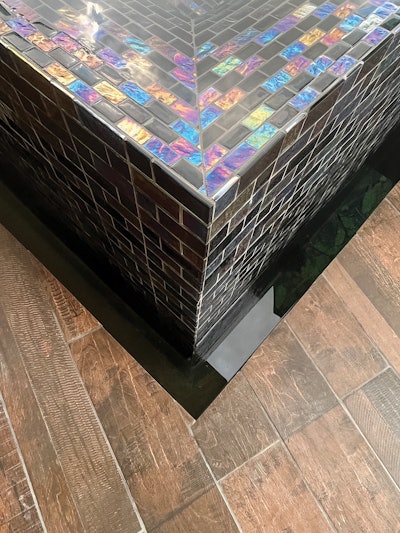 Back In Business
Following the success he experienced with his own ICCF spa, Smith has re-entered the building business. His company is called Diamond Outdoor Living, MX, which specializes in pools, spas and other aspects of outdoor living. All his work comes via word of mouth; the company has no website and does not advertise.
Smith employs one full-time crew member — the son of a local home builder, to whom he's teaching all aspects of the pool trade — and the company only relies on subcontractors for specific tasks. Diamond Outdoor Living builds pools and spas using either traditional materials or ICCF, and although Smith has yet to complete any projects with the foam blocks, he has used them to construct pergolas (which are known as "terraces" in Mexico).
"I didn't come here with the intention of building pools, and I really wanted to test the product on my own before I started selling it, because nobody's built pools with this particular product," he says, adding that he's not worried if his methods take time to catch on with customers. "It's like anything new: If there's not a track record, there's a risk involved. Will some people be willing to take that risk? I think so. If I believe in it, I'm going to guess they'll believe in it. We're going to build some pools and have fun with it. And if this process can improve the building culture, that's a good thing, right?"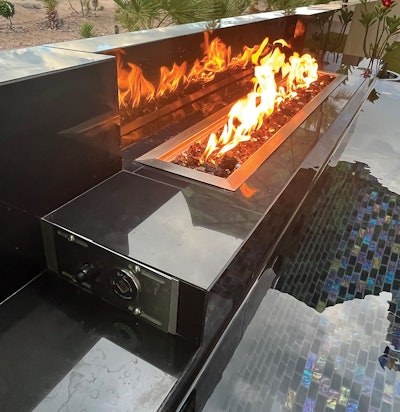 ---
This article first appeared in the January 2023 issue of AQUA Magazine — the top resource for retailers, builders and service pros in the pool and spa industry. Subscriptions to the print magazine are free to all industry professionals. Click here to subscribe.