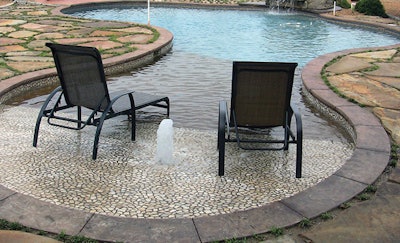 The evolution of liner pools from the cookie cutter to custom stands as one of the industry's true success stories. The rising tide of liner options has been driven by equal parts technical innovation from manufacturers and business chutzpah from forward-thinking builders. Here AQUA's senior editor discusses a segment of the pool construction market that many believe has changed more than any other.
Of the three common types of pool structures – vinyl liner, fiberglass and gunite/shotcrete – the so-called package/vinyl liner pool has arguably been the most upwardly mobile. From the days when liner pools were known dismissively as "baggies," manufacturers and builders have steadily expanded the boundaries of possibility in vinyl to serve a higher-income clientele.
"Liner pools used to be the Honda Civic or Toyota Camry of the industry," says Randy Budd of Budd's Pools in Deptford, N.J. "There was no shame in owning one; standard package pools long provided great value for a certain group of customers. But," he quickly adds, "the gunite customer would never have dreamed of buying one."
Once limited in shape, size and liner patterns, and absent nearly all of the features associated with custom concrete pools, package pools have evolved to the point where in many cases, it's tough to tell the difference between liner pools and their concrete counterparts. Advances in liner manufacturing, specifically the use of CAD-driven design and manufacturing, have long been lauded as the most important development.
With the ability to specify liners of any shape and size, along with vastly expanded pattern and color options, builders who were once limited in what they could offer homeowners now deliver dazzling designs.
And the expanded aesthetics of liners have prompted many builders to think far more creatively about other key material choices. "We were putting blue stone coping and decks around these pools, they looked great, and people were amazed," Budd says. "Then when manufacturers started to come out with benches and different step designs, we came to the point where we could say you can have almost anything you want in liner pool. We can build it."
PANEL DISCUSSION
The ever-expanding selection of liner patterns is just the beginning. Innovations in the structures themselves have also made it easier for vinyl liners to evolve.
Be it galvanized steel construction, composite panel systems or poured-in-place concrete, the ability to reach beyond rectangles and lazy L's has enabled builders to bridge the gap between vinyl and custom concrete.
"When the manufacturers got into radiuses and different shapes, that was a game changer," Budd says. "No longer did you have to pick from two or three basic patterns — you could make virtually any shape you want. That's when the industry started to change to where you'd see freeforms, cantilevered decking, stamped concrete and other details. The builders started telling customers you can have a vinyl pool that emulates a gunite pool."
In addition, Fox Pools, has introduced a line of hybrid pools, called the Ultimate Pool, that can be installed in-ground, partially or entirely aboveground.
"It gives a potential customer the option to have an inground or semi-inground pool that is well built, just like a full-blown inground pool, but at a lower price point," explains Eric Johnson of Johnson Pools in Owego, N.Y. "In the past, the only lower-priced option for these consumers was an aboveground pool, and many customers want something higher-end than that. Abovegrounds don't survive the winters well in our region of the country."
"We have doubled the sales of this particular pool over last year. This is our fourth season and the product is taking off like a rocket," says Dean Rice of Rice Pools in Hermitage, Penn. "Our area has been a bit depressed, but this option is really attractive to people who want an expensive and attractive inground pool, but don't want to spend as much as they would on an inground gunite pool."
"It's also opened up an entirely new potential market — those consumers with sloping backyards," adds Johnson. "In the past, these consumers didn't have a good option for an inground pool, but because the Ultimate Pool can be installed semi-inground, this pool can be installed perfectly on a sloping backyard terrain."
NEW FORMS
While panel systems have vastly expanded consumer options and helped builders broaden their target demographics, consolidation among manufacturers has, according to some, "homogenized" the market, meaning competing product lines have become more similar to each other than they once were.
As a result, some builders have turned to competing strictly on price, a trend that prompted more quality-conscious builders like to look beyond panel systems as a way to distinguish their work from low-balling competitors.
"That's when we started looking at concrete wall construction," Budd says. His company now builds liner pools with poured concrete walls and most recently has moved into building all concrete pools. "It's all about differentiation. Now there's a whole different way we talk about liner pools. They're made with 10-inch thick reinforced walls of 4,000-psi concrete with vermiculite floors. Really the only difference between the liner pool and the gunite pool is what makes them waterproof."
One of the professionals who has helped drive the popularity of the concrete-wall option is builder-turned-manufacturer Frank Wall, founder of Frank Wall Enterprises in Columbus, Miss. A gifted innovator and inventor, Wall has developed a system of reusable concrete forms that can be configured to create almost any conceivable pool shape.
"We started manufacturing radius forms about 10 years ago that provided the ability to really design some outside-the-box pool designs," Wall says. "Now we have designed forms to pour many styles of steps, benches, sun ledges, raised walls, attached spill over spas, vanishing edges, automatic cover boxes, beach entries and also the ability to pour an all concrete pool with the aluminum forms, replacing the skilled labor and expensive equipment needed to shoot a gunite pool."
Wall's system, known as AquaForms, can be used to create both geometric and freeform pool shells using pre-designed templates or by using the forms to create original shapes. The aluminum forms are made in 36-inch pairs for inside and outside forms. Walls are constructed as freestanding structures that can be backfilled for inground applications or for raised wall designs.
"Once a builder buys a set of AquaForms, he now becomes the manufacturer of his own pool," Wall explains. "He no longer has to depend on someone else to manufacture pool kits for him. No more freight cost shipping kits to his location. The builder now has complete control of the quality of the pool he is building. The cost of the pool wall, steps and bench now has become half the cost of a manufactured kit."
"That level of control is important to me because as a builder, there is a standard that I will not go below," Budd says. "It's a more substantial structure of higher quality than what is being put in the ground today, in my opinion. The concrete walls enable me to differentiate myself so that when a consumer comes in my door, we're offering something different than our competition."
CREATIVE CONFIDENCE
According to both Wall and Budd, homeowners who are drawn to the structural strength of concrete walls but still appreciate the comfort, serviceability and affordability of liners can now have the best of both. From the builder's perspective, the system enables them to comfortably move from standard shapes into more creative designs.
"What I've noticed is the first year a builder has his forms, he'll stay with the standard shapes, the drawings that he has," explains Wall. "Then in the second and third year they'll start to make changes to the shapes. It's so much fun to watch the builders become more creative. I like to say the only limitation are the number of forms you have and your imagination."
That creativity has led builders to use the forms to construction retaining walls and other masonry structures beyond the water's edge, which has led some builders to move toward projects that encompass the surrounding landscape.
"If you see the liner pools we're building now," Budd adds, "it's difficult to tell it's a vinyl pool. Probably three quarters of the people who look at them simply assume it's a gunite pool."
Comments or thoughts on this article? Please e-mail eric@aquamagazine.com.