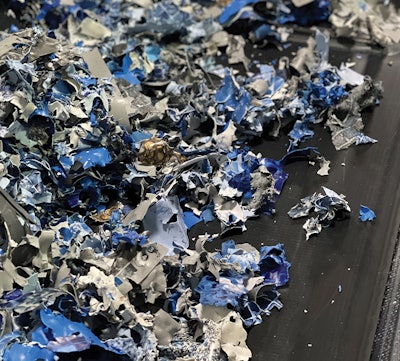 All photos courtesy i2M
Amid growing pressure on many industries to address their environmental impacts, the pool and spa sector is expanding its role in a more sustainable future. Increasingly, pumps, heaters and filters, along with construction and service techniques, are evolving to minimize energy usage and waste. Add vinyl liners to the list.
For context, nearly 27 million tons of plastic — including PVC, the key ingredient in vinyl-pool liners — was landfilled in 2018, according to the EPA's most recent data. That year, plastics made up 18.5% of total municipal solid waste.
In addition, of the 840,000 tons of PVC products that were generated, less than 5,000 tons were recycled, amounting to less than half a percent.
Alex Grover, president of vinyl film manufacturer i2M, is all too familiar with these striking numbers — and she's on a mission to help reduce them. "In order to help eliminate plastic from the waste stream, it's critical for industries as a whole to identify a sustainable solution," she says. The launch of i2M's ReNew vinyl-liner material could offer just that.
ReNew material is manufactured using 51% pre-consumer recycled content, in a process independently certified by SCS Global Services. The product's predicted impact, if realized, could be a game changer: If one quarter of the country's inground pool liners were produced with ReNew, nearly 7.5 million pounds of plastic could by recycled, according to the company.
At the same time, for customers looking to reduce the environmental impact of their swimming pool, a vinyl-liner pool with a renewable liner offers a clear green advantage over other pool shell types.
"My objective with ReNew is to bring awareness to this and to support the swimming pool industry as a whole in driving forward with sustainability," says Grover. "That means developing these products, providing education about them and ensuring a long-term saleable future for pools in general."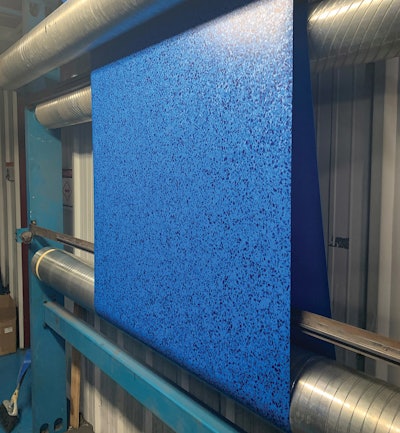 READY FOR TAKEOFF
Launched in early 2022, ReNew has only just hit the market. With warmer temperatures yet to come, it's still too early for most builders to start vinyl projects — but i2M and their partners have high hopes for ReNew this season and beyond.
"When i2M first presented this program to us, it was something that we absolutely wanted to be a part of," says Thomas Kennedy, marketing director for Tara. "We're focused on reducing waste this year. That's one of our main initiatives: tracking waste, keeping up with it and finding out where we need to make improvements."
i2M worked with Tara to develop an exclusive, custom design on ReNew film, called Island Dream. Currently, it's Tara's sole offering made from ReNew material, but Kennedy says this is just the beginning. "We're working on including ReNew vinyl to the extent of eventually switching most of our patterns over, so that they're all recyclable."
Merlin Industries, another member in the vinyl market, is a fellow advocate of the new sustainable material. "We're very excited about the idea of ReNew liners. We took advantage of carrying one as soon as it became available to us," says Susanna McGrogan, senior marketing manager. "When we first announced that it was coming out, we got a lot of questions about it and had a lot of interest in it. We're looking forward to seeing how they look and function."

COLLECTING CHAMPIONS
Current guidance from the Waste Authority states that pool liners are not recyclable and should be disposed of with regular trash. Of the nearly 5 million vinyl pools in U.S. backyards today, Grover estimates that about half a million get replaced each year — meaning half a million old liners end up in landfills.
"I think it's incredibly important for our industry to start not just thinking about using recycled content and ingredients, but to start thinking about circularity," she says. "We need to pay attention to every single part of the chain of custody for plastics and vinyl, and find opportunities to take back that material."
This is the idea behind the ReNew Champions initiative, a first-of-itskind vinyl-liner takeback program. i2M designed bins to collect used pool liners and offered them at no cost to all of their customers, even those who don't yet carry ReNew material.
"When a bin is full, we arrange transportation and pay for it to come back to our facility," says Grover. "Then, that old liner material, although not made into another pool liner, is reprocessed. Generally speaking, it will be recycled into a variety of other heavy-duty waterproofing membranes that we produce. It sort of runs the gamut, depending on the type and quality of the returned liners that we receive."
"We can also take back different scraps, and even vinyl pool floats," Grover adds. "If a homeowner or dealer has any of those items that they want to get rid of, they can drop them off in one of our bins and know that they're going to a place where they can be recycled instead of going back into the landfill."
Tara is one of the first to participate in the Champions program. "We just recently received our container," says Kennedy. "It's a new program, so we'll have to get the word out to our local dealers. It's going to be a bit of a learning process to figure out what it takes to get people to bring their liners to us."
Merlin is participating as well, and expects to receive their own collection bin soon. "We definitely want to make our customers aware of the option, because we want to recycle as much as we possibly can," says McGrogan. "I really hope that this program is successful. We'll just have to wait and see how it all goes."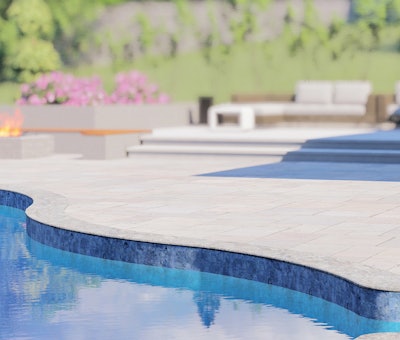 LOOKING FORWARD
Considering the rising consumer interest in eco-friendly products — and a new generation's watchful eye over manufacturers' environmental responsibility — ReNew is poised to be a welcome addition to dealer portfolios.
"Since we've had such an increase in business during the last couple of years, I think we as an industry kind of lost sight of, or lost track of, the waste. It was just about getting things done," reflects Kennedy. "But we're competing with other entertainment industries, and everybody's making strides in sustainability. If we don't start doing something about it, we're going to get left behind."
---
This article first appeared in the April 2022 issue of AQUA Magazine — the top resource for retailers, builders and service pros in the pool and spa industry. Subscriptions to the print magazine are free to all industry professionals. Click here to subscribe.