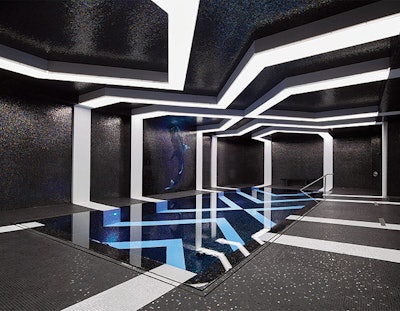 When a customer first gets an indoor pool, it's no surprise to hear them describe it as a life-changing experience. One of the greatest parts of summer becomes accessible no matter the season, and it's open regardless of the elements. So when friends start asking if the investment was worth the hefty price tag, one of the most common responses is, "It's hard to put a dollar amount on something like that." But one indoor pool in Ontario brings a whole new meaning to the phrase.
Imagine a pool designed to perfectly fit not only your style, but your personality and interests — and best of all, money is no object. That's exactly what happened when the building company Homes by JoJo purchased 2 million tiles (tesserae) from the tile laboratory of SICIS, an art mosaic factory based in Ravenna, Italy.
The same factory also has the most important musive art Atelier, where a team of master mosaicists followed the designer's blueprints and instructions to recreate the exact pattern conceived, from the elaborate shark to the rest of the surfaces. The end result is a jaw-dropping masterpiece that looks as though it belongs in a modern gallery, though its location in the client's basement manages to do it just as much justice. From the sleek design of the floor to the seamless transition into the mosaic shark, it's something that appears to be truly priceless. And behind this combination of talent and tiles is an artist named Joanna Pietras.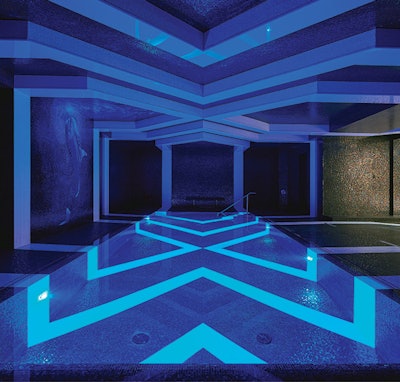 USING THE CLIENT TO CREATE ART
Pietras attended art school in Poland before moving to Toronto to pursue a career in architectural design. Her unique process is what helps create these larger-than-life installations. She describes it as "picking at the brains" of her clients to truly understand what it is that they want. In this case, there was one crucial piece of information that laid the foundation for the pool.
RELATED: Up Close Look: Glow-In-The-Dark Tiles
"The one thing my client said is, 'I travel a lot, and when I come home, I want it to reflect that — to feel like I'm away but with the added comfort and quiet,'" she says.
At first glance the pool can only reveal so much without explanation, but each decision had a purpose. Pietras discovered that the client had a favorite intercontinental hotel he liked to stay at when he would visit Germany. To consider every detail of the man's traveling experience, she called the hotel to get the rundown on everything that went into its pool. The main thing that stood out was that the hotel's pool had a Badu Jet, a self-contained water propulsion system that creates a powerful and low-profile current. Pietras contacted the manufacturer to make sure she could get the same system installed, and then moved from there.
The house of the client as Pietras described was clean, crisp and perfectly white; simple, but magnificent. And her description of the client himself only further inspired the art. Everything about this man and his life is explained as very subtle, but it's stated that he carries a "wow factor" that can't be missed. This developed the basis of the entire project. A simple design, but something remarkable. Incredibly strict lines that form an organic work of art. Nearly two years of work and two million pieces of tile, each revealing a new part of one person.
"Who the client is and what they do is reflected into every thing that I make for them," says Pietras. "And they get to walk in and say, 'Wow. Yeah. This is me.'"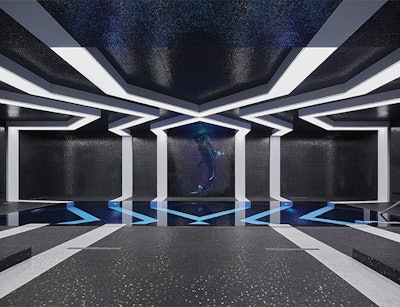 PERFECTING THE PROJECT
Pietras is a perfectionist, and it shows through the details. She works tirelessly with her crew to make sure everything goes according to plan, but she's never ashamed to admit when something doesn't go as intended. What's important, she adds, is how you're willing to fix the things that don't work.
"I made my crew rip it out a couple of times," she says. "Not to any point that I was wasting material, but I had to make sure that it was perfect."
RELATED: Tile Installation 101
The 2 million black and white glass tiles are from SICIS' Iridium, Murano and Pluma collections; a combination of opaque, semi-opaque and semi-gloss tiles. Blending these three tile variations helps create weightlessness on the walls and drives the structural manipulation necessary for the artwork. Specifically, the Pluma collection was "created for modern homes lived with energy and lightness," and comes in colors that mimic shadows in nature, according to the SICIS website. It's this use of subtle material that requires a surplus of knowledge, patience and in-the-moment revisions to develop something so powerful.
"When you're working with dimension and start changing direction, things go narrower and wider," says Pietras. "My strips on the wall were changing dimension, and I didn't want them to. So I had to come up with an idea to turn those lines to make sure they're exactly the same throughout. A lot of it is being able to think on your feet."
It was also important that the mosaic tiling was the exact same color as both the LED lighting and covering so that the white line could be continuous and turn into the lighting on the ceiling. To accomplish this, Pietras went through multiple color samples for the LED strip as well as the fiberglass. In the end, the design fl ows harmoniously as one unbroken shape.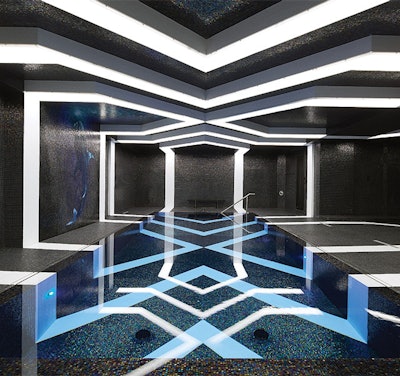 BEHIND THE SCENES
Installing 2 million tiles is no easy task, especially when the end goal is to make a giant interior mosaic. The pieces have to be perfectly cut on an angle so when two tiles are put together they can imperceptibly create one color. In short, it's an intricate work of patience, all made in Ravenna by SICIS mosaic masters. Whether describing the hands-on labor, the creative design or simply seeing an unfinished project each day she goes to work, her comparisons range from feeling like "a kid in a candy store" to "a wicked feeling of incredible anxiety." She explains it as a rush of adrenaline that she gets to feel every day she clocks in for the job.
RELATED: Tile Magic
From her first career opportunity building a cottage to other pool-related work, she has planned for the future. Pietras makes sure she gives credit where credit is due. She admits she can only make it so far without the team of people she works with, including her husband who she adds is not only a terrific framer, but a crucial part of the team and a constant source of reassurance for every project that they work on.
"I'm just a woman with ideas," she says. "We all have ideas. But to have people behind you who understand your ideas, and see your vision, and will execute it to your liking, that's what makes me complete. It's not just me, it's me and my guys. We create the whole picture."
It's true that Pietras and her crew figuratively, and literally, create the whole picture. And surely a picture this priceless and extraordinary required detailed blueprints or a substantial draft to perfect it in the end, right?
"The design started on a piece of napkin," she says with a strong but subtle laugh. "Sometimes the simplest sketches create the best results in the end."