Bodies of water finished in glass tile can be among the most beautiful vessels made by human hands. Without question, it is the most expensive type of interior finish for pools, and expectations for glass tile appearance and performance run high in the minds of homeowners and builders. Ensuring proper product performance means following a carefully orchestrated and researched set of measures. Here, tile installation expert Amy Denny of Alpentile offers a concise primer of the steps needed to create the luminous sparkle homeowners desire.
It's arguably the most spectacular material used to adorn swimming pools, spas, and interiors. Glass tile is a durable and delicate material that will handily survive the harsh pool environment, but only if it is installed correctly. The multi-layered installation system that protects the tile requires time and skill, and when important steps are missed, the possibility of glass tile cracking or losing bond increases dramatically.
When I consult on failures, I typically find they are a result of multiple, often budget-driven decisions. By contrast, I find the most successful glass-tile pools are planned from the beginning stages to accommodate the tile. Builders who pay attention to the following considerations will deliver higher quality glass-tile pools and experience lower risks of failures.
For the purpose of this discussion, we'll break down the complex process into two major steps: preparation and installation.
POOL PREPARATION
Before you open boxes of tile and break out your tools, there are a number of basic considerations needed to set the stage for a successful installation.
• Know the cure times: A glass-tile pool requires about two months of time to cure before the client can start swimming. The shell needs 28 days; the mortar bed, 7 days; membranes, 24 to 72 hours; thinset, up to 21 days. And don't forget to add the tile installation timeline.
• Environment control: The importance of controlling the environment during installation cannot be overstated. Ideally, glass-tile installations in pools should be scheduled during the mildest weather. However, this isn't always realistic. Environmental conditions are the single greatest variable that can impact tile installation timelines. Excessive heat, direct sun exposure, extremely low humidity, temperature swings, freezing temps, blowing dust and precipitation will add time, reduce quality and increase risk. Controlling the environment is critical.
The solution is to budget resources at the beginning of each project to tent the installation areas. The tent system can be very simple, or in some cases can become quite complex and expensive. The areas to receive tile should be tented for the duration of the project and protected throughout the final 21-day cure time.
• Planning trades: During the floating phase of tile installation, excessive external vibrations caused by tamping, jackhammering, or large equipment can cause separation/segregation in the mortar mix, resulting in cracking and/or a poor bond. During the tile installation, vibrations are problematic for thin-set bond and maintaining layout as tiles shimmy out of place. Furthermore, the settling dust caused by earth-moving activities is a bond breaker and will cause unsightly contamination if the tile selection is translucent.
• Oversee the shotcrete: Poor shotcrete technique can be a disaster for the glass tile installer. If rebound has been used to form stairs or other features, the structural stability of those areas is questionable. The tile substrate can't be counted on as a fix for bad shotcrete. It's important to inspect the shell, and if issues are present, address them before proceeding.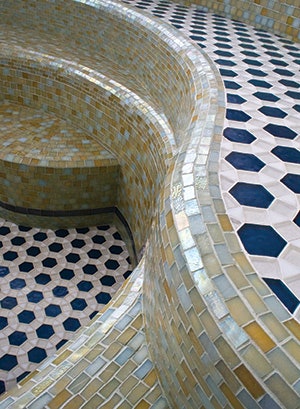 For example, my team was working on a pool with a long knife-edge. During our pre-inspection of the shell, we found a small crack along this edge and could tell it extended some distance. After showing this to the builder, it was determined that rebound had been used for forming, and the shotcrete company returned to repair approximately 20 linear feet of the edge. Left uncorrected, this very likely would have failed.
• Verify dimensional accuracy of the shell: Pool builders who set shotcrete expectations specific to tiled pools will experience better, faster tile installations. Pool plans should specify finished tile dimensions, and the tile installation estimate should include a mortar bed that ranges from ½ inch to ¾ inches thick. According to the Tile Council of North America Standard: "Deviations from dimensions, contours, or slopes in concrete, shotcrete, or gunite tank must not exceed ½ inch or encroach on the required minimum thickness of the mortar bed and tile work in order to provide exact dimensional requirements in length and width and specified tolerances."
Nonetheless, it is common to find shotcrete out of dimension by many inches — especially on radius walls, seat benches, inside coves and raised bond beams. These dimensional issues must be corrected, and it will fall on the installer to do it. Depending on the time and materials required for repairs, additional charges will apply and the installation timeline will grow.
• Consider the "Grid": The tile will create a distinct grid in the pool, which will naturally draw attention to irregularities. Wobbly walls, imperfect radials and wandering knife-edges will become painfully apparent. Out-of-plumb pipes and crooked features will definitely show once the tile is in place.
• Level coping: The tile installation layout is meant to be level — following the level line of the water. It is not meant to follow coping. As such, coping installed out-of-level will result in unsightly variation in the joint between tile and coping. Coping should be installed first, and then the tile. If the installation proceeds in the opposite order, damage to the glass often occurs and the resulting repairs can be costly and time consuming.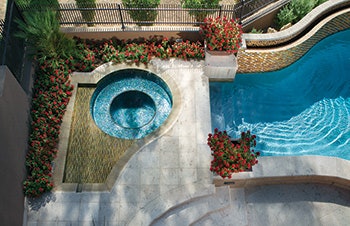 • Manage client expectations: Assuming your goal is to deliver a glass tile pool with flat walls, full tile layout and precision radials, the mud-work phase of the project, described below, represents about 65 percent of the total tile installation timeline. This means the shell goes from grey to grey and the client will have spent at least 50 percent of their money to see, well, rough grey walls become smooth grey walls.
That can be unsatisfying, and the best thing a builder can do is to understand the important layers of correctly prepared system and manage the client's expectation. A refined mortar bed is the basis for a top-notch installation, and the tile installation is the finish work — if time is allowed for meticulous attention to detail, the pool you deliver will be the jewel the client desires.
TILE INSTALLATION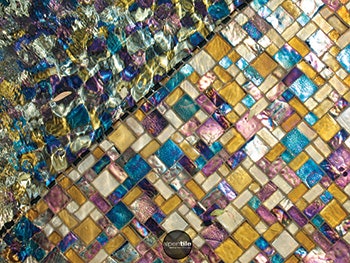 Whether you are an installer who wants to do glass tile pools or a builder with your own tile installation crew, it is important to understand that glass tile installations in pools require specialized knowledge and skills. Material costs are high, labor costs are higher and liability is the highest.
• Find the right person for the job: These are not entry-level installations. Too many glass tile pools are perfect examples of poor craftsmanship, and aesthetic issues can be just the beginning of real problems. The final visual aesthetics should be a continuation of the quality that went into the many layers beneath the tile. If you want a pool that can make the cover of a magazine, you need to work with experienced tile craftsmen who have the skills to transform the designer's brushstrokes into a three-dimensional mosaic sculpture and the knowledge to protect the homeowner's investment.
• Research the tile: It is important to know that there just as many glass tiles that cannot go in pools as those that can, and before the client falls in love with an unsuitable product, consult with the manufacturer. Do not rely solely on showrooms to have this expertise, as pool environments are not traditionally in the wheelhouse of luxury tile showrooms. Furthermore, many manufacturers are unclear about which of their products have been tested specifically for submerged installations.
All of that is why it's imperative to find manufacturers who have accessible technical support. Many offshore manufactured products are acceptable; however, if you can't talk to technical support personnel about their products, you might think twice about specifying it for your pool.
As we all know, creative shortcuts can lead to failures — and shortcuts can begin as far back as tile manufacturing. If you can't reach the tile producer, how can you assess their knowledge of the product performance in pools or their internal QC process? The more isolated the installer is from the manufacturer the less support will be available if problems occur.
• Learn and follow the standards: One standard to know is Tile Council of North America P-602. Pool builders and tile installers need to be on the same page. Combine the information in the standard with your manufacturers' pool-specific tile installation instructions. Also, keep in mind that industry standards and installation guides are constantly under revision. Don't proceed with outdated information.
• It's all about the mud: Precision mud work is the difference between a utilitarian tile finish and a mosaic masterpiece. According to the industry standard, glass tile is to be installed on a "bonded, floated mortar bed." This mud work protects the installation and dictates the aesthetics. The mortar bed is where raw contours are refined and pool features can be floated to a full tile layout. The craft of great mud work is a dying art simply because few people have the patience, mental and physical endurance, and the refined eye to achieve perfectly formed mortar that fits the module of the tile.
• Compose an installation system: The best "system" is a combination of quality materials, best practices and environmental control. Each installation material has pros and cons, and the environment heavily impacts materials. For example, cementicious membranes are tried and true, recommended for submerged applications. However, in a hot summer with an uncontrolled environment, some can be like waterproofing with old chewing gum. Regional weather, site conditions and pool design impact material selections.
Some elastomeric membranes are recommended for all-tile pools, but cannot be used on a waterline installation. Tile specification and design will impact the selection as well. The best system for each project must be assembled in consideration of pool design, tile, environmental conditions, product availability and installer skill level/preferences.
I can think of several examples where we were consulting on projects where the builders had invested in premium, proven installation products, start to finish. Over time, however, thin-set discolorations, bond issues and other installation issues occurred. In every case, the technique contributed to the failure, as did environment control.
THE TAKEAWAY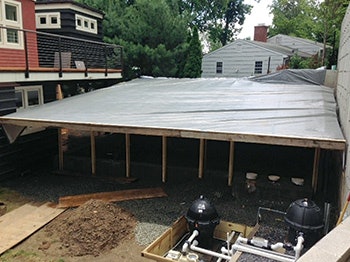 You can spend all you want on top-notch materials, but that will only go so far to make up for improper technique and an uncontrolled environment. The glass-tile pool installation is a constantly moving target and those who want to take on these projects must elevate their game from start to finish.
Always keep your eyes and ears open for new information, because the recommendations are guaranteed to change as new technologies, and new failures, come to pass. There are experts available who can help fast track the learning process, but in the meantime, by focusing your attention on the topics in this article, you can begin preparing yourself for the fun, new challenges embodied in glass tile.
Comments or thoughts on this article? Please e-mail [email protected].