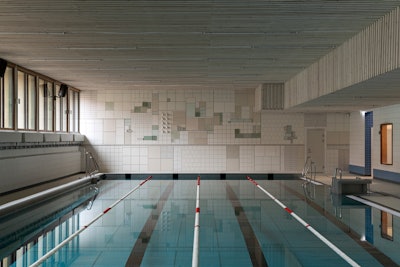 All photos courtesy Erik Lefvander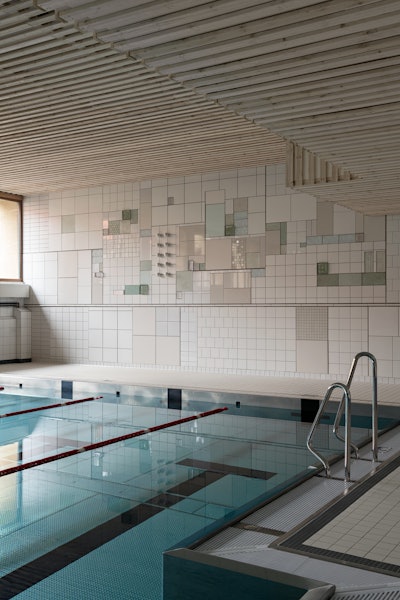 At an indoor public swimming pool in Spånga, Stockholm, an abstract wall collage gives new life to vintage and recycled materials.
The art installation was commissioned by Stockholm Konst, a municipal fund for public artworks. Installed by Swedish design duo Folkform (Anna Holmquist and Chandra Ahlsell), the mural spreads about 33-by-13 feet.
For the design, Holmquist and Ahlsell drew inspiration from Spånga's town plan. "The composition is reminiscent of a topographical map with its town square, a tree-lined avenue, the train track and train station," Holmquist told Dezeen. A smaller, engraved map, with a key to the composition, enables visitors to match pieces of the collage to corresponding real places in Spånga.
The finished project, installed by hand over a period of three weeks, features over 1,000 individual glass bricks, clinker bricks and ceramic tiles — including pieces of handmade glass dating back to the 1950s, sourced from the Orrefors glassworks in Southern Sweden.
"Instead of manufacturing all new materials for the project, the glass represents a creative practice of reuse, and the tiles and bricks are an instance of employing industrial ready-mades," explains Holmquist. "It is utilizing old ornamented vintage glass and new pressed glass prisms that were going to be discarded, bringing them back to life."
"It's important to inspire this practice within such a public setting, as it prompts people to think about the practice of creative reuse and recycling in their own lives."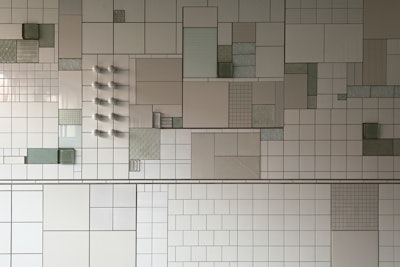 ---
This article first appeared in the July 2022 issue of AQUA Magazine — the top resource for retailers, builders and service pros in the pool and spa industry. Subscriptions to the print magazine are free to all industry professionals. Click here to subscribe.