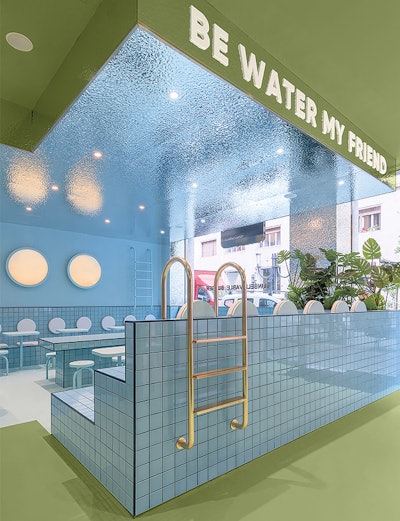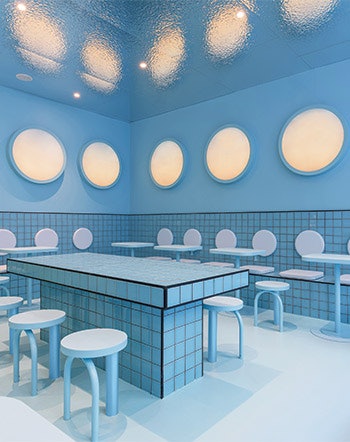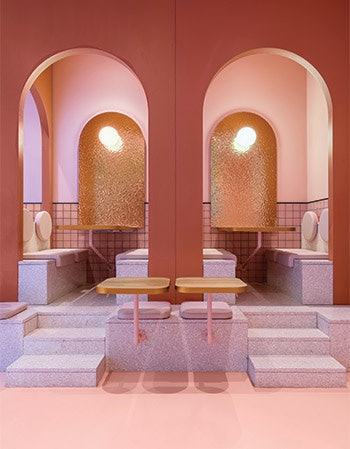 The post-meal countdown before a swim won't be necessary at this pool-inspired burger joint.
Italian fast-food chain Bun enlisted Spanish creative firm Masquespacio to design restaurants in Milan and Turin. Firm founders Ana Milena Hernández and Christophe Penasse combined their talents in marketing and interior design to bring the brand's visual identity to life.
"It is important for clients that Bun spaces can be recognized wherever they're located," says Penasse. "For this reason, the design will evolve and be slightly different in each space, but maintain a clear identity."
That sense of identity is unmistakable at the Bun Turin location, expressed with vivid colors and unique seating. "At the end of the [design] process, we do a lot of trials to reach the correct combination of colors and materials," explains Penasse. "In this case, we had several options for color combinations, all focused on a younger audience."
The winning palette — pink, green and blue — was chosen to augment the location's three street-facing windows. From the exterior, each window shows off a different color, creating the illusion of blocked-out spaces.
The idea to play with one color for each window creates a visual effect from the outside," explains Hernández.
Inside, the blue section, an open-concept seating area, was intended to capture the look and feel of a swimming pool. Signature tiles and mock pool ladders add novelty to the dining experience.
Its green and pink counterparts have purposes of their own. In the back corner of the restaurant, the green section accommodates the kitchen and ordering counter while the pink section is a cozier seating area with walk-in booths
Other special features include lit-up digital menu boards and a neon logo also included in the Milan location. All furniture was designed by Masquespacio and the tiles by Complementto.
Additional Bun locations are set to be opened in Milan.
---
This article first appeared in the August 2021 issue of AQUA Magazine — the top resource for retailers, builders and service pros in the pool and spa industry. Subscriptions to the print magazine are free to all industry professionals. Click here to subscribe.
---