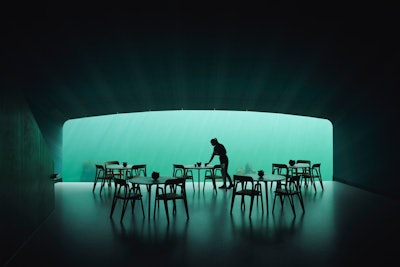 IVAR KVAAL
On the southern coast of Norway, a curious structure emerges from the unruly sea. At first glance, most probably wouldn't guess that it houses a high-end underwater restaurant.
Designed by architecture firm Snøhetta, "Under" is a one-of-a-kind place to enjoy sustainably sourced seafood. The 34-meter concrete building resembles a "sunken periscope," with a massive window offering guests a panoramic view of the seabed.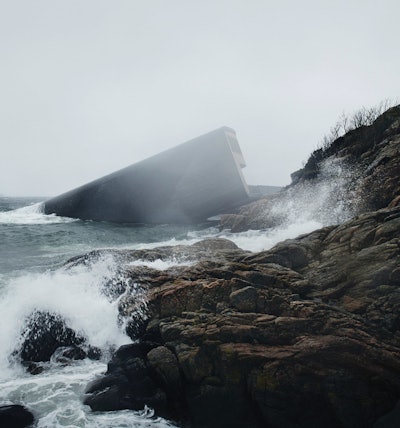 "'Under' is a natural progression of our experimentation with boundaries," says Kjetil Trædal Thorsen, Snøhetta founder and architect. "[It] challenges what determines a person's physical placement in their environment. In this building, you may find yourself under water, over the seabed, between land and sea. This will offer you new perspectives and ways of seeing the world, both beyond and beneath the waterline."
The restaurant can seat up to 40 dinner guests each night. Devoted to offering high-quality, locally sourced cuisine, acclaimed Head Chef Nicolai Ellitsgaard experiments with different ingredients and recipes throughout the seasons, taking advantage of the area's naturally high biodiversity levels.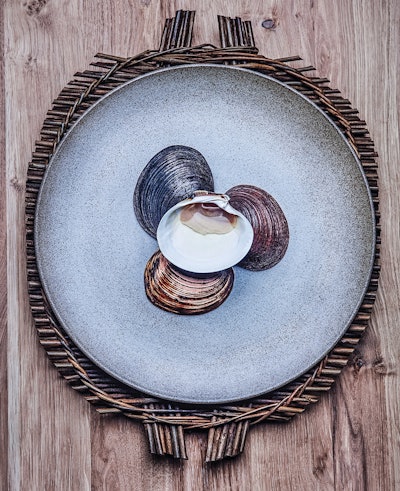 "We are so fortunate. Not only is the sea filled with a vast amount of delicious fish and countless types of shells, but the beaches here offer plenty of exciting ingredients such as sea arrow grass, sea rocket and salty sea kale," he says.
If the concept wasn't already fascinating enough: Under doubles as an aquatic research facility. Cameras and other tools – both inside and outside the restaurant walls – are used to document the population, behavior and diversity of local marine life. Researchers program the data into machine learning tools in hopes of improving official marine resource management.
This data also proves useful for chef Ellitsgaard's mission: He collaborates with the biologists to understand when and how to sustainably harvest wildlife for his menus.
Over time, Under's concrete shell will become an integral part of its underwater environment, functioning as an artificial reef for limpets and kelp.
---
This article first appeared in the February 2022 issue of AQUA Magazine — the top resource for retailers, builders and service pros in the pool and spa industry. Subscriptions to the print magazine are free to all industry professionals. Click here to subscribe.