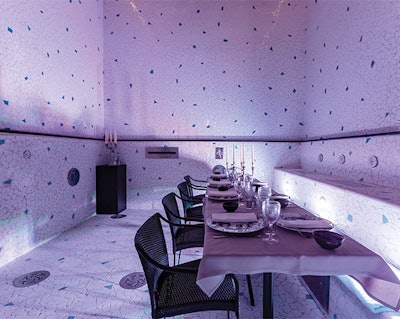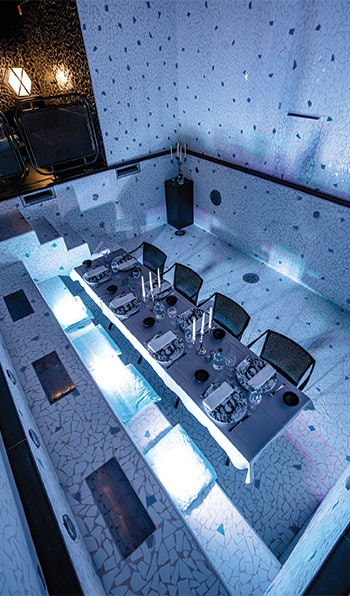 A historic French hotel has drained its legendary swimming pool to create an unconventional dining experience for guests.
Normally booked to the brim, the five-star Les Bains of central Paris closed for six months in the wake of COVID-19. Steps toward reopening began in mid-September with the opening of bar and restaurant Roxo, serving dinner in unique locations around the property. One of these is the mosaic-tiled underground swimming pool, which was drained and set up for dining with a long table that seats up to eight guests.
First opened in 1885, Les Bains grew to become the most renowned bathhouse in Paris. By the 1970s, the location transformed into a nightlife hotspot that attracted many icons of the art and fashion worlds — Andy Warhol, Mick Jagger and Naomi Campbell, to name a few regulars. The basement also saw an impromptu Prince performance, an early Depeche Mode concert and a complete live album recording by Joy Division.
RELATED: World's 10 Coolest Hotel Pools
Les Bains reopened as a hotel in 2015, renovated with the preservation of its rich history in mind. Designers created a pool inspired by the original bath house and kept the legendary nightclub space. Today, the hotel is a full-service luxury hotel featuring a gastronomic restaurant.
Though the hotel itself is not open for overnight bookings, guests can make dining reservations for other unusual dining spots, including the nightclub dance floor and the penthouse suite. ~
---
This article first appeared in the January 2021 issue of AQUA Magazine — the top resource for retailers, builders and service pros in the pool and spa industry. Subscriptions to the print magazine are free to all industry professionals. Click here to subscribe.
---