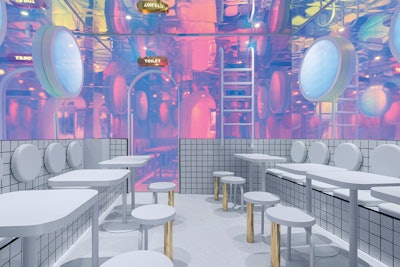 All photos courtesy Gregory Abbate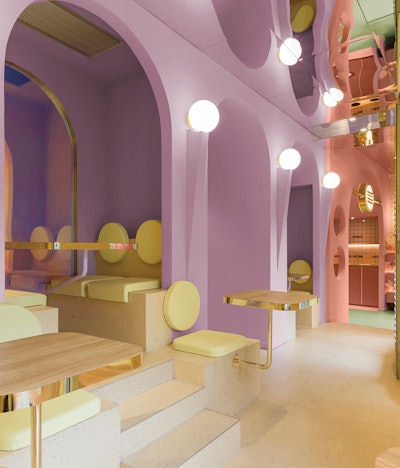 Located in Milan, one of the storefronts of the Italian hamburger chain called "Bun" was recently redesigned by Masquespacio, a Spanish design agency, to mimic the look and feel of a swimming pool.
When entering the establishment, guests are greeted by the contrasting and intense shades of pink, purple and green, with subtle touches of gold and cream. This vivid environment stands in stark opposition to the bland colors of the exterior.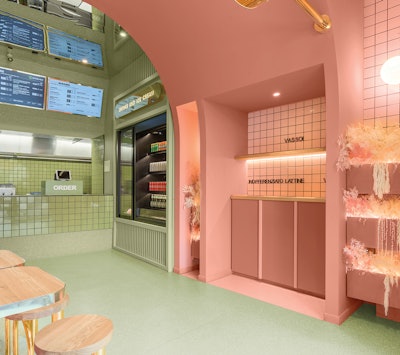 The interior of the restaurant is further adorned with square-shaped tiles that carpet the floors. The walls serve a dual purpose, to reflect the surroundings and give off a rippling effect like waves, with a decorative pool ladder hanging on one side. Whether patrons are sitting on the stools with golden chair legs, or on the benches with cushions, they will be comfortable as they engulf a burger, fries and shake.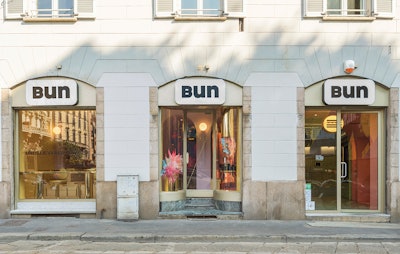 "The outcome became a place to discover where a mirrored effect recreates the feeling of being surrounded by waves of water," says the Masquespacio design team in a statement to DesignBoom. "Through the dry plants in the spaces, an innovative touch was added, fitting perfectly with the more mature aspect that seemed relevant for the project and that echoes the district's vibe."
With the completion of this project a couple of years ago, Masquespacio has now designed six interiors for Bun, all of which have resulted in fresh and innovative restaurants that have continued to be internationally recognized by different media channels.