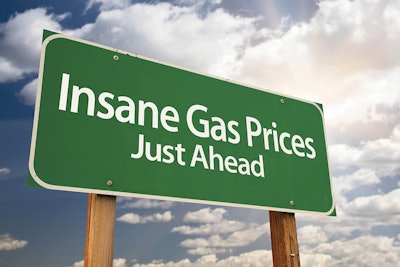 In late June, gas prices hit $6.38 per gallon in California — the highest in the country. Even the nation's lowest per-gallon prices, in Mississippi and Georgia, were pushing $4.50. And that's just for regular fuel; prices are significantly higher for premium-grade fuel.
Which means pool pros like Erik Taylor at Chlorine King Pool Service in Seminole, Fla., have at least one major regret right now. "The biggest mistake I made is buying vehicles that require premium [fuel] only," he told AQUA in April. "I bought them a couple years ago, not thinking ahead."
"Pool and spa people are looking for ways to be more efficient while also increasing their profits, and optimizing routes is one of the ways they can do that," says Rachael Pritz, vice president of RB Retail & Service Solutions, a Monroeville, Pa.-based company that offers specialized software for the pool and spa industry, including scheduling options.
Optimizing routes does not even require the use of specialized software; Google Maps also can be effective, Pritz says.
The point is that some type of digital tool that optimizes service routes can simplify workflow, maximize time and save money by allowing management to fit more jobs into a tech's daily schedule, cut down on vehicle wear and tear, and help minimize fuel consumption and mileage. What's more, drag-and-drop options in software solutions make it simple to schedule jobs or appointments and make modifications for unlimited users from multiple locations.
For years, many pool and spa companies avoided routing software. After all, software requires an investment of time, money and will — three things not all retailers in this industry have in equal supply. But that is changing, according to Pritz.
"I've definitely seen a huge switch, with 'mom-and-pop' stores changing ownership and the next generation taking over," she says. "For years, many customers that came to us were still using pen and paper or whiteboards for route planning. They would erase and rewrite if, let's say, it rained for two days. They were having to manually move all of those jobs."
"But the younger group that is moving in, they grew up with computers, and they want to use new technology."
The acquisition of smaller companies by larger ones also is driving the need to integrate routing software into daily operations. Route optimization is often part of an overall business software package, so it can be integrated with other features such as inventory management, point-of-sale processes, customer relationship management tools, etc.
Such capabilities can help reduce another big cost besides fuel, and that is labor. The time and effort of home office staff can be reduced by automated software processes. "The person back in the office can even see where the technicians are. So if someone calls in for emergency service, they can pull up the schedule, see where their techs are located and if they have a technician that's close by to help with the emergency service."
For busy pool and spa companies, the job of changing systems and all the work that entails is daunting. The discussion of such a move is often met with a groan from overstretched office and field staff alike. The key, Pritz adds, is explaining to all employees how much easier — and more effective — scheduling and route optimization software will make their operation.
"If you're looking to purchase any software, request a demo from the manufacturer to see what that software is capable of," she suggests. "Create a list of 10 items you want the software to be able to do. What are your biggest pain points? What do you struggle with the most? And does the software you're looking to purchase address those pain points?"
Fuel costs are likely to remain a big pain point for months to come, and that makes route optimization software more appealing than ever. "
Just make sure there's good customer service and training after the purchase," Pritz concludes. "Find out what the installation and training will look like, and make sure it's something that everyone is comfortable with."