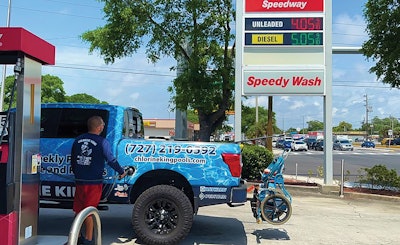 Photo courtesy Erik Taylor, Chlorine King Pool Service
The sudden rise in inflation to levels unseen in decades has challenged most businesses, but for pool and spa service companies that are on the road every working day, some of them buying tens of thousands of gallons, the effect of a gas price rise is more dramatic.
Like all cost increases, a rise in fuel cost must be passed on to the customer to preserve profits and, for that matter, the company itself. But there's an art, a science and a psychology to raising prices — the objective of which is to transition to a higher price with a minimal loss of customers and goodwill.
Here's how some service companies are dealing with the dilemma. AQUA spoke with two large consolidators (Pool Troopers and NPP, with many hundreds of vehicles) a medium-size service company (Chlorine King Pool Service, witha fleet of 12 vehicles near Tampa) and a small entrepreneurial pool company (Litchfield County Pools, serving about 300 pools a week in Connecticut), about pricing strategies.
BREAKING THE NEWS
Given the size of their fleet — 348 trucks maintaining 20,000 vessels across five states — Pool Troopers has seen an approximate 175% increase in gas costs over the last year alone. "Needless to say, it's thousands of dollars a month and significant," says Hillary Rymer, VP of marketing.
The company held off on passing that cost to customers for as long as they could — but at a certain point, doing so became unsustainable. "The cost of fuel and chemicals have risen so dramatically that we had to finally take action so that we can continue to hire, train and invest in the business," says Rymer. "We will be passing on a temporary fuel surcharge to our customers."
Pool Troopers plans to deliver that news to their customers via email. In the meantime, the company has no plans to alter their business structure to combat gas price inflation. "Our hope is that prices will stabilize and return to normal in the next 12 to 24 months, and we'll be able to remove the surcharge," says Rymer. "We have not cut out servicing any customers because of distance. We will continue to focus on growing density in the markets we are currently in."
Along with the rest of the industry, gas prices are just one of the rising costs that Pool Troopers has to juggle.
"Over the last 12 months, we have had to do price increases little by little to balance the increased prices for chemicals and operating supplies," says Rymer. "We tried to keep the increases as minimal as possible, but this resulted in multiple increases versus one big increase."
When approaching customers with an increase in price, Erik Taylor at Chlorine King meets them with straightforward transparency. "I'm just very honest with them. I say, 'I'm sure you have seen [the price increase] at the pump, as well.' With the fleet I've got out there, that has to be factored in. Just to even come out to do an estimate is costing me more, so I'm just very transparent with them, and they understand it because they're also affected.
"I have no problem sharing numbers. The gas prices they know of, but they still comment that the number seems really high. And I just tell them, 'Well, our chemical prices have more than doubled, too.' I tell them how a bottle of acid used to cost me $2.64, and now, I believe, it's over $6. All of that stuff accounts for price increases."
At NPP, with multiple locations under a centralized leadership, the strategy is to help partner companies navigate these kinds of conversations with customers through education and preparation.
"We walked some of our own people through this math for them to understand the gravity and the seriousness of the situation, and how important it is for us as a company to communicate our position to customers," says Augusto Titarelli, CEO. "We also prepared talking points for technicians. That way, they feel supported, and giving them that information buys credibility both internally as well as externally."
"When you raise a price, you want to make sure that you're educating your customers clearly, and communicating well," adds Bryan Banta, president of NPP's Florida region. "We have found that many customers have expressed appreciation. You don't expect to get thank yous when you raise prices, but we've actually had a handful of customers call and say, 'Hey, thank you for explaining this. I had no idea that all of this was going on.'"
A FINE LINE
Devon Dobson, president and owner of Litchfield County Pools, is no stranger to number crunching — he returned to the pool industry after spending years on Wall Street. "From a top down perspective, we know prices have to go up, and I think that's been the theme even before inflation with COVID and demand," he says. "Inflation is a hard economic issue, because there's so many factors involved…there's just a lot at play. I wouldn't spend too much time trying to figure out or project it. You have to increase prices, but in an appropriate manner without getting too carried away."
Figuring out just how much to raise prices is the tricky part. Raise them too much, and you could lose customers in the near future and long term. Raise them too little, and you might run yourself out of business.
"My mindset is, I'm going to raise prices, but I'm not going to go crazy about it. And if it takes a little bit of profit margin out, I'm okay with that for right now," says Dobson. "My whole approach is that I'm hoping this is short term. I don't want to go too crazy with sticking a 20% increase on the consumer. I'm thinking somewhere around 8%."
A small service radius helps, he adds. Litchfield's maximum drive is about 45 minutes, with other pool stops along the route. "I don't think the gas price impact will be as large for us, because we operate within such a close proximity," Dobson says. "We've always gone by a super efficient model, and we've turned down a lot of clients because of their location. So I'm hoping that strategy pays off with what's currently going on."
CRUNCHING THE NUMBERS
Getting down to specifics, at Chlorine King, before gas prices rose, Taylor's monthly gas bill hovered around $1,200 a month. But with local gas at $4.19 (as of April 4, 2022), his monthly bill is now over $3,000.
To account for this and other factors – notably, the soaring price of chemicals – Taylor has raised both his minimum rate with existing customers and his minimum bid for new accounts.
"My existing rates have gone up anywhere from $25 to $40. One even went up $150 just because it's a time-consuming pool, and it's out of the way," he explains.
As for his minimum bid on new accounts: "My starting price has gone up $20 [from $150 to $170], which is pretty significant, at least in my area."
OPTIMIZING ROUTES
It's a basic tenet of economics: price hikes boost efficiency. To help cope with an increase in gas prices, Taylor recently adopted Verizon Connect, a GPS tracking software that gives him full insight into his technicians' days, stops included. "You get a really good visual, as far as daily travel goes, to further optimize your routes," he says.
Now, he's able to monitor each vehicle to watch for waste factors such as idle time, poorly planned supply stops and back-and-forth across routes. "The rise in gas prices made us think about really optimizing our routes, because we do about 600 pools a week," he says.
The sudden escalation in gas price took Taylor by surprise, as it did many people. He'd been making decisions based on the idea that prices would remain stable, at least one of which he now regrets.
"The biggest mistake I made is buying vehicles that require premium only. I bought them a couple years ago, not thinking ahead."
NPP'S NEW RESOURCE
Given the current "perfect storm" of cost increases in service, Titarelli and Banta realized they needed a formalized approach to understand how to price to maintain profitability and protect cash. Out of necessity, NPP leadership developed a tool to analyze inflation for their own branch locations throughout the country.
"We needed to be able to explain to our customers where price increases are coming from and why, and we felt there was a lot of hesitancy in the market to react to [inflation]," says Titarelli. "We ended up creating a tool that allowed us to precisely analyze what was happening with cost, what our current state is, and what we imagine inflation has been in that specific operation."
"I think most people in our industry are scared to death of raising prices," adds Banta. "There's not a whole lot of data across the industry for a small business owner to go and pull from…nor do they have the time to analyze it. A lot of it is decision-making based on a gut feeling."
"Being able to model things out using this calculator was enlightening for us," says Banta, so much so that NPP has made the decision to make it freely available to anyone in the industry who wants to see how inflation might be impacting them. "Our goal here is to elevate the industry and share some of the data that we found, and give people a tool to be able to make informed decisions."
"Anyone in the industry can put in data and run the calculator tool, and see what inflation does for them," says Titarelli. "We tested the tool in all of our operations — of many different sizes — and it seems to give really relevant results. It works for operations with 100 pool stops to 20,000 pool stops."