Photo courtesy Alicia Thurston Photography
AQUA's beloved Truck & Van Contest is back (after a brief bout with COVID) and ready to dazzle enthusiasts across the nation. This special section has always been an ode to the wheels that carry pool pros in style through the hot days, long routes and busy seasons. After all, in this industry, a work vehicle is about so much more than getting from point A to point B.
On the inside, a truck becomes an office: a place to take calls, hold inventory, and spend a good chunk of the day driving, sifting, organizing and prepping. The nitty gritty of the pool business might take place in the backyard, but having a trusty vehicle as a home base is what makes it all possible.
On the outside, a truck becomes a marketing tool: a first impression, a rolling advertisement, a statement about a brand. It has the power to attract potential customers, establish a reputation and become recognizable across communities.
This year's revival of the Truck & Van Contest did not disappoint: We received a huge number of submissions, including some of the best (and most unique) vehicles we've ever seen. We'd like to thank everyone who took the time to enter, who made this contest possible. It was difficult to narrow our selection down to just a handful of winners!
Check out the variety of top-notch rides below, including the winner of our new Reader's Choice category — determined by you, our AQUA readers.
---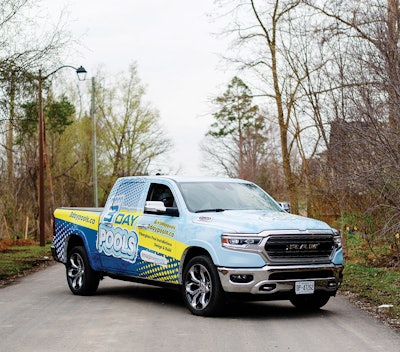 GRAND PRIZE WINNER
3 DAY POOLS OF VAUGHAN, ONTARIO
The standout graphics on this year's Truck & Van Contest winner drew our attention right away.
With years of landscape construction experience under their belts, Frank Torchia and his best friend Pawi Ajji founded 3 Day Pools back in 2017. Based in Vaughan, Ontario, the company specializes in backyard transformations, including fiberglass pool installation, hardscaping/landscaping, renovations and more.
In the early days of the business, 3 Day Pools' vehicle wraps featured Torchia's children, then three and eight years old. Eventually, a makeover was in order: "They're older now, and they requested I change it up," he says, "so we reached out to a few designers."
For the new look, Torchia and Ajji wanted to step outside the box. "[We] wanted to get away from the traditional pool company wraps, which have an image of a pool or pool water," Torchia explains. "We wanted a 'smack you in the face' kind of look and feel."
With that, they opted to work with Smack Creative, a small company that works on referrals. Smack stayed true to Torchia's vision and focused on showcasing the company colors. The logo is centrally featured, advertising the proud promise behind the company name: 3 Day Pools can complete a fiberglass pool installation in as little as — you guessed it — three days.
The end result really captures the company philosophy, according to Torchia. "Our brand is all about having fun and bringing family together," he says.
---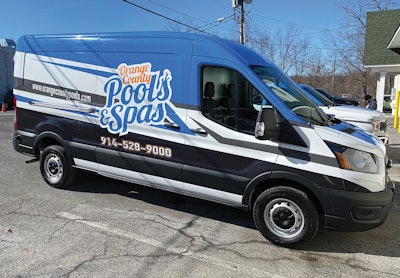 RUNNER-UP
ORANGE COUNTY POOLS & SPAS OF MOHEGAN LAKE & NEW WINDSOR, N.Y.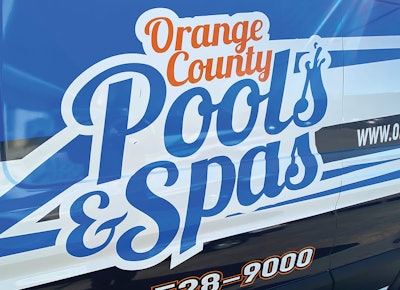 For Vincent Moscatello of Orange County Pools & Spas, showcasing the company logo was a top priority. When working with a wrap company to create a design for his 12-vehicle fleet, he envisioned an easy, no-frills look that would still stand out on the road.
"In my opinion, your logo should be the only thing that is prominently featured," he says. "When you have a vehicle that's loaded with images, your branding gets lost."
That philosophy rings clear across the Orange County fleet. All of Moscatello's vehicles are wrapped with a simple but bold color palette of blue, orange and black. The company logo, phone number and website are clean, crisp and easy to read — and if you look closely, you'll catch a fun water splash detail hidden in the logo.
The straightforwardness of these wraps is what makes them so eye-catching, according to Moscatello. "People see our trucks and know exactly who we are," he says.
---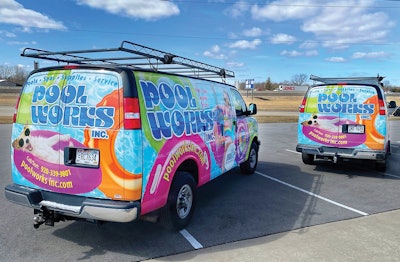 MOST COLORFUL
POOL WORKS, INC. OF DE PERE, WIS.
When it comes to branding, sometimes less is more — but there's still a case to be made for going all out. Pool Works' vehicles, packed with vivid colors and fun imagery, are a testament to the power of boldness.
"When we purchased these two new boring vans, we decided to do something different and bright," says Kim Sanders. "The design idea was taken from our postcard from our annual sale last year."
It took a few revisions to end up with a final design — and not everyone on the Pool Works team was on board at first. "[We had] some pushback from our crews that thought the design was way too flashy," says Sanders. "However, fun is what we sell, so we took the plunge."
One-third of Pool Works' 35 total vehicles were sent to be wrapped. The final result is a treat for the eyes: In fact, the company that installed them asked Pool Works to leave the vans parked in front of their store for a few days to show them off.
"We are so happy with the result," says Sanders. "The vans truly reflect who we are as a company — family friendly, happy and pet lovers, too."
"Plus, the bright colors stand out wherever we go, on the road, stuck in traffic, at commercial properties and especially in residential subdivisions," she continues. "We often get calls from potential pool and spa customers that saw one of our vehicles in their neighborhood."
The company plans to use the design on some of their new box trucks, and future vehicles as well. "They'll put a smile on your face, even on a gloomy day," says Sanders.
---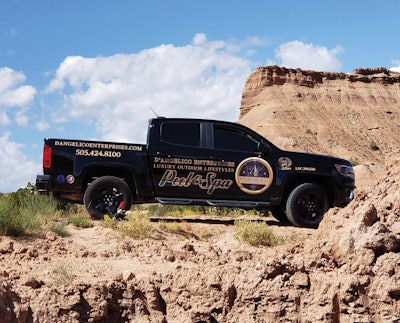 BEST COMBINATION TRUCK/TERRAIN
D'ANGELICO ENTERPRISES OF SANTA FE, N.M.
This stunning photo submission transported us right into the rugged, beautiful landscape of northern New Mexico, home of D'Angelico Enterprises.
Locally owned and operated, the D'Angelico name has a long history in construction, dating back to a great grandfather who built pools in Florida while making his way west to settle the family in Santa Fe. Today, the fourthgeneration company specializes in building custom pools and spas.
There's a lot of thought behind the wraps on this sevenvehicle fleet. "Our design team spent an immense amount of time studying legible mobile wraps," says Melissa D'Angelico. "Our font and color tones represent quality and simplicity. We believe those are the basics of capturing attention."
And it works — almost too well. "My truck looks very official. Every time I drive up to jobsites, everyone stops and checks out who I am," says D'Angelico. "There have been a couple times where my truck was mistaken for a state police officer when I rolled up to a job. One time, a group of workers started acting unsettled and began to pack up their tools to leave. I assured them that I was not the police and was only there to build the pool."
---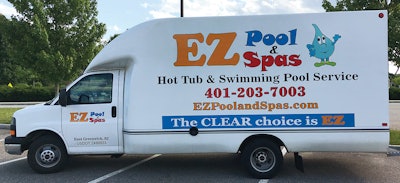 MOST ORGANIZED
EZ POOL & SPAS OF EAST GREENWICH, R.I.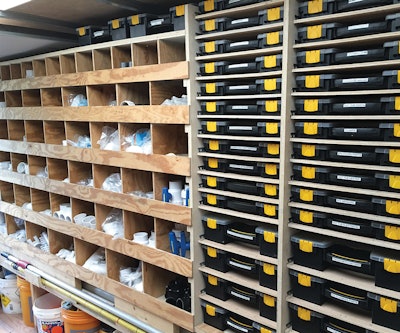 Ed Zaborski runs a service-only business, and when it comes to organization, he doesn't mess around. His carefully customized truck interior ensures optimal use of space and ease of working.
"I have limited space and do such a wide assortment of jobs," he explains. "Keeping the truck organized is imperative to being as efficient as possible, and accomplishing the work from day to day. It makes the job easy for myself, as well as the customer."
Zaborski's truck is the only one in his fleet, but it's still tricky to keep things in order. "In the northeast, where the demand for work is so high because of the seasonality of the job, we sometimes work 12 hours a day, six to seven days a week," he says. "Keeping organized is challenging."
Not one to skip on details, Zaborski has his truck equipped with plenty of amenities. An integrated GPS, Pandora/Spotify and hands-free phone capability make drives more enjoyable — not to mention remote vehicle start for chilly mornings. For safety, the truck has front and rear cameras and an alarm system.
After over 30 years of dedicated local pool and spa service, Zaborski was honored with the Pleatco Perfect PoolGuy Lifetime Achievement Award in 2019. He offers some organization wisdom for fellow pool pros: "Focus on the type of jobs you do the most, and be prepared for those. It's impossible to carry every part for every type of job."
---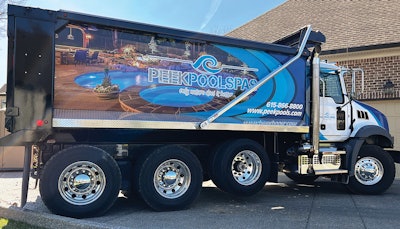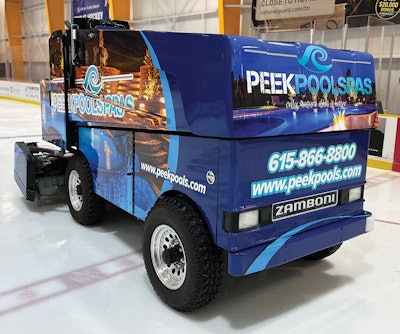 SHOWSTOPPER
PEEK POOLS OF SPRING HILL, TENN.
You might recognize Peek Pools from early seasons of the DIY Network show Pool Kings. If not, you'll get to know them soon enough: This big rig is pretty hard to miss.
"When we purchased this dump truck to add to our fleet of over 15 trucks, we wanted it to look the same, but also take advantage of the huge bed," says Owner Kyle Peek. He decided to wrap it with a picture of one of their best projects, a pool that "makes people dream of what could be in their backyard."
The massive mural is now a critical marketing tool that generates dozens of phone calls and emails each week. "We have become one of the most recognized companies in our area by far, thanks to this rolling billboard," says Peek.
He's a big believer in consistency with branding. "We logo and brand all of our trucks, vans, dump trucks, buildings, job signs, ads and business cars. Everything needs to look the same — we're building a brand, not just a company."
Peek Pools recently debuted a smaller, more eccentric rolling billboard: a custom-wrapped zamboni at the local ice rink. "The more we can get our brand in front of people, the more successful we will become," says Peek.
---

READER'S CHOICE
ROUND ROCK POOL PROS OF AUSTIN, TEXAS
This year, we asked our devoted AQUA fans to weigh in and select a special category winner: Reader's Choice. It was a close call, but Round Rock Pool Pros of Austin, Texas, came out on top.
Owner Justin Pinson started the business in 2014 with less than 50 customers. Today, he serves over five times that amount and has expanded Round Rock's offerings to include repairs, remodels and new pool construction. When designing their vehicle wraps, Pinson and his team aimed to strike a balance between something simple and something eye-catching. After many variations, they decided on a striking satin blue finish.
"No other trucks in our area had this color, so we knew it would be a hit," says Pinson. "When our trucks are onsite, the neighborhood knows we're there. We get compliments all the time from customers, other drivers, and even fellow pool pros."
The wraps are featured on multiple Round Rock vehicles, including a Freightliner plaster truck, two lifted trucks with oversize tires, a Tahoe and a Chevy 3500 dually flatbed. "You'll definitely see us coming down the street," says Pinson. As a fun, final touch, each truck features a vanity license plate.
---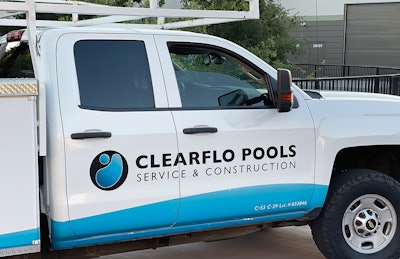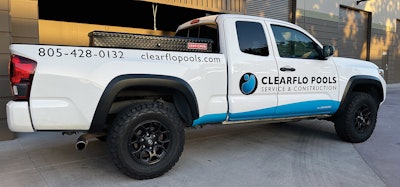 LESS IS MORE
CLEARFLO POOLS OF AGOURA HILLS, CALIF.
This category is a nod to the short and sweet wraps that cut to the chase. Sometimes, as Brandon Anderson of Clearflo Pools would argue, less is more. "I went for a simple and clean look," he says. "I didn't want my truck to be full of designs and lots of writing."
His equation for the perfect wrap? "A logo for remembering who is driving around, and for repetitiveness to the daily drivers in our area, [plus] what we do — maintenance and construction — with the phone number and email. That's all you really need."
Anderson says the clear, uncluttered design helps his 21-truck fleet stand out in the local area. "People in the community know, even when they see just the logo, that it's Clearflo Pools servicing or building a new pool."
"When we build or remodel pools, we love to really have our clients involved, and we make it a fun experience," he adds. "And most of the pools we build or remodel, we continue with our weekly pool maintenance. That says a lot. Clients like us all the way through to continue to hire us and keep us in their lives."
---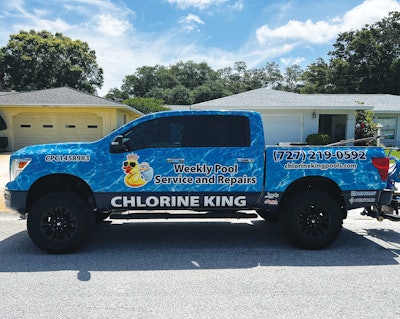 SPONSOR'S CHOICE
CHLORINE KING POOL SERVICE OF SEMINOLE, FLA.
We asked the folks at Skimmer, our 2022 Truck & Van Contest sponsor, to choose their favorite vehicle amongst the many entries we received this year. Their team particularly liked an entry from Chlorine King Pool Service of Seminole, Fla.
"Chlorine King's truck wrap really stood out to us. It strikes just the right balance between being eye-catching and informative," says Director of Marketing Niki Acosta. "The pool water base is a fun touch, while the website and phone number are still prominent. And of course, we loved the rubber duck logo — that pop of yellow is perfect and easy to recognize."
Chlorine King, owned by Erik Taylor, operates a fleet of 12 vehicles across the Tampa area. On top of service, Taylor also participates in a number of extracurriculars, as host of the Chlorine King Pool Service Show podcast and YouTube channel.
---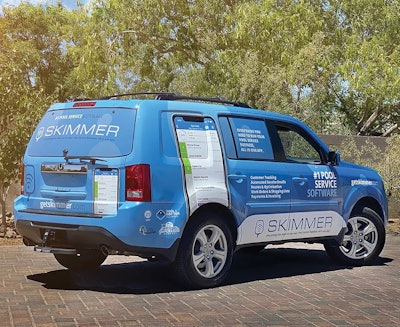 SPONSOR'S RIDE
THE SKIMMER MOBILE: COMING TO YOUR NEIGHBORHOOD
The Skimmer mobile has logged thousands of miles traversing the country to attend conferences and visit with customers. "In just about every city we're in, someone will roll their windows down to tell us about how much they love Skimmer," says Director of Marketing Niki Acosta. "Having that kind of brand recognition and hearing about how Skimmer has changed lives is truly inspiring."
Should you happen to catch the Skimmer mobile rolling through your town, feel free to wave and say hello. Skimmer loves hearing from customers, and there's a good chance they have giveaways on board!
---


SPONSORED BY:

getskimmer.com | (480) 718-2158
---
This article first appeared in the June 2022 issue of AQUA Magazine — the top resource for retailers, builders and service pros in the pool and spa industry. Subscriptions to the print magazine are free to all industry professionals. Click here to subscribe.