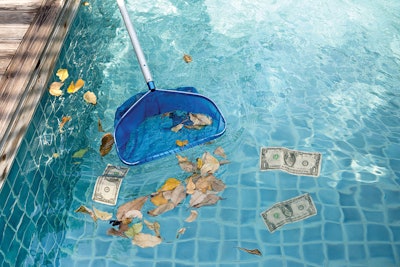 'Tis the season when falling leaves blanket the pools with hours of "joy" for us pool technicians, and it is the time when our thankful clients most value our net worth. However, you should know that skimming and raking lots of leaves and debris may be hazardous to your musculoskeletal health. Our IPSSA insurance guru, Ray Arouesty, tells us the rotator cuff injury is the most common injury for a pool tech. Five pounds of wet leaves in a net, multiplied by 8 feet of a telescoping pole, create 40 foot-pounds of torque on the shoulder joint and muscles, as well as the upper, middle and lower back. It's the repetition over time that causes the injury.
My chiropractor advises me to keep my shoulders back and chest out (just like mom always said) and to keep my head upright and between my shoulders. Our arms are designed to do all the moving, but try to keep your elbows down and in. Keep your hands below your head. Don't stretch out too far or lean over to get one more leaf. Extend the pole as needed, otherwise keep it retracted and mostly balanced in your hands. Use a smaller net (18 inches or less) and empty it often. The giant nets are for giants. Push and pull the leaves into the net, with graceful serpentine movements, always flowing water over the submerged leading edge of the net and in one forward direction, smoothly. Avoid jerking motions or pushing and pulling too hard. Smooth is fast enough. Think Dances With Pools, not Splash and Dash.
Maybe someday, they'll make a skimmer basket the size of a 5-gallon tab bucket. In the meantime, be careful not to cause repetitive strain injuries or net profit harm.
---
Robert (Pool Bob) Blade operates Aloha Pool and Spa and is a 20-plus year member of the Monterey Coast IPSSA chapter, past president, Region 10 secretary and PIE Show museum curator.
This article first appeared in the November 2022 issue of AQUA Magazine — the top resource for retailers, builders and service pros in the pool and spa industry. Subscriptions to the print magazine are free to all industry professionals. Click here to subscribe.