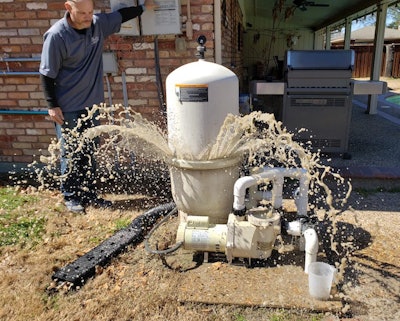 When we last checked in with pool pros in Texas, the situation was looking bleak. Now, three months after a winter storm destroyed hundreds of thousands of filters, heaters, pumps and valves, Anthony Mojica of Righteous Pool Service in Austin reports that things have actually gotten worse.
By now, he reports, many customers' pool issues have been seen and diagnosed, but backlogs are hindering any further progress. "In my company personally, we have over 45 people that need heaters right now, and we have tons of people needing other miscellaneous parts that just aren't available."
Techs are doing everything that can be done without actual replacement parts. Mojica and other service pros continue to devise temporary fixes, and bypassing components remains the order of the day.
"Say we come to a pool for repairs, and we've got a crack in the filter. We can't get a new filter, so we'll bypass the filter and bypass the heater," he explains. "That's what most people's equipment looks like right now. They have a bunch of bypasses, so they can at least get some circulation in the pool and move the chemicals around."
Left without much of a choice, Mojica and others have also been doing some brand patchwork, sacrificing warranties for the sake of their customers being able to swim.
"I put together some equipment sets over the past couple of weeks," he says. "Normally, if you do a Pentair pump filter on something else, you get a three-year warranty on everything. But now we'll have to do something like a Pentair pump, a Hayward filter and a Jandy heater — we have to mix-and-match pieces of equipment."
Many have tried to deal with the shortage by ordering online, where prices are much higher. "That's been a major theme of the story so far: overpaying for equipment just to be able to get things taken care of," Mojica says. "At this point, we're just telling people, 'If you can find it online, go ahead and get it.'"
Unfortunately, forking over more cash doesn't guarantee timeliness."[The website] will say they have it in stock, and then the next day, or two days later, the customer gets an email saying the delivery date is in August," says Mojica.
As one might imagine, the stress of the situation has taken a toll on everyone involved. "I've never dealt with so many angry people in my life," says Mojica. "From pool guys, to the people working in distribution, to the homeowners themselves, everybody is on edge. It's crazy. You know, we're all really just trying to get through this together."
But if there's one silver lining here, it's the rest of the pool community continuing to do what they can to help out. "There's still a lot of people coming from out of state," says Mojica. "And I'm in a lot of Facebook groups with pool guys, people from out of state, that are trying to help by sending equipment down here."