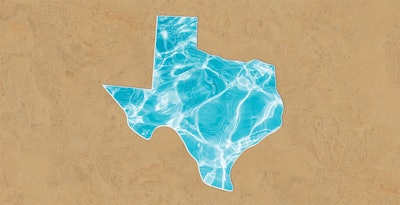 Debra Smith, president of of Pulliam Pools, a Dallas-Fort Worth-based pool builder, has been involved in helping customers realize their backyard dreams for 30 years, a line of work that can be as demanding as it is rewarding. For Smith, the pool industry is all about relationships, and she cherishes growing her employees just as much as she enjoys fulfilling her customers' high expectations.
Founded in 1916, Pulliam is one of the oldest pool builders in the country. Smith took ownership of the legacy brand in 2009, when the third generation of the founding family sold it to her and a partner after 93 years of ownership. "Pulliam Pools has been through both of the great wars, along with the great depression and the great recession," she continues. "Along the way, we have been an innovator in several widely-used construction practices, including helping develop the process of pneumatically applying concrete."
With such a long and august history, the recent announcement of the sale of Pulliam to a large consolidator raised eyebrows, and not just because of the company's lineage, but also because, while consolidation has been rampant in the manufacturing sector of the pool and industry, activity in the construction sector has been relatively limited. The agreement just signed merges two of the largest builders in the Dallas-Fort Worth area (Riverbend Sandler Pools was already in the fold) under the growing portfolio of Concentric Equity Partners (CEP).
SEEDS OF CHANGE
Like so many recent developments, consolidation in the pool and spa industry seems to have been exacerbated by the pandemic. The surge in popularity of pool and spa products drew the eye of investors early on, and Wall Street money was quick to follow. But the dynamics of the surge have also had a dramatic effect on pool and spa companies themselves — and their owners.
"COVID-19 unleashed what has been a relentless demand for new pool construction," Smith says. "Compounding that, Texas suffered a severe freeze in February 2021 that wreaked havoc on many of the pools we service. The combination of factors has stretched our workforce to the limit," says Smith of the deluge of expectations and the material and equipment shortages of the last two years.
For Smith, the logic of this consolidation is based on concern for her employees as well as an exit strategy for herself.
"The sense of long-term stability for our workforce is what makes this deal work for me," she finishes. "Pulliam has been an innovative mainstay in the Texas pool market for more than a hundred years. Merging with Riverbend sets our team up for success well into the future and opens new opportunities for employee growth beyond what we would be able to offer on our own. From my point of view, this is a win-win-win for all involved."
FUTURE PLANS
On the other side of the negotiating table from Smith was Adam Lucas, vice president with Concentric Equity Partners (CEP), a private asset management firm. CEP is the direct investing arm of Financial Investments Corp. (FIC), a family office with more than $2 billion of assets under management. CEP primarily invests in route-based service businesses that serve residential, commercial, and industrial customers. In late November 2021, CEP announced the acquisition of Pulliam Pools as part of their entry into the Dallas-Fort Worth residential aquatics market.
"We focus on service-based businesses operating in growth markets with strong tailwinds. We believe residential pool construction and the associated long-term services represent an underappreciated investment opportunity," Lucas says.
In his role with CEP, Lucas is responsible for originating new investment opportunities, executing acquisitions, and working with portfolio companies to manage allocations and foster growth. "Historically, pool construction is a sector that hasn't received a lot of attention from private equity. CEP recognizes the strong and long-term growth potential for the residential pool market and the homeowner's need for routine service and maintenance on an asset that is a significant investment."
CEP's first purchase in the DallasFort Worth area was Riverbend Sandler Pools in April 2021. CEP's investment in Pulliam later in the year was executed through Riverbend, and represents the second phase of a broader merger and acquisition strategy that Lucas envisions unfolding throughout Texas in the coming years.
"CEP is a long-term investor that concentrates on businesses in the lower middle market with strong growth potential," says Lucas. The CEP portfolio includes current and prior investments in companies supporting various service industries such as waste management, residential HVAC and plumbing, pest control, utility service repair, and waterproofing and restoration, among others. "We work with family-owned and entrepreneurial businesses to provide growth capital and advisory services to support the brand thesis, add jobs and leverage economies of scale."
Lucas shares that in the residential pool industry, not only has the pandemic accelerated the desire for enhanced private outdoor spaces, but the service and maintenance aspects of pool ownership are unlikely to be undertaken by most homeowners. Several factors contribute to selecting Dallas-Fort Worth as the launch point for CEP's investment into pool construction. Beginning with the metroplex's reliable economic growth as evidenced by continuing trends in new, single-family home construction and suburban expansion, as it relates to the local climate, geography is also an important consideration.
"The first step in our investment platform was to acquire Riverbend, a trusted brand with a reputation for quality and service as an ideal initial investment for this strategy," says Lucas. "Riverbend has been under the leadership of founder Charles Barnes for more than 40 years. Charles is one of the pool business's best known and respected operators in the entire country."
Riverbend's 2020 revenue was reported at $59.5 million, while Pulliam reportedly brought in $27.7 million. The combined revenue of $87.2 million would have ranked nationally behind only Cody Pools of Central Texas. CEP envisions that going forward, combined revenue could exceed $250 million annually with some standardization of processes, increased buying power, intraorganizational cooperation and future acquisitions.
"In both of these cases, the ownership teams at Riverbend and Pulliam were looking for a partnership that would be able to add stability and certainty in taking care of their employees," says Lucas. CEP's equity investment strategies strive for a long-term hold rather than a fix and flip. Lucas expects CEP will be deeply engaged with both brands for the better part of a decade going forward. "Investing success in service-based companies always has to focus on the hands that do the work. We are committed to long-range thinking for the better of both well-established brands and their employees."
Despite being in the same line of work and operating in the same vicinity, there is almost no geographic overlap between Riverbend and Pulliam, which is part of what makes the merger such an appealing investment for CEP. Population growth trends, not only in the metroplex but throughout much of central Texas, add to the attraction. Lucas expects CEP will announce additional acquisitions in the pool builder market soon, with several promising opportunities already in discussions.
"Fundamentally, Texas is an ideal starting point for our investments in pool building and maintenance," he shares. "From Dallas-Fort Worth to Houston and Austin out to San Antonio, there are large, thriving economic epicenters close to one another. Texas is hot year-round, and, with low interest rates, people are willing to invest in the high-quality outdoor lifestyle a pool adds to their home."
Looking further out, Lucas expects that similar merger and acquisition opportunities are on the horizon in nearby Oklahoma and the warm climates of Florida, Arizona and possibly Colorado.
As for the backend business dynamics, in the near term, Lucas is assuring that very little will change for the employees of either Riverbend or Pulliam. Both brands will retain their names, their existing geographic coverage and their distinct presence. CEP will invest in efforts to harmonize administrative functions like financial reporting, staff training and fleet maintenance while working to increase brand recognition for both. The positive effects of the consolidation that Riverbend and Pulliam employees will notice right away include increased buying power and inventory in materials and equipment, enhanced relationships with local subcontractors and the integration of new technologies around customer care, such as app-based scheduling and account communications. On the customer side, Lucas expects the noteworthy effects will be improved service and performance in reaction times, better equipment and material availability, and more consistent, better-informed customer interactions.
"As an investor, I am in awe of entrepreneurs and family-owned businesses that can grow a brand from the ground up," continues Lucas. "Going from no revenue to the $50 million mark is an incredible accomplishment in any endeavor. At CEP, our objective is to help these brands through the next phase of their growth trajectory. Moving from the $50 million mark to, say, $250 million, generally requires an advisory board to oversee the thoughtful navigation of next-level challenges."
---
This article first appeared in the February 2022 issue of AQUA Magazine — the top resource for retailers, builders and service pros in the pool and spa industry. Subscriptions to the print magazine are free to all industry professionals. Click here to subscribe.