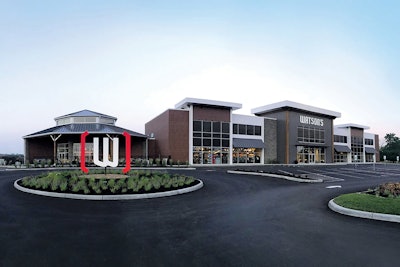 courtesy Watson's
Watson's, one of the nation's largest retailers of home recreation products has announced the acquisition of Detroit-based Allstate Home Leisure, a pools, spas, and home recreation products specialty retailer. The acquisition also includes Allstate's Sol Casual and Carlton Billiards brands.
"The deal was in the works for quite a while and we finally got it closed," says Watson's President and CEO Erik Mueller. "Detroit was very attractive to us considering we already have multiple franchise locations in various cities throughout Michigan. When we were able to come to terms with Roy and Shawna, strategically it made sense."
For their part, ownership at Allstate is confident their years of work building the company will become a foundation for further growth. "We know that our customers and employees are in good hands with Watson's," says Shawna Jordan, daughter of Allstate's founder. "After 30 years as a family business, the team at Allstate is excited to take the business to the next level under the Watson's family of companies."
GROWTH STRATEGY
While there has been a great deal of consolidation in the service sector of the pool and spa industry recently, as companies like NPP and Pool Troopers seek to grow through acquisition, consolidation activity in retail has been relatively scarce. The Watson's-Allstate deal is one of the biggest since the pandemic. However, Watson's has been pursuing growth through various means for many years, says Mueller.
"We're obviously always focused on organic growth in our existing locations. We have 30 Watson's branded and non-branded corporate and franchise locations in Ohio, St. Louis and Kentucky, as well as throughout Michigan and in Rochester, N.Y."
"For instance, in 2018, we made a very significant investment in our corporate headquarters and flagship location in Cincinnati, Ohio. We completely remodeled our existing 50,000-square-foot location and added 50,000 additional square feet. Additionally, we built new corporate offices and added a new 280,000-square-foot distribution center. Then, about a year ago, we expanded our presence in the St. Louis market, opening a new location in O'Fallon, Ill."
One of the biggest issues with pool and spa retail stores changing hands is that often much of the management capital is tied up with ownership, the very same people who are looking to exit the business and perhaps retire. To continue the company's success, ongoing leadership is a must. "Alternatively, when we look at growth through acquisitions," Mueller says, "we're looking for a solid amount of consistent revenue, profitability and a very strong team. If ownership is looking to exit, we ask, 'What's left behind?' If the team is strong, infrastructure, systems and processes are solid, then it's something that could make sense. On the other hand, if ownership leaves and there's not much left, then it makes no sense at all."
Simply by increasing the size of an entity, expenses can be lowered: That's the basic rationale for most acquisitions. A bigger company can buy in larger amounts and thus obtain wholesale pricing, and there are usually savings to be found among duplicative departments. But Mueller expects to keep Allstate's valuable people in place.
"When you do an acquisition like this," he says, "you're asking yourself, 'What are the growth opportunities and what new efficiencies can we find?' With the Allstate deal, we felt good about the aforementioned points and were attracted to the management team and overall quality of their staff. It was a matter of being disciplined throughout the diligence process to see if it all made sense. Ultimately, it did."
Through the acquisition, Watson's will add five greater Detroit retail locations (Ann Arbor, Novi, Livonia, Rochester, and Sterling Heights) and one distribution center to the company's current corporate and franchise footprint of 25 full-line and accessory locations. Allstate Home Leisure will operate as a wholly owned subsidiary of Watson's, initially integrated as Allstate Home Leisure by Watson's, with a full transition to complete Watson's branding over the next 18 to 24 months.
This article first appeared in the August 2022 issue of AQUA Magazine — the top resource for retailers, builders and service pros in the pool and spa industry. Subscriptions to the print magazine are free to all industry professionals. Click here to subscribe.