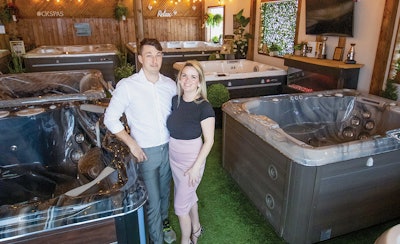 Photos by Dana Hyde Photog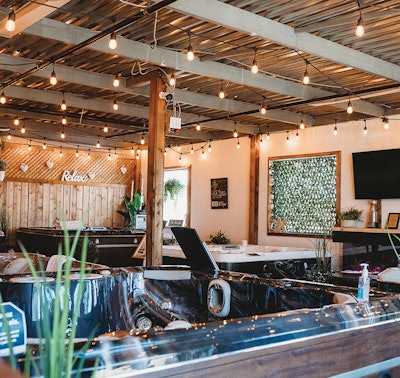 "We treat customers like people — not like numbers. That's so important."
—Dana Hyde (Owner, CK Spas)
"When I worked for a residential moving company, I used to watch spa deliveries," says Charles Koncewicz, owner of CK Spas (Saint-Eustache, Quebec). "Spa companies would be in and out of the client's yard within 30 minutes — while I was running boxes and furniture from the house to the truck for hours."
Koncewicz realized he was in the wrong business and started transporting hot tubs for residential clients and stores. When delivering new spas, he was often offered the old one. "I started taking them in, fixing them and selling them as reconditioned spas with a warranty from my home," he says.
Charles soon suggested to his wife and now business partner, Dana Hyde, that they open a store for the reconditioned hot tubs. The timing could not have been more perfect, as Dana was about to transition back to work after staying home with the couple's son until he was ready for school. "That same week, we visited a building and signed the lease," she says.
The store was newly renovated in 2021 to fit a new line of Hydropool hot tubs and swim spas, keeping the customer's experience top-of-mind. "We want clients to feel at home and visualize what their spa setup could be like by visiting our showroom," says Dana. The store is very cozy, warm and inviting, which extends into customer relationships. Regular customers are greeted by name upon arrival, and new clients can expect a low-pressure selling environment. Because Charles and Dana speak both English and French, customers can even be served in the language of their choice.
CK Spas is also very present on social media, including Facebook, Instagram, Twitter and TikTok. "The world is changing and customers are not shopping through the local newspaper or yellow pages," says Dana. "They are now actively searching online." The company boasts 4.9 stars out of 5 on Google, which helps to recruit new buyers. Most of its business in the last two years, though, has been through wordof-mouth promotion. "If you offer great service, your clients will tell everyone they know how happy they are."
Part of that great service is provided by Matty, the couple's 8-year-old son, and Beau, a rescue dog, both of which can be found running around the store on a regular basis. Matty is already proving to be quite the salesman and enjoys growing up in the industry.
"He can be found swimming in the swim spa or helping clients to pick one out," says Dana. "He knows some of the main features of the product line and does a great job in educating clients in the cutest ways."
---
This article first appeared in the April 2022 issue of AQUA Magazine — the top resource for retailers, builders and service pros in the pool and spa industry. Subscriptions to the print magazine are free to all industry professionals. Click here to subscribe.