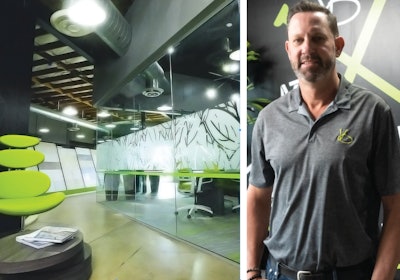 Photos courtesy Katrina Fennek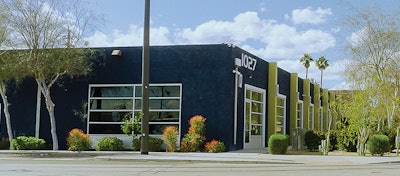 "Technology allows us to stay in constant contact with our clients, a crucial part of the pool construction business that couldn't be done before."
—Matt Coyle, Founder, Venetian Outdoors
"I grew up in the swimming pool construction business, working with my father and uncle," says Matt Coyle, founder. "Much of my swimming pool knowledge comes from that early experience." But Mr. Coyle's passion was in the more complicated, one-off types of backyard projects — which led him to found Venetian Outdoors in 2011.
"We design and build niche, one-of-a-kind outdoor spaces for high-end clientele," says Coyle. "In some cases, our clients spend millions of dollars with us." Because customers expect the best of everything, Venetian Outdoors is at the forefront of innovative technology, which begins with client transparency. The software BuilderTrend works as a hub between client and contractor to provide a hands-on construction experience. Clients can login and see in real-time where their project is with construction, view progress photos, and communicate any concerns or questions.
"We also onboarded a full-time marketing and social media manager in 2019," says Coyle. "This position has vaulted our social media presence and allowed us to maintain our image in the ever-changing social media arena." Social media, combined with referrals, helps Venetian Outdoors from spending money on advertising, as 100% of the company's clients come from word-of-mouth or social channels.
The company's office, located in the heart of the Central Valley, was also built with a technology-first mindset. "We want to provide a welcoming environment for our clients to envision their unique backyard space," says Coyle. "So by also using BuildTrend in the showroom, our designers can display 3D models of projects on televisions and walk clients through the different projects."
Venetian Outdoors will remain a relatively smaller company in comparison to other builders in the Phoenix market: It has on staff just three swimming pool and landscape designers, a landscape architect, and a full-scale CAD department. "We are not looking to take on additional projects per year, but we are looking to increase the quality of the projects we accept," says Coyle. "We hope to maintain a steady growth trajectory while capturing a larger percentage of the high-end market here in Central Valley. The work we do is unmatched, and I can't wait to see where our passion takes us in the future."
This article first appeared in the April 2023 issue of AQUA Magazine — the top resource for retailers, builders and service pros in the pool and spa industry. Subscriptions to the print magazine are free to all industry professionals. Click here to subscribe.