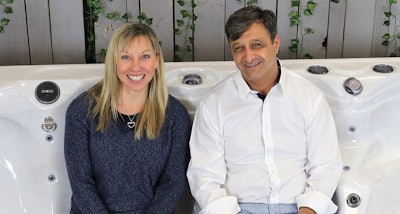 Photos courtesy Julie Pettis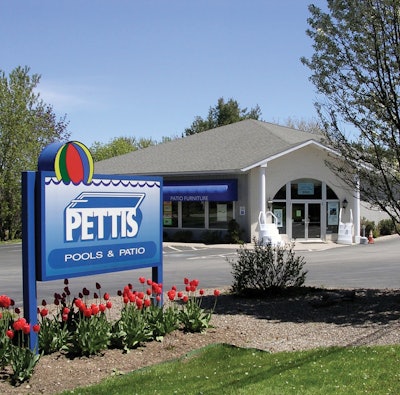 "To carry on the legacy and culture that my parents created, and to have engaged, enthusiastic employees, that is our best success story."
—Julie Pettis, Vice President, Pettis Pools & Patio
Pettis Pools & Patio was founded in 1962 by two school teachers, Erma and Larry Pettis, who were looking for an opportunity to supplement their income during the summer months. Thanks to a business classified ad in the local newspaper — an advertisement to own a Fox Inground Pool Dealership — they enthusiastically dove in and found their way into the pool and spa industry.
The second generation — comprised of John Napodano, Julie Pettis and Stephen Pettis (now retired) — carried on the running of Pettis Pools & Patio for over 10 years after the sad, nonconsecutive passings of both Erma and Larry. In 2020, the family proudly added a third generation to the company, Stephen's daughter, Abbey, who has helped carry on their unfaltering mission: excellent and honest service, great value and down-home friendliness.
Part of the Pettis family's long-standing success is their ability to meet the demand of changing times, whether in revamping their store locations — they worked with ECRetail as recently as 2021 to install eye-catching window graphics, new LED lighting, update several vignettes, etc. — or staying ahead of today's digital frontier. On top of using third-party services like the texting platform BirdEye, marketing consultants at Small Screen Producer, and CRM software company SharpSpring, Pettis Pools & Patio just launched its very own app.
"The Pettis Pool app has allowed us to expand our Pettis Perks loyalty cash reward program. Customers can earn 5% cash back on several product categories and redeem those dollars on future visits," says Julie Pettis, vice president. The app also pushes out notifications, geofences the competition, allows customers to request a service or replacement part, and offers in-app coupons, among other exclusive features.
Last year marked the company's 60th anniversary, which was celebrated in a big way. "We were able to run a 60 Days of Giveaways campaign at each of our locations, where the grand prize was a free hot tub, to thank our surrounding community," says Pettis, "on top of custom t-shirts, special banners and flags, a new landing page, trivia contest with prize offerings via Facebook, and more."
The Pettis family goes above and beyond for their community in other ways, too. Julie Pettis, in honor of her parents, created the annual Pettis Family Entrepreneurship Award Business Plan Competition, a program that helps fund original business ideas by students at The College of SUNY Brockport. "Students prepare and submit a project that they can then present to venture capitalists, banks and angel investors with evidence of the strength of their business plan," she says. "The recipients receive a $2,000 grant towards the project initiative."
And the future looks bright. "John and myself feel a tremendous responsibility to ensure Pettis Pools continues to do well," says Pettis. "Great people make up great businesses, and we're blessed to have some of the best! Our team continues to feel a high degree of drive, enthusiasm, dedication and entrepreneurial spirit. We feel our business will be in good hands in the decades to come."
This article first appeared in the April 2023 issue of AQUA Magazine — the top resource for retailers, builders and service pros in the pool and spa industry. Subscriptions to the print magazine are free to all industry professionals. Click here to subscribe.