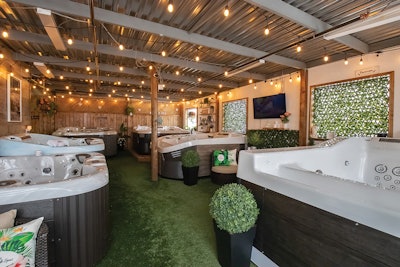 Photo courtesy Dana Hyde, CK Spas
How can pool and spa retailers strengthen their showroom design to increase profits and make the customer's shopping experience more enjoyable than ever? From rethinking general store layout to new design trends on the horizon, we spoke with Ted Lawrence, a retail specialist and Vice President of Pro Sales at BioLab — he is also a judge for AQUA's annual AQUA 100 contest — about how dealers can enter the busy season feeling more confident than ever. Here, he presents 47 useful tips on showroom design.
GENERAL SHOWROOM DESIGN
1. The easiest way to make a showroom look fresh and clean is with a new coat of paint — something pool and spa retailers can easily do during their offseason. Move away from earth-tone browns and modernize your paint colors — gray and silver, for example, will instantly make the showroom feel more modern and clean.
2. Gone are the days of having a tropical-themed pool store. Evolve your store to feel more like home.
3. Mix textures like wood and stone, perhaps even some items that you would use to build a pool, in and around the showroom to enhance the modern, visual look of your store.
4. During the pandemic, pool and spa retailers might have put up plexiglass and plastic to distinguish a barrier between retail associate and customer. It's time to break down those barriers. It's cold and impersonal — and they served their purpose.
5. Your showroom should feel spacious and less crowded. We learned during the pandemic that customers want to feel close but not too close. Rethink your tight or congested aisles. Allow people to congregate more. Think less zig-zaggy and more linear.
6. Take advantage of your wall space and ceiling height. In grocery stores now, they put a lot of overstock products above their shelf space. I think what happens a lot of times in pool and spa stores — we take that extra inventory and, realizing we don't have a large back room, we just double it up on the floor. Don't do this.
7. Upgrade your shelf size: Instead of using a 12- or 18-inch shelf, purchase shelves that are 20 or 24 inches deep that allow you to go more in-depth and make the product less cluttered.
8. Perception is reality. We are still about cleanliness, and lighting can play a big part in that (think the doctor's office). Your showroom should feel bright, which in turn, will allow it to feel more sanitary. Purchase a higher Kelvin bulb, anything over 5,000 Kelvin is appropriate.
9. When you design your pool store — from the point of entry to the back of the store — the pool should become more work the further you get back into the location. If you start at the front door, it should be items that make the lifestyle of owning a pool fun and happy. As you go back further, you get items that make it easier, all the way down to the work of the pool, which should include products like vacuum equipment, leaf rakes, maintenance equipment, etc.
ROTATING MERCHANDISE
10. Refresh your store at least three times a year: Memorial Day, 4th of July and Labor Day. You want to have a reason to rotate merchandise — don't just do it to do it. Make sure it's thoughtful and has meaning behind it. The holidays are a great time to do so.
11. But when it comes to your staple items, you always want to make sure they reside relatively in the same location. I'll give you an example: If your favorite grocery store tomorrow moved everything around, how would that make you feel? I know where my milk and eggs are. I know where the pasta aisle is. That's why I think it's okay to change some things, but the staple items in your location shouldn't move around too much.
12. Take advantage of your end caps. Typically, the items that are on seasonal end caps should change. End caps should display items with a high profit margin: It could be a newer item, something different the customer picks up because it's easy, something timely — pool and spa retailers in a seasonal market, for example, could display opening supplies when the time is right.
13. You want your customers to avoid a "triangle purchase," which is when they enter the front door, go to the product they need, go right to the register, and out the door. When you change out your end caps and some of your displays, it will get the customer shopping and staying. We know that the longer they stay, the more they are going to purchase.
14. A reminder: Not only do you rotate merchandise for your customers, but also for your staff. Make the store exciting for your employees, as well as easy and functional.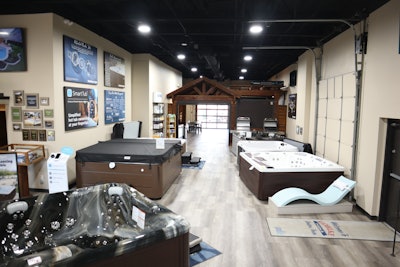 APPEALING TO THE SENSES
Sound
15. Do not have a quiet showroom. Play music. There are a lot of services out there that provide playlists and will stream what you are after. Pandora, for example, has Pandora for Business. Even the old Muzak company — believe it or not, they are still around — has modern playlists. In the worst-case scenario, some of the hot tubs have stereos in them, so you can utilize them to play music.
Touch
16. When we talk about touch, it's about interaction. Have displays that are attractive and allow people to see, feel and touch products — whether it be a robotic cleaner or controlling the hot tub jets on and off. Maybe it's that really cool display on the swimming pool that you have inside, that has a controller or an app to turn lights on and off. Make things interactive.
Smell
17. When we go into a pool store, the biggest negative is that customers are sometimes hit with the smell of chemicals. There is a company called ScentAir that will actually allow you to do scent sampling. They will send you a little sample kit, and help you to figure out a scent that is correct for your type of business. They also have scent-masking technology that hides the smell of bad scents. You can even pick a theme scent — different scents for different areas, as well, to give that scent cue that you've entered a different section of your showroom.
18. Simple diffusers are popular these days, where you buy an essential oil, you pour water into the diffuser, and you keep it running all day.
19. Stay away from cheap, plug-in style scents. They don't come off as good as they should, and quite frankly, they don't last long.
Taste
20. In the summertime, have a cooler of ice cream or simple freezer bars on hand. It's a great little, pardon the pun, icebreaker that you can give to the customer.
21. If you are in the wintertime with hot tubs, have a little coffee bar with hot chocolate, maybe some crushed peppermint and marshmallows. It can even be as simple as a Keurig machine with different pods.
22. Only have ceramic cups available. That way, the customer has to finish their cup of coffee or cocoa before they leave. The go-to cup signifies, "Get out of there," while the ceramic cup allows them to browse and enjoy.
23. You can even invest a bit of money in your ceramic cups, and place your company logo and contact information on them. If the customer makes a purchase, they can take it home.
THE CHECKOUT COUNTER
24. It's time to rethink the size of your checkout counter — it no longer needs to be a large, several hundred- square-foot counter in the store; it should be getting less important. As point-of-sale (POS) systems are going more mobile and handheld, it is time to streamline. I love the way Apple, for example, and some other brands interact with the customer. They have either a minimalist counter or no checkout counter whatsoever, just associates roaming around.
25. If you do have a checkout counter, it is a great place to add a personal touch and show who you are as a business: maybe some of the lineage that the business came from, old pictures of the business, where it started. Recently, I saw a picture of an owner as a baby sitting in a baby pool, and she says, "I've been in pools all my life." That was the tagline. I think things like that can bring emotion to the consumer and show a story.
26. The checkout counter is also a great place to display any sort of wall of fame: awards, recognition, media articles, especially things you do to contribute to the community and to give back.
27. Stay away from pictures of products and product information behind the counter, because consumers want to study that information and look at it in depth. I typically like to have those on an adjacent wall, so that customers can enjoy themselves. You could pepper them around the store, which would get the customer moving around and exposed to other things around the location.
28. If you have products on the checkout counter, make sure they are relevant for that moment in time. Maybe during spring, you have a startup, springtime enzyme on display to clean the water — or the same with fall, if you have a new closing product. The checkout counter is also a great place to display holiday-themed items.
29. Err on the side of less is more, so that you can grab a customer's attention and focus. I will often say this: If you were to put a casino in Las Vegas and want everybody's attention, you should black out your entire building. I think that would attract more attention than another neon light.
PRICING
30. More so than ever, you should be pricing the shelf and not the product. If you do need to make price changes, especially in today's inflationary environment, it behooves you to swap out one label versus the whole shelf.
31. In order to price a shelf, you have to be completely integrated into an Enterprise Resource Planning (ERP) or POS system that can actually scan the barcode and recognize the price. 32. Once the consumer has made a decision to buy a product, they have looked at the shelf price, agreed on the price, put it in their basket, and carried it to the counter. They already know what they bargained for. We don't need to remind them while they're walking around the store what the prices are or how much the basket that they're holding costs.
INTRODUCING NEW PRODUCT LINES
33. The best time to launch a new product is the beginning of the season — especially for dealers in seasonal markets. When consumers come in and ask what is new, your employees should be able to come right back with, "This new product over here, and this is why you should care about it."
34. When introducing new product lines, the first thing you always need is a strategy. Hope is not a strategy. Putting it on the shelf is not a strategy.
35. You need to create awareness within the store, and that starts with the education of your staff. Hold training on new products and make sure they know the ins and outs of its use.
36. Place the new product in an area with point-of-purchase (POP) and signage surrounding why the consumer should care about this product, or why it's new and different.
37. To help really push a new product or initiative, there should be Sales Program Incentive Funds (SPIFFs) attached to it, as well, for a short period of time to seed the new business.
TRIED-AND-TRUE PRODUCTS
38. My advice on your staple products: Steady the course, continue to do what you are doing. As long as your share in sales is not reducing, continue to promote it.
39. If a consumer is really coming in for a certain product, if it's a product magnet, you might want to consider moving it to a less desirable location in your showroom. Use that product as a carrot for the customer to go find. Think about where bread, milk and eggs are in the grocery store — they could literally put those products anywhere, and people will buy them.
HOT TUB DISPLAYS
40. I believe you should hit the consumer with every bell and whistle in the most expensive hot tub that you have on the showroom floor first. Get the shock out of the way. After that, everything else seems more reasonably priced. Thus, put your most expensive hot tubs in the front of the store, and taper the less expensive ones towards the back.
41. Rethink your signage and display. Make hot tubs feel like they belong in your home — change displays up with fresher colors and cabinet styles. It should feel less like an appliance on the showroom and more like you are in the customer's backyard or on their deck.
42. Product vignettes are important to paint a full picture.
43. I think in today's transparent society where everything is accessible, you should always promote the price of the hot tub. It's no longer a mystery: We all know what stuff costs these days.
MORE SHOWROOM TRENDS FOR 2023
44. Stores are now changing moods — the lighting actually changes throughout the day. You can, in fact, change the color so the lighting almost makes your showroom feel and look different. Nordstrom, for example, is doing a lot of experimenting where the store will go from pink hues to green and blue throughout the day, changing the mood or feel. It works and creates some differentiation.
45. You should be mixing digital with reality, which I think has spiked in the post-pandemic retail market. The information customers can get online at home should be the same information they receive in-store.
46. Trends, such as digital displays and QR coding, are starting to go crazy. Have some QR codes that link to YouTube videos to show a demonstration of products, how they work and how to apply them.
47. The mixture between full service and self-service is going to remain after the pandemic. People want to have the information, but they want to make the decision on their own — and after, they want a sales associate to reinforce the decision that they made.
This article first appeared in the February 2023 issue of AQUA Magazine — the top resource for retailers, builders and service pros in the pool and spa industry. Subscriptions to the print magazine are free to all industry professionals. Click here to subscribe.