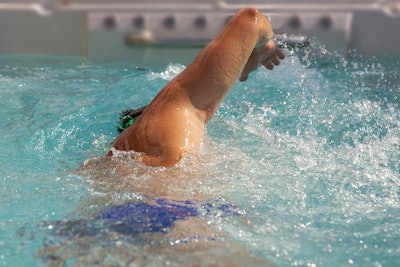 The sales of swim spas, after a steady climb for over a decade, really took off during the pandemic. This unique, multi-dimensional product keeps adding advocates because it meets various customer needs in a tight, affordable package.
We talked to three dealers with strong sales in the category about the nuances of selling swim spas: Troy Derheim with My Aquatic Services, Kim Steffenhagen with Patio Pleasures and Zach Duhamell with Gohlke Pools. All three provided unique perspectives on retailing this crossover phenomenon.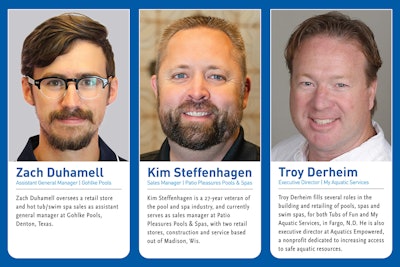 AQ: WHO ARE YOUR SWIM SPA CUSTOMERS?
KS: I would say around one third of our customers are hardcore swimmers. And then we get people who are rehabbing their knees, hips, etc.; they purchase a swim spa to do some therapy, improve their quality of life or get over a surgery. And then we also see the small backyard thing: The people who want a pool, but just don't have enough space, or the right space, so the swim spa is a way for them to get some water in their backyard, and at the very least, float around.
ZD: Like Kim, we see some people buying it for exercise and lifestyle reasons, but for us in Northern Texas, most of our customers are coming from new housing developments. There have been a ton of new housing developments here in the past decade, most of them revolving around the smaller backyard trend. Usually we'd see these new developments as an opportunity to gain some new pool construction business, but with the limited backyard space, swim spas were just a natural progression for our company. It was really the only product that could suit the needs of these new customers.
AQ: DID YOU HAVE ANY CONCERNS ABOUT TAKING THE LEAP INTO THE NICHE SWIM SPA MARKET?
KS: For us, it was delivering them. We had to make sure we knew how to properly do it, which turned out not to be a big deal at all. We got the right people, equipment and ways to maneuver it pretty quickly. And then, the concern was space so that we could display the swim spas properly. If you just show one swim spa, it's like you have one foot in the market and one foot out. I'm a big advocate for the more you show, the more you sell, so getting the display space in our showrooms was definitely a necessary challenge to overcome in order to increase sales.
ZD: Our biggest concern was that we were kind of competing with ourselves on the pool/construction side of business. The price of a higher-end swim spa unit was almost comparable to the price of an entry-level inground pool. That's not really the case anymore, but in the beginning, it was definitely a big concern for us. There was also a slight fear that swim spas might not be successful in the Texas market because it's just another hot body of water, and Texas is already pretty hot most of the year.
TD: We had a little bit of concern about our customers keeping up the maintenance year round because a lot of people in the North Dakota climate are used to cold temperatures for five to six months of the year, so making sure they maintain the bigger body of water all year, even when they may not be using it in January and February, is important for our overall success.
AQ: WHERE DO SWIM SPAS FIT IN WITH YOUR PRODUCT LINEUP?
TD: Since pool building has been the bulk of our business the last four years, we've kind of backed off on a lot of spa sales; our focus had to be on keeping up with the exponential pool demand. We've changed our sales approach, and now we're selling swim spas as an alternative to swimming pools because we still have two years of building backlog. Instead of losing those clients who don't want to wait that long, we try giving them something (the swim spa) in the meantime.
ZD: We also look at swim spas as an alternative to swimming pools. There have been a handful of clients who are looking to a swim spa for exercise, as a sort of lifestyle solution. Those people come directly to us requesting to talk about and test out the swim spa. But a lot of the time, we end up speaking with someone who originally wanted a swimming pool, but ended up just not having the space or resources, and if we know that's the case, we always try to divert them to a swim spa. We also try to pair the sale with a backyard/outdoor living design sale because that way, we know we're capturing their long-term business.
AQ: WHAT ABOUT MARKETING?
KS: Most of our customers find us through our website, so I think that's a big sales driver for us, and then referrals, too. Once you get a handful of swim spas out there, our customers' friends and family start asking about them, so that word-of-mouth marketing is key. We don't really do a lot of advertising, but the bigger companies who do are really helping us out because our customers will look online for 'swim spas near me,' and as I already mentioned, our website is great to drive in sales.
TD: We used to train our sales staff to talk about our company's competitive advantage as compared to our competitors; however, now we have them focus on the impact and memories a swim spa will bring to our customers and their families. Our company also does hot tub rentals, which are a bit of a hassle, and we don't really make much money on it, but we continue to do it because it helps us get our name out into the community. A picture on Facebook came up the other day in my memories. A swim spa rental customer tagged us in a post six years ago. It was of a mother and her daughter, who happened to die a few hours later in a car accident. That was the last picture taken of this 13-year-old girl before she passed away. Sometimes you really have to look at our industry from a different perspective. You have to really think about the impact we're making on people's lives.
AQ: WHAT ARE THE BIGGEST QUESTIONS YOU GET FROM CUSTOMERS WHEN DISCUSSING SWIM SPAS?
KS: I think our customers look to the dealer for our design expertise. A lot of the swim spas we sell actually go inside because of the unpredictable Wisconsin weather and that takes a lot of planning, so they look to us to be able to help/service from start to finish.
ZD: Most of the questions we get asked address how the swim spa will fit in the customer's backyard; they want their backyard to remain usable while also having the spa be visually appealing. Helping the client decide where to put it, what to put around it, just basic design questions like that are common.
TD: A few of my customers have surprised me by asking about the long-term usage of a swim spa. They have the perception that appliances only last about eight to 10 years, because that's how long their microwave lasted, for example, so investing tens of thousands of dollars into something that they think would only last them a decade can be a big misconception we have to disprove. We build our sales strategy around ensuring people that, with minor maintenance, a swim spa will last them 20 to 30 years.
AQ: WHAT IS THE SWIM SPA TESTING PROCESS LIKE?
KS: It's definitely something you want to guide people through because you don't want the process to be difficult. Part of our job is to make the testing as flawless and simple as possible. The depth of the unit and the speed, control and versatility of the jets are all factors we guide testers through. Making sure their vision aligns with their investment plays a big factor in the process.
AQ: DO YOU ENCOURAGE YOUR EMPLOYEES TO USE THE SWIM SPAS/OTHER PRODUCTS IN THE STORE?
ZD: Yes, we want our salespeople to use pretty much everything we have on the floor so that they can refer to their own experiences when trying to sell it; it gives a more personal, organic touch to the conversation.
AQ: WHAT ADVICE CAN YOU GIVE DEALERS WHO ARE APPREHENSIVE ABOUT MAKING AN INVESTMENT TOWARDS SELLING SWIM SPAS?
TD: You can't bring in that high price of a floor unit and not be committed to selling it. You have to train your people to understand that it's a different, alternative product to a pool and make sure they are committed to selling it.
ZS: Yes, commitment is key. If you're going to do it halfheartedly, then you're not going to be as successful as you could be if you were selling them wholeheartedly. Patio furniture is similar to swim spas in that dealers might say they won't bring it in because they don't have the space for it, or maybe they'll only bring in a few pieces, but even if you don't have a ton of space, you need to be committed to the product you're trying to sell. That's the key.
AQ: INSTEAD OF BUYING THE SWIM SPA AS AN ALTERNATIVE TO A POOL, DO YOU EVER FIND YOUR CUSTOMERS BUYING IT AS AN ADDITION TO A POOL?
KS: A lot of my swim spa customers were originally looking at a $120,000 fiberglass pool, but then thought, why not get a swim spa instead for a fraction of the price? So people normally get one or the other.
TD: We might have one customer every three years who will put both in. We build some pretty elaborate pools, and sometimes, we put something called a fast lane into them. It's basically a portable swim spa unit you can mount right into a pool so that customers can swim against a current. We probably do that once or twice a year.
AQ: HOW DO YOU FEEL ABOUT THE FUTURE OF THE SWIM SPA CATEGORY?
ZD: I think it's going to continue to be a growing section of our business because of the smaller backyard trend in our region of Texas.
TD: We see swim spas as a huge part of our business in the future. We're going to start pushing for them more, especially since we're so backed up in our pool construction side of business. We do work with a lot of commercial clients, and to be honest, it seems like the bigger fitness centers don't want to install a swim spa because they don't want to have to worry about it and maintain it. There's kind of a big gap between small fitness centers who can't afford it and the bigger fitness centers who just don't want to deal with it. But we are seeing more apartment complexes bringing in swim spas.
This article first appeared in the June 2023 issue of AQUA Magazine — the top resource for retailers, builders and service pros in the pool and spa industry. Subscriptions to the print magazine are free to all industry professionals. Click here to subscribe.