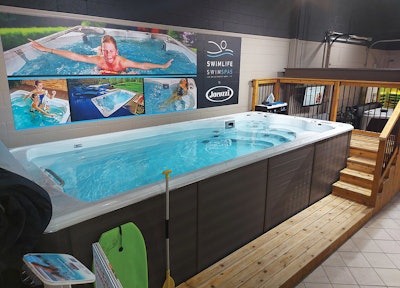 Photo courtesy Jacuzzi Ontario
Based on AQUA's 2021 State of the Industry survey, more retailers than ever are entering the swim spa category, with 60% of respondents indicating they offer swim spas and many expressing enthusiasm about their benefits. Yet, alongside these de alers enjoying the fruits of a growing product category, some dealers have yet to see jet-streams of revenue.
Two big reasons for that, according to swim spa manufacturers, are misperceptions about the product and a lack of commitment to selling it.
"Sometimes, a swim spa can seem to take up a position in a barren wasteland between a hot tub and a swimming pool," says Doug Gillespie, vice president of sales training for Jacuzzi Brands and vice president of marketing for Hydropool Hot Tubs & Swim Spas. "What retailers need to understand about a swim spa is that you can swim in it, you can relax in it, you can get a massage in it, you can have fun in it, and you can use it all year long. It's a cross between a hot tub and a swimming pool for the customer who's looking to do everything in a small footprint in their backyard."
Kevin Richards, vice president of sales and marketing for Master Spas, notes that swim spas take the same dedication and diligence as any product. "You can't just say you sell swim spas and then magically sell them. That's not the way this works," he adds.
Selling swim spas requires an investment in more than just inventory. Succeeding with this product category requires changing the way you do business, say those who have made the product pay off. It involves dedicating showroom floor space, prioritizing the time and resources to properly train the sales staff, engaging customers with the product and marketing its benefits, and altering the delivery process to accommodate a larger product.
Gold medal U.S Olympians like swimmer Michael Phelps and gymnast Aly Raisman — proud swim spa consumers — can only do so much to raise the product's profile; the rest is up to dealers. Here are three steps toward overcoming perceived obstacles to swim-spa selling success.
1. FIND THE FLOOR SPACE.
Swim spas have never been more popular than they are right now. "[They] are seeing extremely high demand," the Pool and Hot Tub Alliance (PHTA) reported in 2021, noting that many people who stopped going to health clubs and fitness centers in the wake of COVID-19 purchased one for health and wellness purposes.
Gillespie points to retailers that just a few years ago had one swim spa displayed in their stores; now they showcase six or seven. How did they find the floor space? They eliminated other products intended to help position pool and spa retailers as one-stop backyard entertainment shops: grills, patio furniture, gazebos, even saunas and pool tables.
"To be in that business, you need to be in deep, with lots of capital and lots of stock. You can't just dabble in it," Gillespie says. "So a lot of retailers are turning around and saying, 'You know what? Enough of these side categories.'"
Instead, he recommends using that showroom space to unbox the swim spas, build decks around them, accessorize with steps and plants, add open covers, fill them with water and turn them on. He suggests displaying a minimum of three units — a mix of models and sizes.
"We won't even consider a new retailer if they're not willing to invest in the floor space for multiple swim spas," Richards says."We have retailers now that are selling twice as many swim spas as they used to."
Manufacturers have doubled down on their own investments in swim spas, too, with high-profile national advertising campaigns and increased production capacities. In August 2019, Master Spas opened a new facility on its Fort Wayne, Ind., campus dedicated exclusively to swim spas.
2. EDUCATE YOUR STAFF AND THEN SHARE THAT KNOWLEDGE.
The learning curve for selling swim spas is wider than it is for a swimming pool or hot tub — in part, perhaps, because the product's name carries limited-use connotations. Manufacturers offer deep product lines in multiple sizes with varying capabilities, and many — including Master Spas and Hydropool — operate in-house training centers. Gillespie says Jacuzzi plans to launch the Southern California Training Center of Excellence in Chino, Calif., in early 2022 to provide hands-on training for retailers based on the west coast. A similar facility is planned in Europe, too, and another one already operates in Mississauga, Ontario.
"Training is not an event; it's a process that needs to be done all the time," Gillespie says. "So not only do we have in-person training, but we have online platforms for salespeople to continue to practice their craft and make sure that they're good at it. I can tell you that if you don't get the training in swim spas and if you don't understand how to sell against competitors, you will fail. Because you'll go in half-heartedly."
Richards agrees. "Our dealers get excited about selling a larger-ticket item," he says, noting that some barriers must be broken along the way — including overcoming trepidation about a price tag that's higher than a hot tub (but much lower than an inground pool) and a firm understanding that a swim spa can be used for all-season training and therapy purposes, as well as relaxing, entertaining, playing and more. Essentially, the product serves as a backyard waterpark.
"Overall, the barrier for the consumer to get into a swim spa is much lower than it is to get into an inground pool," he says. "You don't necessarily get a backyard pool to swim in it, because you can't swim in it for more than two strokes before you need to turn around and go back to the other end. It's actually easier to swim in a swim spa. A lot of the same benefits we pitch to the end consumers we also pitch to dealers to get them to buy into the product."
Consumers are learning more about swim spas every year, according to manufacturers, which has contributed to the surge in sales and demand. And while many buyers purchase a unit for something other than swimming, Richards and Gillespie emphasize the importance of asking would-be customers how they plan to use a swim spa. If fitness and training are priorities, steer them toward a high-end model. If the intention is to use it for more recreational purposes, a larger mid-tier model might be the best solution. Work with them to meet their needs, just as you would for a pool or a spa.
In some cases, consumers will require additional convincing, which is when sharing personal experience stories with the product can help close the sale. "Start using the product yourself," Gillespie says, suggesting employees spend some time in a floor model. "Once I started using a swim spa, my perception of it changed."
3. STREAMLINE THE DELIVERY PROCESS.
Granted, delivering a swim spa is not as easy as delivering a hot tub. But on the bright side, it involves far less effort than building an inground pool. "With swimming pools, you have to deal with weather, you have to deal with labor, which is incredibly difficult to find right now. You have to hire an excavator. That all takes time. I know, because I did it for years," Gillespie says. "Instead, a swim spa gives you the same price margins as a pool, and you're going to be in and out of the customer's home in 30 minutes."
Because of its size, a swim spa won't fit on a standard dolly or cart, and typically a crane is required to transport it from the flatbed delivery vehicle to the backyard. Gillespie suggests partnering locally with a reputable construction firm and then incorporating the additional cost of the crane rental (and the concrete pad installation) into the unit's retail price. Doing so, he adds, will put buyers at ease regarding the logistics of how a bulky swim spa will make it from the dealership to the backyard.
"I can tell you that anywhere in North America, the cost of a crane [for that kind of work] is $1,500 if it can park in the driveway," Gillespie says. "If it can't park in the driveway, and it has to make the delivery from the road, it gets a little bit pricier."
Once retailers embrace and fully commit to selling swim spas, the biggest challenge might be keeping them in stock. Supply and demand issues have led to longer delivery times, and inflation is forcing retail prices higher.
"We expect this category to continue to grow," Richards says. "Obviously, we don't know how some things will play out right now and in the near-term future. But people want to improve their wellness and invest in their homes, and those are things that are going to continue for years to come. So there's an opportunity, because there's really a need for swim spas in the market now."
Gillespie is so confident about the product category's broadening appeal that he says it won't be long until some retailers sell only swim spas. After all, doing so need not be a difficult task; it's arguably easier now to move them out the door than at any other time in the product's history.
"The return on the product for our dealers has been amazing," Richards says. "And they get a customer base that loves the product. Honestly, swim spa owners are probably more passionate about that product than hot tub owners. And that kind of bleeds into everything else, because you get customer advocates out there saying how great the product is and how great the retailer is."
---
This article first appeared in the January 2022 issue of AQUA Magazine — the top resource for retailers, builders and service pros in the pool and spa industry. Subscriptions to the print magazine are free to all industry professionals. Click here to subscribe.