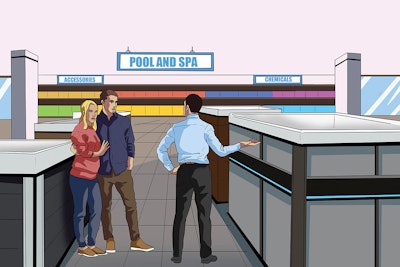 In the 2022 State of the Industry Report, a full 76% of hot tub dealer respondents said they also carry swim spas. This further confirmed the category's growth in recent years, especially during the global pandemic, both for its niche features and availability — some dealers find that customers move from an inground swimming pool to a swim spa after they hear they can get it sooner, for example.
Despite widespread success, however, much of the industry is still in learning mode when it comes to the nuances of selling swim spas and the fine points of ensuring customer satisfaction with this tweener product.
We sat down with Patio Pleasures Pools & Spas at their newly opened Madison, Wis.-based showroom to gain insights into each step of the sales process, from first identifying a swim spa customer to ensuring a smooth delivery.
THE SWIM SPA CUSTOMER
"Is a swim spa right for you?"
Customers can enter the showroom wanting an inground pool or hot tub, only to find out a swim spa is the better option for them. So how do you identify the ideal swim spa customer and point them in the right direction?

Each customer is going to have some similarities in desire, explains Kim Steffenhagen, sales manager at Patio Pleasures Pools & Spas in Madison, Wis. "For example, swimming is not always the driving factor for a lot of people buying swim spas and in swimming pools, I've found that only a small percentage of people purchase them for swimming laps. Both products are, more or less, purchased with the intention for family connection."

Thus, to weed through inground versus swim spa customers, Steffenhagen often starts with seasonal use. For customers in winterizing areas, they might want a water vessel that can be used year round. "The big draw to the swim spa is that they can be used in the offseason. Most people with a swimming pool usually open in the middle of April at the earliest, and then close it in the middle of October," he says. "The swim spa keeps going — that's going to appeal to some people. It might function as a swimming pool in the summer and a hot tub in the winter."

"Then, water temperature comes into play," explains Steffenhagen. "A swim spa customer might want to continue to benefit — exercise and rehabilitation, for example — from the product's unique features in the offseason, but also want warm water. The size of the vessel becomes important: The larger the swim spa, the harder it is to raise and lower temperature, whereas a hot tub will warm faster and keep heat better."

While Steffenhagen does have some outliers — one customer owns a 17-foot swim spa, for example, and uses it as a hot tub in the winter at 104 degrees Fahrenheit — by reminding customers you can't go quickly from one extreme to the other, he's able to narrow down a hot tub customer over a swim spa.There are, of course, some swim spas that offer the best of both worlds, he adds. "Smaller swim spas tend to be more of the hybrids. A customer's workout can be comfortable, but they can crank the temperature later — so it's a happy medium." Steffenhagen recommends dealers keep an option like this (usually a 1,200-gallon model is ideal) in stock.
FURTHER CONFIRMATION
"Where do you plan to install the swim spa?"
To further determine if a swim spa is right for your customer — and before landing on an appropriate model — it's important to ask questions on installation. "Once a customer has shown interest in the swim spa [based on the previous headline], to start off a more formal sales process, I ask them questions about their backyard space," says Steffenhagen. "Space-planning is a very important part of the swim spa sales process."
There are a lot of different ways a swim spa can be installed. "By listening to the description of their backyard — they might already have installation ideas in mind — I can start to better understand what model best suits their space," says Steffenhagen. He notes that sometimes you will find that, based on the customer's backyard, a swim spa actually isn't the right fit for them and will have to backtrack.
You should also start to narrow in on the swim spa features, says Steffenhagen. Determine how much performance the customer wants in the swim jets — those getting the unit for swimming want more current and more control over the current; some might be buying it for a walking current. "We also have customers who aren't interested in extra variability. They just want high, low and medium options, versus 10 different speeds.
"Once we dial in on those factors — the backyard space and performance level — we can land on size and model. Fifty percent of customers, we find, also ask for a wet test, which we usually conduct after hours."
AVAILABILITY
"Let me first see if this product is in stock."
Depending on the manufacturer, confirm availability next — especially in today's market. "You don't just sell a swim spa unless you have one on order, or the buyer is willing to wait anywhere from 12 to 18 months to get one," says Steffenhagen.
"We have had units that were supposed to come in May that haven't shown up until December — and they were ordered the prior September. So that six to seven month lead time turns into 14 months. There are no guarantees on anything in this world we live in right now. It's always good to have the pipeline full, and that's kind of how we do it. We always use our allotments, whether the product is sold or not, because it's usually sold within a month or two anyways before it even arrives on the truck."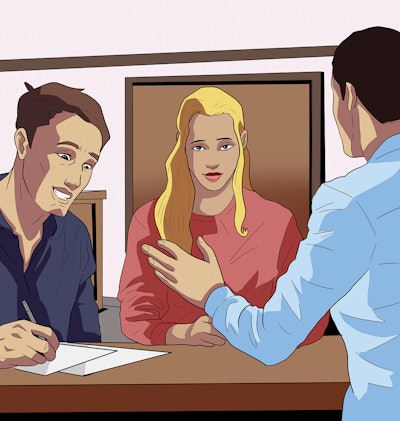 PRICE AND PAPERWORK
"Are you ready to sign the deal?"
Price inflation has certainly rattled dealers and customers alike, so it's important to be on the same page about the dollar amount.
"On the pricing side of things, the way the industry has changed, if a manufacturer takes an order, they bill you at the time of delivery," says Steffenhagen. "Whereas, when you sell a swim spa, you make a quote at the time of the sale. That's been one of the bigger challenges for us. If a manufacturer raises the price, coming back to the customer and saying, 'I'm sorry, it went up x amount' — it's not very realistic.
"And once you let a price increase out, it's very difficult to get it back. It's not like a television where the technology just keeps innovating, and customers are getting a new product a couple years down the road. It's important to do the math. On the floor, especially before a customer fully commits, I often get the question, 'Do you think prices will drop soon?' My answer to that is, 'You know, we're just hoping that they don't keep going up,' (or in other words, 'I would buy before prices go up again'). That usually shifts their perspective."
Prior to the pandemic, Patio Pleasures required that, at the time of sale, the swim spa be paid in full. Now, with longer lead times, it's harder to get that buy-in from the customer when they are waiting as long as they are.
"We understand that," says Owner Rene Huston, "so we shifted our down-payment policy. In order to be healthy and stay afloat with inventory that's on order, we request at least 50% down now instead of the full payment. But we do offer a pay-infull discount. That makes people feel better because they're getting a significant amount of money off. It's not a direct percentage necessarily, but it's anywhere from 13 to 18% off."
Customers receive a number of learning documents to prepare them for the swim spa, especially for installation. The most important is arguably the electrical document: It lists what to expect for delivery, lead times, possible delays — it notes that delays are completely out of Patio Pleasures' control — installation preparation guidelines, especially for electrical setup, and more. "Things that we used to take for granted, we make sure to cover now," says Steffenhagen. "There is no stone left unturned. When someone makes a purchase, we require them to read and sign this electrical document. We had something similar in the past, but we didn't force people to sign it — now we do. I had no idea customers weren't reading the materials we were giving them."
DELIVERY
"What time works for you?"
Leading up to delivery, it's important to check in with the customer to ensure they are not only still committed to the sale but to ensure they are fully ready for installation. Patio Pleasures now has a "customer experience" department: someone on staff who handles administrative tasks around larger product purchases.
"This person sends follow-up emails to our customers who have purchased swim spas," explains Huston. "They are involved with our sales team, look at customer profiles, do care calls — you name it. This takes a lot of burden off of sales."
Prior to the pandemic, the sales staff was doing a lot of their own administrative work. Patio Pleasures found that they were feeling pretty run down and overwhelmed with the administrative tasks involved with selling swim spas, among other products. "We took some of that off of them, so we could make sure they were selling," says Huston. "That was kind of a raise in itself because they had more time to sell, and the volume of sales went up. We thought that was one of the greatest gifts they could receive."
So, as a swim spa shipment gets closer, a customer experience staff member will reach out to the intended customer to ensure things are in order. "There's a lot of proactive communication that follows before the unit even gets here," says Steffenhagen. "We first get them on the schedule, knowing a manufacturer delivery is coming. Next, pictures have become more important than ever. We are able to go over the entire site with the photos that customers provide us with, which stops us from needing to make a site visit, and it especially helps us to ensure electrical is in working order. On the rare occasion that we do need to visit a site, we try to schedule it into a service technician's daily route, so they are already in the area."
Gone are the days when they show up at a delivery, only to find they can't complete the installation that same day — simply because they don't have the time or tools. "We try to avoid coming back to a delivery at all costs," says Huston.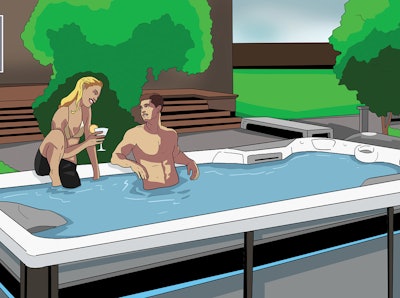 AFTER THE SALE
"How are things going?"
Steffenhagen argues that the first 90 days are the most important for new swim spa owners. "My famous line is always that in those first 90 days," he says, "you're learning what to do, when to do it, and how to do it. I always tell customers, 'Once you meet that mark, you're going to be a pro.'"
Patio Pleasures has been working on a series of YouTube videos, a few of which are on the swim spa, to help put customers at ease. "They are bite-size segments on important subjects, especially on balancing water and general water care," says Huston. "We've also found that customers watch the videos prior to their swim spa delivery and already have a roadmap in mind on what water care is going to look like prior to installation.
"We also encourage customers to bring in a water sample, even though it's more costly to the company. People are happier, and we've found we get more referrals off of it. It really helps to bring the sale full circle."
---
This article first appeared in the June 2022 issue of AQUA Magazine — the top resource for retailers, builders and service pros in the pool and spa industry. Subscriptions to the print magazine are free to all industry professionals. Click here to subscribe.