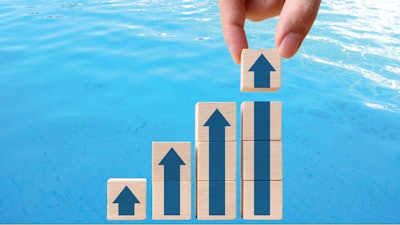 The onset of the Covid era triggered the sharpest increase in pool and spa consumers in decades, as many homeowners that had always spent disposable income on travel decided instead to buy a pool or spa. The period drove profits to record levels for builders, retailers, service providers — literally everyone in the business.
Now, as that mighty wave of demand crests, it's time to bring those brand-new consumers into the pool and spa family and make them lifetime devotees of the aquatic lifestyle, says Andy Tournas, industry veteran whose 39-year industry career began with the launch of ThermoSpas in 1983. He is now president of Hot Tub Products, based in Connecticut.
"Over the last two years, we've brought in so many new customers," he says, "why not turn that into an annuity? With all these new pool and spa owners, wouldn't it be great to make $500 in chemicals and filters and accessories from them, every year from now on? We've now got about 6 million people with operational hot tubs — that's $3 billion a year."
The Dealers Share
"Dealers have been losing out on aftermarket sales for a long time," Tournas says, "and the phenomenal sales growth dealers have experienced over the last two years should not become a windfall for Amazon."
It's not a new refrain; retailers are well-acquainted with the challenge presented by Mass Merchants and large online stores. "Dealers who created the sales should now focus on garnishing the income aftermarket products provide every year. Plus, maintaining a relationship with their customer breeds referrals and the opportunity of the sale of the next spa they buy."
(Side note: Tournas is an advocate for dealers creating their own online stores in order to take back those purchases, and his company eases the transition for dealers who lack the resources to execute such an undertaking. He will be speaking at AQUA Live in Charlotte about the process.)
"The No. 1 reason dealers lose the chemical sale is because customers like the convenience of online buying; it's usually not because of price," says Tournas. "If you're Scott Webb, and you just got out of the hot tub after three glasses of wine, and it's 11:30 at night and you go, 'Dang, I'm just about out of bromine,' you don't say to yourself, 'I gotta remember to take care of that tomorrow.' You say to yourself, 'Let me order it right now and be done with it.'
"Customers don't like to drive to a store to buy chemicals, especially now with the price of gas. Most don't like to deal with a person face-to-face, and many don't even like calling in an order on the phone."
Tournas states, "Having an online store today is critical to the success of your aftermarket sales. Most consumers (as we all are), would prefer to buy chemicals from the company that sold them the hot tub and taught them how to take care of it, but not if the dealer doesn't make it convenient.
"But simply having an online store does not guarantee success. Like any other product or service, it needs to be marketed. Customers need to be reminded that you exist, that you're the expert, and most importantly, that you care about them and their hot tub."
Set Up An Online Store
Which brings us back to Andy Tournas' AQUA Live seminar, "The Move to Online Retailing," set for 9:15 a.m., Thursday, October 6, at the Charlotte Convention Center. The seminar will include how industry professionals can set up their own online store and the approximate costs to do it. But most importantly, the seminar will focus on how to effectively market their online store.
"Many larger dealers already have their own e-commerce site, and they do it quite well, but that's probably 3% of hot tub dealers and service companies in the industry," says Tournas. "And the reason bigger operations have jumped into e-commerce early on is because they're realizing they're crazy if they don't, that they're just giving away all of this aftermarket business. This seminar can dramatically enhance these already existing online operations with new marketing ideas.
"But most small and mid-sized dealers don't want to invest in the boxes, the shipping, the tracking, the software, etc. My company has set up a licensee program that helps retailers eliminate those stressors."
In short, Tournas says, having your own online store can provide your new pandemic customers, as well as your 20-year clients, something they value — convenience. And what it will bring to both retailers and service companies is an enhanced profit stream, along with enhanced value of their company. He says that service companies are often the companies that benefit the most in launching an online store. "It makes sense, since they are the ones constantly visiting customers at their homes, and consumers trust them a lot."
The seminar is ideal for both those who already have an online store that are seeking to enhance its success, along with any dealer or service company looking to jump into the online store industry. Both will learn some short cuts to success, and some very interesting new ideas on how to market your online store.
This article first appeared in the September 2022 issue of AQUA Magazine — the top resource for retailers, builders and service pros in the pool and spa industry. Subscriptions to the print magazine are free to all industry professionals. Click here to subscribe.