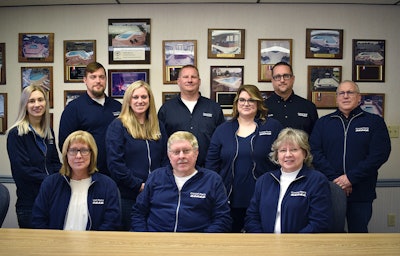 All photos courtesy Crystal Pools
Sixty years ago, when Henry "Hank" Rozanski contracted a company to build a swimming pool in his very own backyard, he did not know that he would end up finishing the project himself. "After the commissioned company basically went out of business during the build, Hank took it upon himself to finish his own pool," explains Josh Culp, general manager at Crystal Pools. "But as an engineer by trade, he enjoyed the process."
The construction of his swimming pool sent Rozanski on a career trajectory into the pool and spa industry, leading him to establish Crystal Pools in 1964. Today, the company is working through its third-generation of ownership and proudly serves Central Pennsylvania homeowners over three different locations: Elizabethtown (1964), Mechanicsburg (1983) and Lancaster, Pa. (2006).
After gaining national recognition as the Pool & Hot Tub Alliance's 2021 Retailer of the Year — the "Retailer of the Year Award" recognizes one retailer that has advanced the retail profession through outstanding achievements and dedication to the pool and spa industry — AQUA sat down with Culp, who is celebrating 25 years with the company, to better understand Crystal Pools' long-standing reputation for success.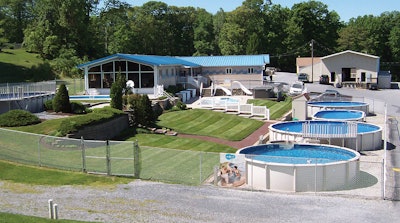 IN THE SHOWROOM AND BEYOND
When a customer first visits any of Crystal Pools' three locations, they are quick to notice an interesting characteristic: Each retail branch boasts its very own "pool park." Three inground pools, and anywhere from four to six aboveground pools — all of which operate normally and winterize in the offseason — are found outside the storefront.
The pool parks are unusual in terms of the number of actual, operational pools of different sizes, shapes and designs that are on display. One pool does remain open year-round: Located at the Elizabethtown location, Crystal Pools' main store, is an indoor pool that customers can enjoy and interact with even in the winter months.
Each of Crystal Pools' showrooms are set up similarly: Apart from a main hub that displays chemicals, toys and games, accessories and equipment, there is a separate area for hot tubs. "It's important that a minimum of six spas are on display," says Culp, "and of those, two or three are operating. The Lancaster store can accommodate upwards of 16 to 18 spas, which is our largest showroom. We also display an Endless Pool Fitness System at the Elizabethtown location, and that swim spa is available for customers to test out."
However, despite displaying working hot tubs during the pandemic, Crystal Pools saw a decrease in wet tests. "While we encourage customers to try out a spa to determine if it's best for them, I would say that, out of the customers that we talk to, it might be 10% who are taking advantage of a wet test right now."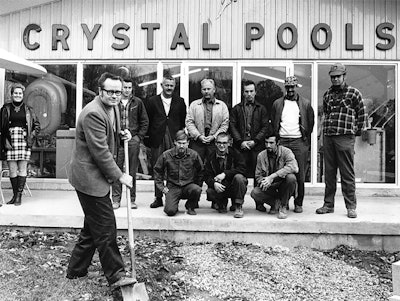 BUSINESS OPERATIONS
Like many pool and spa dealers in the industry, Crystal Pools has not been immune to struggles with inventory. If a customer makes a new, custom hot tub order, lead times are out 15 to 16 months for each of its manufacturers.
"The majority of people that come in are aware of the backlog in the industry and the high demand, so it has not been difficult to explain to them where we are as a company," says Culp. "We haven't had many customers that choose to wait those 15 months. There's enough already in the pipeline — color combinations, model combinations — that they're finding something that will suit their needs, and they're picking those spas off truckloads that are already on order."
As soon as a hot tub ships, a delivery time is scheduled with the customer, based on the anticipated date of arrival. "As soon as that hot tub arrives, we try to turn it around as quickly as possible," says Culp. "When the spa leaves the truck, we try to already know when and where it will be delivered."
The pandemic surge has not changed his customers' tastes in spas, he says. "Customers are still interested in what we are selling, which is still fairly close to what we were selling prior to the pandemic. We have customers that are purchasing a $15,000 hot tub if that's what meets their needs. And we have customers that are still in that $8,500 range."
Crystal Pools' unique trade-in program has helped slightly with inventory: Customers looking to upgrade their hot tub can trade-in their used one for credit, determined by the company's lead technician. Those used spas come back to the showroom after the new spa is delivered to be refurbished and resold. "If it's something that we feel still has some good life left to it," explains Culp, "then it is listed as a pre-owned hot tub."
The used spas — the company sells 15 to 20 each year — tend to only last two to four days. As soon as a sales representative knows one is available, they contact existing leads. Oftentimes, they don't even make it to the company's website before they're already spoken for.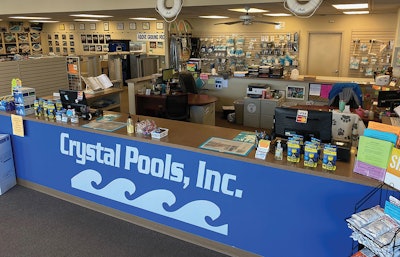 INNOVATION AND TRENDS
On the pool end, Crystal Pools has seen an uptick in UV systems. In fact, two years ago, ultraviolet sales surpassed its salt pool sales on new installs. "And that's something, of course, that is also available to retail customers. Whether they want to take that equipment home and install it, or our service company installs it, we are seeing interest across the board," says Culp.
There have also been changes in features, such as sanitation. "Our manufacturers are trying to make it as easy as possible for the customer to take care of the water and spa," says Culp. "That involves different mineral sanitation systems, some new ways of introducing salt to the water for chlorine creation, and ozonators are back. We are seeing more features that add to the hot tub to create an ease of maintenance for the customer."
Ultimately, Culp argues that the biggest trend in pool and spa retail right now is simply efficiency, as manufacturers are focused on keeping up with the backlog of production. "So I don't think we will see new models from our manufacturers in the next few years, at least not until the market starts to level out," says Culp. "But, there are instances where, even prior to the pandemic, that behind the scenes, they're making some changes to different series or models or introducing new ones — and we just don't know about it until they're ready to unveil it."
---
This article first appeared in the March 2022 issue of AQUA Magazine — the top resource for retailers, builders and service pros in the pool and spa industry. Subscriptions to the print magazine are free to all industry professionals. Click here to subscribe.