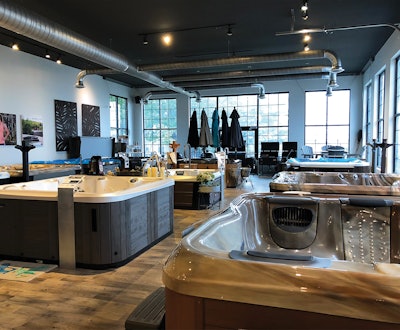 It's hard to believe that pool and spa dealers have now been balancing high demand and low supply for nearly 20 months. Seasons have passed with little to no break in between them, and everyone is working as hard as they can to keep pace with the current market. Retailers continue to push forward, taking every advantage of these unprecedented times.
With 2021 drawing to a close, we asked industry dealers a simple question: How did things go this year?
Their answers speak of lessons learned on the fly in a season that was impossible to predict. They also lend insight into what the offseason will hold, as well as forecasts for the new year.
AT THE START
While last year's pool and spa season kicked off with lockdowns and chaos, dealers were fortunate to start this season already having dealt with pandemic conditions, and although some states have brought back a mandatory mask mandate amid the rise of the Delta variant, the safety protocols that were in place have mostly ended.
"Things did resume more normally when locally, our ordinances expired," says Rene Huston, owner of Patio Pleasures Pools & Spas in Sun Prairie, Wis. "I also think we've become more comfortable with the new normal, as much as I don't like using that word. Customers are now used to the flow of having plexiglass in front of point- of-sale registers, not reaching out and shaking hands, subconsciously maintaining more space between each other, et cetera."
While some had predicted that customers would migrate further toward a contactless shopping experience, having had the option when safety regulations were in place, Huston found that customers still prefer a trip to the showroom. "I really feel that, in our area, customers do not want a contactless opportunity," she says. "When we have our regular sales meetings, it's not even something people bring up anymore. Our customers prefer interaction."
Ashley Niffenegger, retail manager at Splash Pool & Spa in Cedar Rapids, Iowa, found her customers felt the same this season. "Traffic returned to normal and through customer feedback, we have learned that people really enjoy coming to the store to visit. It's a social aspect that is important to them and brings some normalcy to their lives."
RELATED: Retail in a Time of COVID
In line with these observations, buy-online-pickup-in-store grew even more popular this year — after gaining momentum during the pandemic — because "it provides a balance between convenience and interaction, the best of both worlds, you could say," says Huston. Patio Pleasures certainly saw a need to grow its e-commerce presence this past year and currently sells pool and spa chemicals on its website. While the company has some ideas going into 2022 on how to expand e-commerce — in part by simply getting more products online — Huston found that 80% of e-commerce orders include in-store pickup, and only 20% request delivery.
"That was surprising to me when I started seeing that kind of data this season," says Huston. "It shows that consumers like the option of being able to go online and place that order — but they're still willing to come to our showroom to pick it up."
MAINTAINING GROWTH
While 2020 saw incredible growth for the pool and spa industry, this past season saw even more. "From a sales standpoint, we definitely saw higher numbers over last year in all areas. Our retail sales increased by 40%," says Huston.
Achieving that percentage did not come without growing pains. "The main challenge, through the 2021 season and now, has been keeping track of the rapid change in pricing. The cost of doing business right now is very high, whether in fuel costs, paying premium wages, costs of goods changing or freight going up," says Huston. "We've really had to be on our game to maintain our business margins and to sell at the right price."
Patio Pleasures has grown accustomed to looking at and comparing costs to ensure staff doesn't miss a sudden change. "Before that even happens, we now have key people on our team whose main job is to keep their eyes on price. And then our seasonal helpers do more of the admin work," says Huston. "We are also firm with our suppliers, whether it's a manufacturer or distributor, to be very upfront with us when there's a price change. If an invoice arrives with a change in price, and the project's already completed, you can't simply backtrack and collect more."
Watching prices is one thing — actually communicating an increase with customers is a whole different ball game. Because manufacturers are now saying, "Here's your current price, but what you're going to actually pay is the price when the product ships," says Huston, dealers have had to enact much-needed coverage strategies.
"Never in all the years we've been doing business have we sold a hot tub and said, 'Okay, we need you to sign this agreement, because there's a chance this price will change before your delivery,'" says Huston. Seven days before a project goes live, Patio Pleasures circles back to communicate a change in price, if necessary. The customer then has the option to proceed or cancel.
Huston predicts price increases will be a larger scenario in 2022 so by doing the groundwork and putting a system in place now, her team feels prepared going forward.
Outside of price increases, communication is also key amid long lead times. "A low point for us this season has been the struggle to effectively communicate production dates with customers," says Emily Carlson, marketing director at Splash Pool & Spa in Cedar Rapids, Iowa.
RELATED: Sellers: Swim Spas Set To Surge
"While our supply chain has provided shorter lead times than others, the fact is that dates we are told from our vendors continue to be a moving target. We always strive to be upfront and honest with our customers, so sometimes that requires difficult phone calls to let someone know they have
to wait another week or a few weeks for their purchase. We found that even if we didn't have an update on their timeline, communicating what we call 'non-updates, updates' put customers at ease."
Patio Pleasures reports that hot tubs are still five to six months out; however, in addition to that time frame, manufacturers are a good 30 to 90 days behind on their projections. "And we're honest with customers about that," says Huston. "As long as we are up front with customers right away, they almost always understand."
OFFSEASON HICCUPS
Spa dealers in seasonal areas have a new challenge, now having entered the offseason. During any extended wait time, especially with certain products, there comes a point when customers lose interest. "We live in somewhat of an instant gratification society," explains Huston. "So when customers have five or six months to wait for a hot tub — and then the weather starts to change, and the season ends for many outdoor products — the excitement starts to wear off."
With outdoor furniture especially — which saw exponential growth this year — customers have started to think the time for enjoyment has elapsed. "Here we are near October [the time this interview took place], and customers are putting patio furniture away," says Huston. "Well, customers with patio furniture on order have been calling and saying, 'Okay, I think I'm done waiting; I just want to cancel.'
"We have never experienced this before until recently, so that presented another challenge: 'What's our policy for that?' Typically, we would say, 'Our policy is no; this is a special order for you.' But we're also very conscious and open-minded to the fact that this is a very unique time, and in many cases, we have allowed them to cancel. In some cases, there is a restocking fee, depending on what was all involved.
"People have also been calling and saying, 'You know what, instead of putting my pool in this year, let's just wait and do it next year,' or, 'Now that the kids are back to school, let's just wait.' Our 2022 season is almost entirely booked already — I predict we will be completely full by January — so that accommodation has taken some juggling."
While every scenario is different, Patio Pleasures has been able to save most customers from canceling by taking immediate action. In some cases, their delivery was right around the corner, and the sales team was able to convince them to hold on a little longer. In other instances, staff pulled the same item from the showroom floor.
"We 100% made the mistake of selling off the floor last year," says Huston. "This season, our showroom products have been locked to the floor. But in choosing whether to lose a sale or create a temporary hole, we've chosen the hole, especially when we know its replacement was in the pipeline."
Patio Pleasures has not yet had to offer discounts to save sales. Sometimes it's as easy as offering a complimentary robe, an extra set of filters or some chemicals to hold a customer in the queue.
RELATED: An Alliance to Sell Spas
This kind of bargaining is still new to staff, and Huston has seen it affect employee morale. "The burnout or frustration I'm seeing within our staff is the constant reality that they can't give customers the instant gratification they want, which was previously a really rewarding part of their job. They have started to lose their confidence in the sales process, and it's up to us, as leaders, to rebuild that confidence."
To help with its own employee burnout, and in the anticipation of a busy offseason, Splash Pool & Spa is encouraging its staff to really unplug on their days off. "The nice thing about our company culture is that we advocate for taking a break when you need it. Unplug on your days off; shut off email notifications. Without rested employees who are ready to come to work, the customer experience suffers," says President/Owner Weston Darling.
LOOKING AHEAD
More than ever before, pool and spa dealers are feeling a sense of urgency. "For starters, we can't lose sight of the sales that have been made," says Huston. "November through February, our focus will be to follow-up with customers — all while our projects continue to grow at a rapid pace.
"We will also do whatever we can to proactively minimize some of those friction points in the supply chain and how they impact our bottom line. Part of this is my belief in the power of the 1%. Can we minimize our expenses, our overhead, by 1%? Can we increase our sales by 1%? If all of those percentages come into play, the end result will be great."
Huston is going into 2022 primarily focused on price increases. "Some of the price increases that have already been presented to us and some of the predictions that we're going to still see for 2021, I do not think it's sustainable to keep going beyond that, and so I do believe at some point, it's going to have to level out." A concern, however, is that prices will continue to increase to the point where they slow demand. "I don't expect 2022 to have the same pricing as 2021, but the reality is, we are seeing price increases that are incredibly high in certain areas, especially steel," says Huston. "At what point do we ask, 'Okay, is this realistic?'
"We have already had customers asking us, 'Are prices going up because of the demand, so you can just raise prices?' Well, no. Prices are going up because costs are going up. There might come a point where consumers say, 'I'm just going to wait.' — just like they are in the housing industry. I don't know if that'll become part of our reality in 2022, but it's something to be aware of."