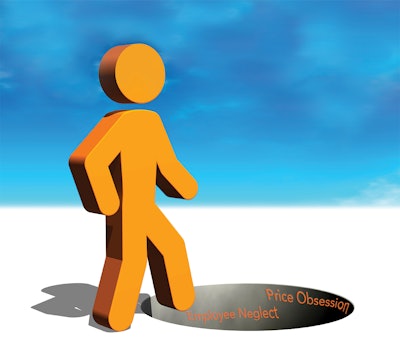 In today's retail environment— especially in the pool and spa industry where dealers are still facing unique challenges brought on by the global pandemic — it is sometimes easy to lose track of small (and some large) details that can go a long way in helping your business to succeed.
With the new year upon us, it's a great time to review and reflect on what's important among your day-to-day operations. The following pitfalls, selected by established pool and spa dealers, are among the list of mistakes retailers should try to avoid. Making adjustments to prevent them will benefit your business.
1. NEGLECTING YOUR EMPLOYEES.
Dedicated, reliable employees are difficult to find these days. In fact, in AQUA's 2021 State of the Industry survey, the need to hire more people was among the top three priorities for retailers this past season — making it more important than ever to hold on to the staff you already have.
Steve Jost, general manager of Dover Pools in Dover, Del., says small gestures can go a long way toward making employees feel appreciated. "Recognizing your employees as your company's most important assets is critical," says Jost. "All of your excellent planning, pricing, merchandising and marketing strategies mean nothing if you don't have well-trained, motivated and loyal employees to execute your plans.
"Build loyalty and get buy-in from your employees by involving them in your planning and empowering them. Show them your appreciation through feedback and small gestures. Little things — such as an afternoon off or picking where to order lunch from — can go a long way. Take time to ask employees what you can do to help them."
2. COMPETING ON PRICE INSTEAD OF QUALITY.
Each customer who walks through your showroom door will inevitably have a price point in mind. But in an industry that sells luxury products, not all will be seeking out the cheapest price, which makes the shopping experience less about the dollar amount and more about the customer. Not only is the customer looking for a quality product, they're looking for products that expand quality time with loved ones — that's what they're really looking to buy.
"Sometimes you fall into the pitfall of worrying too much about being the lowest or the cheapest," says Jost. "Customers will pay for quality, especially when your employees are trained to build trust and show value in your products. Provide solutions and benefits to a customer's pool care needs and communicate the value of your products and services to customers. Whether talking to a customer about an alternative sanitizer, automatic pool cleaner or a hot tub, we are providing the customer with cleaner pool water, more time to enjoy their pool and more time to enjoy with family."
Kristin Poppa-Rosel, marketing and business development director at Valley Pool & Spa (Pittsburgh, Pa.) adds that a quality customer experience can sometimes come from buying the lesser cost item. "Those who want to buy a less costly item in certain categories, such as chlorine, can purchase an item that may not be of the highest quality, but is at a price point that keeps them happy," says Poppa-Rosel. "Our team at Valley Pool & Spa combats price over quality by having different options for our customers and educating them on all of it.
"The team is trained on how all chemicals, equipment and accessories work for pools and hot tubs — regardless of price. Our real job is to educate the customers properly so they can decide what to purchase and focus more time on enjoying their investment and creating more memories with friends and family."
3. STRETCHING YOURSELF TOO THIN.
Pool and spa dealers are coming off another record year. While January is usually a time to wind down, reflect and even start brainstorming for the summer months, the offseason — amid the pandemic where unprecedented demand is still in full swing — now looks a lot different for retailers. In an effort to do it all and keep going, it's easy for retailers to stretch themselves too thin.
"It's human nature to believe that you can fit everything into the day," says Nadine Nuzzo, retail division manager at Arvidson Pools & Spas in Crystal Lake, Ill., "but sometimes the workload really does expand beyond the available time and resources. The past 18 months have certainly demonstrated that. As interest in home life products exponentially increased, so did the digital leads that were flowing in for new pools and hot tubs. Our sales teams in each division were overwhelmed."
As a result, Nuzzo modified her business operations to share part of that workload and streamline processes. "We transferred time spent on qualifying activities to our marketing team. We also established scripts for the sales follow-up calls, which narrowed down available choices and pricing options for our team to review with their leads. This helped shorten the time spent on follow-up calls and provided more guidance to an enlarged sales team that included several new employees."
4. FAILING TO THINK LONG-TERM.
After the past year of tackling pandemic problems one day at a time, this is your reminder to not forget the bigger picture. It can be tough to think beyond short-term goals, but it's well worth the effort.
"It's important to have short-term and long-term goals in any business," says Cristina Nikolov, head of Social Media Marketing at Richard's Total Backyard Solutions in Houston, Texas. "One thing the pandemic has taught us is to be prepared for the shift. Stay ahead of trends and see what the market and consumers are wanting and needing today. Plan out your inventory and bring in new products that keep your business relevant and on the radar.
"The shift is also a long-term effect on the mindset of your team and clients. Constantly communicate and keep customers engaged with the products or services they are willing to wait for. It re-creates the sense of value and transparency as we work with supply chain problems and delays. If you fail to think long term, you will fall behind."
5. YOU — OR YOUR EMPLOYEES — ARE AFRAID TO ASK FOR HELP.
Asking for help is sometimes difficult, especially for new or inexperienced staff. But in doing so, employees can accelerate growth and develop important relationships with their peers.
Bobbi Howard, vice president at Poolwerx Union Hills (Phoenix, Ariz.) says that if your staff feels they can't reach out and ask questions, you've let them down. "Sometimes the staff is unclear of what or how to respond to a client, especially when we are so busy," says Howard. "For example, an employee might be unsure how to respond to an angry client or which questions to ask when presented with a problem — or even who to speak to when there is a problem. They might be too embarrassed to ask, and the issue remains unresolved or is resolved poorly. This is where we have let [staff] down."
In addition to asking for help, staff members should also feel empowered to make some decisions on their own, says Howard. "We like our team members to use our core values to help make choices throughout the day," she says. "If knowing the value of reputation is a core business value, and they can't decide whether they should, for example, refund a client or not, they can just think of that core value and ask, 'Is this going to help or hurt our brand?' It makes it more clear to know what to do."
6. FAILING TO EVOLVE YOUR COMPANY CULTURE.
"Another pitfall to avoid in retail is failing to evolve your company culture," explains Howard. Company culture can play a large part in successful employee retention rates. Do your employees feel valued? Do your employees support each other? Is your pool and spa shop a rewarding place to work?
"In the beginning, you are just learning and trying to get your store up and running," says Howard. "Then, you are trying to learn the tricks of the pool and spa trade. Ultimately, we sometimes forget to nurture our relationships and culture with our staff during the day-to-day business operations. We need to re-evaluate from time to time and ask, 'What can we do as an employer to make our culture better for all team members? How can they feel included and part of the solution? — and not just someone who comes in and stands behind the counter.'"
---
This article first appeared in the January 2022 issue of AQUA Magazine — the top resource for retailers, builders and service pros in the pool and spa industry. Subscriptions to the print magazine are free to all industry professionals. Click here to subscribe.