With the influx of new pool owners from the COVID surge, education will become more important than ever in 2021. Continuing education is one of the best investments you can make in your future. As a self-employed pool and spa service professional, gaining new skills and certifications can help you grow your income. At the same time, learning how to do something new means you don't have to outsource these tasks to others, allowing you to make more money.
In addition to growing your income, continued education provides networking opportunities, promotes innovation and helps you stay sharp and healthy. Luckily, today's advances in online training allow pool and spa service professionals to take courses online from the convenience of their phone, tablet or desktop computer. Imagine taking a course while sitting in your truck during your lunch break! With increased consumer demand and competition for pool and spa service, now is the time to heighten your knowledge and skills to stay ahead of the competition and make more money.
LIVE TRAINING OPTIONS
Of course, good old-fashioned, in- person training, invented back in the days before the pandemic, remains a staple of staff education and will return when the all-clear signal is given. For years, it's been a cornerstone of professionalism at Arvidson's Pools & Spas in Chicago, with its three retail stores and a large service department. Nadine Nuzzo, retail division manager, makes sure that all staff from all Arvidson's locations have the same information and are giving customers consistent advice across all locations and departments. "Our service staff and retail staff need to always be on the same page, and coordinated training is the only way to ensure that," she explains.
In the wake of the pandemic, Nuzzo has worked to keep her staff safe and healthy and has embraced virtual live training sessions, so staff remain in their separate work locations or at home but can still be together in the sessions. "Our goal has been to sustain and expand our knowledge base in these virtual live training sessions," says Nuzzo. In fact, this year, Nuzzo is extending virtual live training to her customers. "We will be doing virtual live pool school training with customers this spring, both a pool-opening pool school and pool-closing pool school in a virtual format, and we are already finding these are being very well- received."
This live virtual training need not conflict with your schedule. In the live training courses I produce, for instance, you can 'Schedule Training' and pick the topic of interest and schedule a customized session to problem-solve issues in pools and spas or refresh your knowledge on water chemistry. You get a well-respected instructor with over 20 years of industry experience, right there on your phone.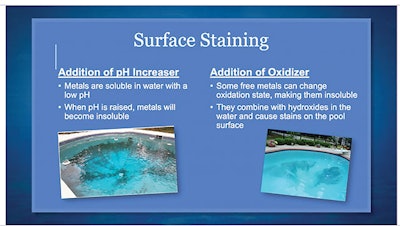 PRE-RECORDED TRAINING OPTIONS
If live training doesn't work for your schedule or style of learning, there are also self-paced training modules that provide in-depth coverage on a variety of topics. Pre-recorded training modules are widely available from a number of sources. My own company offers pool and spa chemistry topics on everything from the use of enzymes to phosphate removal and hot topics such s staining, scale and LSI. Nuzzo is a fan of the system, she says, "because it allows our staff to listen and learn on their own time. It has novice and veteran modules, as well as service and manager modules, so it has something for everyone on our staff. And it's terrific that these pre-recorded trainings also have testing, which we require of all our employees ensuring an accurate and updated knowledge base for our entire team."
These training modules can also connect students to forums, online groups to join or even work together in study groups — allowing you to learn and network at the same time. You might find that taking a course will connect you with a new partner who can help your business grow. Keeping connections through education and associations is essential for successful business today.
RELATED: Natural Chemistry Launches New On-Demand Virtual Training Modules
It even helped Arvidson's recruiting. Nuzzo says that she has a regular stream of new, young employees as a direct result of keeping education central to the way the company does business. "I have built close relationships with the science chairs in our local high schools and offer science students an opportunity to learn real- life chemistry lessons in our stores. We offer internships that turn into summer jobs, and science students really enjoy continuing their education in our stores which has led to a regular stream of great employees at Arvidson's, as they tend to come back every summer in high school and college as well."
ALL TOGETHER NOW
There's a case to be made for the intrinsic benefits of training. Julie Kazdin, vice president of Kazdin Pools in Long Island, N.Y., says she takes advantage of every education opportunity available, whether it's pool related or not. Kazdin has been doing zoom-style virtual training since before the pandemic hit, as she has two employees who have been working remotely for several seasons.
"With one back office employee in Virginia and another customer service team member in Florida, we were already accustomed to doing virtual meetings and virtual education," she explains. "In fact, our retail, service and construction departments sit fairly far apart from one another in our building, so to keep everyone safe during the pandemic, we just stayed in our separate sections of the building and used Microsoft Teams to collaborate together."
Kazdin and her team have been pro-actively blocking out times for the team to watch live webinars, so the team is "taking'' the class together. "Every Wednesday, I highly encourage my team to take the time to login to the Watershape University live webinar," says Kazdin. "I believe it's important to step away from the day-to-day requirements of the job, take some time out and learn something new."
STAY SHARP AND HEALTHY
It's not just about serving customers better — there's a strong link between education and health. It's a physiological fact. Continuing to learn even when you're older helps keep your brain active, healthy and helps improve memory. In fact, learning a new technology or using an app on your mobile device to challenge your mind is a great way to sharpen your edge and give your business a boost. There are several helpful apps now available specifically for pool and spa service professionals that provide new insight into water chemistry and offer techs a powerful tool with an added "mental exercise" bonus.
RELATED: Evosus Acquires 'How Pools Operate' Retail Training Course
"My advice to pool professionals is to seek education — not only from manufacturers and distributors in your area, which are great resources — but also from local PHTA chapters, your local Rotary, Lions, Kiwanis Clubs and other local business organizations," says Kazdin. "They know about resources and information that can help you improve your business and bring the entire pool industry up to a higher level."
Continuing to gain new certifications, training and education is really a must for pool and spa service professionals to remain competitive in today's market. Sign up for live training, a pre-recorded training module and download a new app to challenge your knowledge and your mind. In addition to growing your income, continued education provides networking opportunities, promotes innovation and helps you stay sharp and healthy. Don't wait. Take the
time to continue your education — it is guaranteed to be one of the best investments you can make in your future.
Alicia Stephens is the education and training manager for Biolab, Inc. In her 19 years with the company, she has focused primarily on education, training, and development, as well as technical support and new product research and integration. She can be reached via email at [email protected].
---
This article first appeared in the April 2021 issue of AQUA Magazine — the top resource for retailers, builders and service pros in the pool and spa industry. Subscriptions to the print magazine are free to all industry professionals. Click here to subscribe.