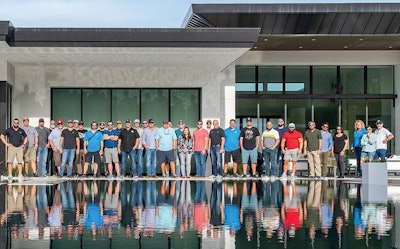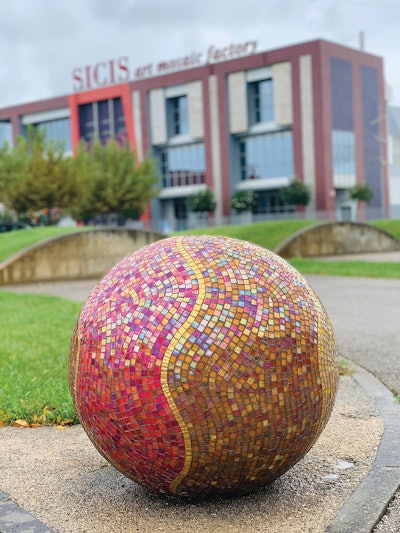 Under the radar, some of the nation's most skilled pool pros have been joining a low-profile, high-caliber society: Tributary Revelation.
The group describes itself as "a network of innovative industry leaders, including architects, designers and contractors, collaborating to create the world's premier landscapes, luxury pools and outdoor living spaces." With aspirations of raising the bar for the industry as a whole, members have access to next-level education, connections and resources. "We're trying to build the best pools in the world," says Bo Barnett, president of KB Custom Pools in Kyle, Texas, and active Tributary member. "We're trying to take our craft to another level. We all have the same goal: we want to make this industry better."
ORIGIN STORY
Years ago, Jeromey Naugle of Premier Paradise and Kurt Kraisinger of LORAX, both renowned pool designers and builders, founded Tributary believing that by assembling a vibrant group of the industry's best, they could reach new heights in their quest for pool construction greatness.
Since then, the group has evolved and membership has grown to about 30 individuals. "Each member tries to contribute something different," Barnett explains. The group is open to anyone, but there's a reason the numbers are low – Tributary only wants the best. Interested applicants must submit a portfolio and client references for intense review.
"Members are highly vetted before they get in," says Barnett, having gone through the process himself. After his company – KB Custom Pools – began winning awards a few years ago, recognition exposed him to a Tributary member who explained the group's mission. It didn't take long for him to apply.
"Tributary reached out to the folks that I've built for to understand how I run my business and what's important to me," he says. "Eventually, I was lucky enough to be accepted."
DESTINATION EDUCATION
To be the best, you've got to train with the best. "We have contributions from experts in the field from, quite literally, all over the world," Barnett says.
Tributary takes a "hands-on" approach to education as it pursues the next level of mastery: Pre-COVID, the group traveled far and frequently for intensive, on-site training.
"The way that we learn, being hands-on and traveling as a group… asking questions there in the moment – personally, that has changed my life," says Barnett.
In 2019, for example, Tributary traveled to Italy for mentorship at Litokol's facility north of Bologna. "That trip completely changed my perspective," says Barnett. "When we flew out, I didn't know how to apply epoxy grout correctly. [Litokol] taught us how they want the specific product installed, what grouts they feel are the best grout combinations for their glass, and why that adhesion process is so important."
These trips are possible thanks to tight-knit vendor relationships. Tributary believes that doing the best work in the industry is dependent on using the best products available – and really understanding them.
"The vendors get exposure. They all also get the value of their applicators understanding their process, and how they want their product installed," explains Barnett. "When we start pushing products from certain vendors that have allowed us to visit their facility and understand their process... that's really where I find a lot of unique opportunities, with clients that aren't getting that from other pool builders."
The selection process for vendors is just as intense as it is for potential members. "Even a discount doesn't mean we're going to push a certain product," says Barnett. "It's a vetted process to make sure the materials that we're using are some of the best in the world."
TRUE COMMUNITY
Though its members are spread across vastly different locations, Tributary fosters a deeply collaborative spirit. Beyond monthly zoom meetings and travel for training, the group functions as a referral community. Members often tap other members for sections of projects, because the Tributary name establishes a sense of credibility and trust.
"Collaborations happen all the time within the group. I've had a member come to Austin to do my tile work before," says Barnett. "If I have a swimming pool that's going to be done in glass tile, I know who I'll get to do it."
Tributary members end up mentoring one another, as well. "It's kind of like a family – it's real access. These people will answer the phone when I call, and they'll answer questions that I have," says Barnett. "It's given me the confidence to be able to take on projects that I traditionally would shy away from, because of the extensive education needed to accomplish some of those builds."
Last year, the group traveled to Barnett's own company for a review and critique session.
"Traditionally, what we do is we look at pools from the start of someone's career to something that is maybe six months old," says Barnett. "That's one aspect that I absolutely love about it – it's a vulnerability that will allow you to grow, because you have some of the sharpest minds in the world talking to you about things that you could do differently or things that you excel at. And that's extremely valuable."
"I'm very proud of this group," he continues. "I'm always looking for ways to better myself, better my community and better my company. And these guys have helped with everything from personal matters to how to actually run a business. So that's a huge part of what this group gives. It's not only about how to build a great pool – it's how to live a great life."
---
This article first appeared in the February 2022 issue of AQUA Magazine — the top resource for retailers, builders and service pros in the pool and spa industry. Subscriptions to the print magazine are free to all industry professionals. Click here to subscribe.