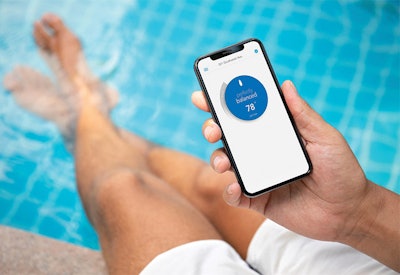 As the internet continues to transform the pool and spa industry, manufacturers of water-monitoring smart sensors have a message for dealers and service technicians.
"We're not here to pillage the industry and try to take as much market share as we can," says Ravi Kurani, founder of Sutro, one of at least three companies that introduced smart sensor technology products in 2020. "We offer a collaborative technology that makes the infrastructure that currently exists in the industry — the service technicians, the stores — smarter, better, faster and stronger. The Sutro is like a Fitbit for your pool; it doesn't eliminate the need to go to a doctor. Pool owners still need to go to a pool store."
Jeremy Young understands the industry's skepticism regarding the products, noting that pool professionals are worried sensor technology will eliminate the need for service contracts and other revenue sources.
"We have no interest in doing anything that would hurt people in the trade," says Young, product category manager for new business development at Fluidra, which introduced the Blueriiot Smart Water Analyzer to the U.S. market in 2020. "We have to help them understand that this is a powerful tool they can use to actually deliver a better quality service to their customers, and we have to work with them on ways they can adapt it to their business."
Justin Miller, co-founder of the pHin Smart Water Monitor — introduced in 2017 and acquired by Hayward Industries in 2019 — compares the rise of smart sensors to the introduction of automatic pool cleaners to the industry. "A lot of the older service techs said, 'Oh, these pool cleaners are going to take my business,'" he says. "And what they eventually learned is that the cleaner helps them do their job faster, easier and better. Plus, it gives them another product to sell. That's how we look at our product."
Of course, the ability to read ORP and pH levels in pools is not new, but the "internet of things" technology has finally made it possible and more convenient than ever to receive results via apps that sensor manufacturers continuously update. The latest smart sensor products build on (and go far beyond) the ePool Smart System wireless monitoring product introduced years ago and now discontinued.
Products such as Blueriiot, Keto A.I., pHin by Hayward and Sutro emphasize the ease of pool ownership to consumers while also referring to pool professionals as "partners." The companies' online dashboards allow service technicians to monitor customers' pools and track their chemical history, as well as manage service routes.
Retail prices of the units range from $199 to $395, and most come with some type of subscription service. Builders and dealers who have already embraced the technology often bundle devices with the purchase of new pools and spas, fostering an enhanced 24-hour connection that bonds pool professionals with their customers' backyards in ways that previously weren't possible.
RELATED: The Smart Sensor Revolution
"The internet of things is shifting the power to the service techs and builders," says Jeff Jensen, co-founder and chief executive officer of Keto A.I., which introduced a smart skimmer last year. "It offers a new way to scale your current business."
What follows is a look at four of the key players in this emerging market category.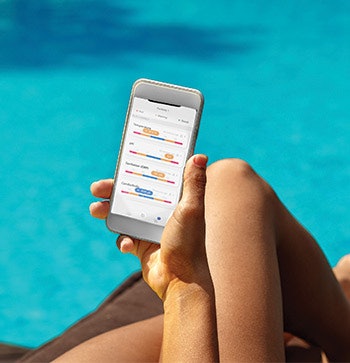 BLUERIIOT
Originally introduced in Belgium, the Blueriiot Smart Water Analyzer can float in the water or be installed professionally on the pool pad with an attachment accessory. It monitors pH, ORP, salinity and water temperature, sending readings to the subscription-based Blueriiot app and an online dashboard monitored by service technicians. Available with either built-in Bluetooth capabilities or Wi-Fi connectivity, the device is part of the Fluidra family of brands.
The subscription-based app allows pool owners to choose the standard "Gold" Bluetooth version or opt for the "Platinum" version, which is only available on Wi-Fi-enabled devices. The higher-end version includes historical data, automated real-time readings and instant notifications when water is out of balance.
"Anytime we launch a new product, we get feedback so we can make further developments," Young says. "It's an opportunity for us to adapt what we're doing and figure out better ways to communicate what this product does."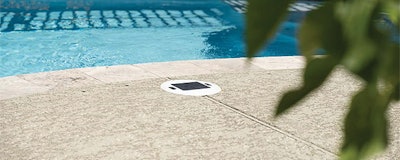 KETO A.I.
Launched in January 2020 after two years of research and development, Keto A.I.'s smart skimmer replaces an existing skimmer cover plate with a solar-powered smart device available in three colors that monitors ORP and pH, water temperature/level, and detects pump operation — sending readings to an app. The unit comes with three circular adaptor collars and connects directly to Wi-Fi.
"We felt the engineering required to go into a floating product would be immense," says Jensen, a tech entrepreneur with a Ph.D. in electrical engineering and computer science who wanted to monitor his pool in a way similar to how a smart-home device monitors a house — especially when he was traveling. "We felt like there was an opportunity to make a product that was sleek and could integrate with the pool."
Keto A.I. plans to introduce a new version of the product as early as March 2021 that is expected to feature a longer battery life and upgraded technology to more accurately detect leaks and measure water level. A rebranding is in the works, too — including a name change. "Users want a stronger name that resonates outside of the biggest fad diet in U.S. history," Jensen says, explaining the company's original name was inspired by the goddess of dangers of the sea in Greek mythology. "It's also important for us to keep innovating quickly."
PHIN BY HAYWARD
The first entry into the field, pHin has been in development since 2015. Evolution of the smart water monitor took a new turn in April of 2018 when the company was purchased by Hayward, and in April 2020, pHin released the latest version of the device. It measures pH, ORP and temperature levels more than 1,000 times per week and delivers readings to an app. With a monitoring subscription, users also can view historical charts of their water conditions and share data with their pool technician or dealer.
In October 2020, pHin added "Compact Mode" to the app, enabling service technicians to remotely view customer water data with an easy-filter view and alerts. When the water is unbalanced and needs attention, they're notified in real-time so they can proactively schedule maintenance. Data provided in Compact Mode also can be used to manage service schedules and delegate teams.
RELATED: pHin: Here To Stay
Hayward's ownership has helped pHin improve monitor reliability, says Miller, whose tech background includes roles at Comcast and Apple. The idea for the product emerged during a backyard barbecue discussion in 2014 about ways in which technology can help homeowners take greater control of their pool ownership experience. "Customers are so interested in what's going on with their pools and making sure everything is okay," Miller says.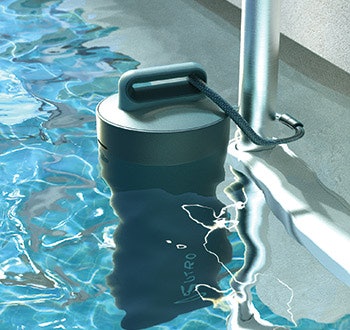 SUTRO
Named after the Sutro Baths, a large public saltwater swimming pool complex in San Francisco that was destroyed by fire in 1966, Sutro offers the pool and spa industry's "only colorimetric and reagent-based technology that doesn't use ORP," according to Kurani. He envisioned the product that would become the Sutro Smart Water System back in 2011 while running a small venture capital fund in India that invested in water filtration technologies.
Sutro uses what Kurani calls a "robot" to measure pH, free chlorine, alkalinity and temperature using the same process as traditional reagent test kits. Multiple subscription options are available for pool owners, with pricier ones including weekly water health reports and early access to new features. In 2019, before the Smart Water System was even launched, Sutro announced a partnership with water chemistry leader LaMotte to power the product.
Kurani has degrees in mechanical engineering, international finance and renewable energy systems, but his pool industry experience dates back to childhood. His father ran a chain of pool supply stores, where Kurani worked as a child and eventually managed his own store. He also helped the chain transition to online sales.
EVERYBODY'S DOING SOMETHING A LITTLE DIFFERENT
Although still in its infancy, the water monitoring category — much like the technology it leverages — is evolving quickly. Greater integration with other hardware and additional sensing capabilities (likely in filtration and circulation) top the list of probable advancements over the next five years, according to product developers. Artificial intelligence could play a major role, too, as device algorithms become more predictive of weather conditions that could impact usage patterns and chemical loads.
"Everybody's doing something a little different," Fluidra's Miller says. "Everybody's got their own spin on this. All that does is help the industry keep learning and making products that allow homeowners to enjoy their pool experience more."
In other words, manufacturers believe it's time to embrace change.
"The majority of the industry is still skeptical toward technology, but it's going through a transformational shift right now," Keto A.I.'s Jensen says, adding that his team has met several younger people in the process of taking over their family's pool and spa business. "Their parents or their grandparents laid a foundation of maintaining pools using test strips and drip kits. In the next five years, the majority of service and builder companies will begin to be owned and operated by a much more tech-savvy generation wondering why they can't offer a different business model."
---
This article first appeared in the March 2021 issue of AQUA Magazine — the top resource for retailers, builders and service pros in the pool and spa industry. Subscriptions to the print magazine are free to all industry professionals. Click here to subscribe.