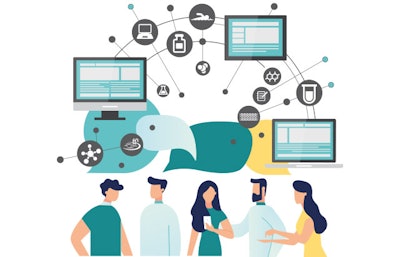 In today's competitive marketplace, pool and spa retailers need to make the most of every customer interaction. And some of the most valuable customer interactions happen at the water testing station. Savvy retailers are improving their customer service by integrating their water testing software with business software so they can save time both at the water testing station and at the register. A seamless transition creates a superior customer experience and gives retailers the opportunity to market additional products, increase sales and add profits. The addition of an integrated mobile technology app within the retail store can boost efficiency even further.
DATABASE INTEGRATION
Many pool and spa stores today are operating with two different databases: one database for the water testing software and a separate POS business software database. How time consuming is it to manage two customer databases? It's like having two houses. The painstaking process of double data entry steals time from your two main priorities — which are to sell products and service customers.
RELATED: 4 Ways Building Software Can Win More Customers
Not only is it time-consuming for you, but is also time-consuming for the customer who must often wait while your staff enters their information for a second time. Water testing integrations remove the need for double database entry by updating both systems automatically. In fact, today's pool and spa software integrations also provide the ability to import water tests directly into your business software and customer database.
Integrating these two databases not only gives your staff time to share their expert chemical knowledge, but it also gives them time to learn more about the customer's backyard needs. Giving staff more time to sell allows them more time to make money by upselling additional products and services while building customer loyalty.
SHARING CHEMICAL KNOWLEDGE AT THE WATER BAR
Many retailers agree the water testing station can be a bit like the local bar where clients sit and have a conversation with the bartender — or in this case, the water care specialist. Chatting with customers while pool and spa water is being tested gives employees time to get to know the customer and their pool and spa needs. In addition, your employees have an opportunity to share their chemical expertise with the client, building customer confidence and loyalty.
But your water testing station employees need time to talk. By removing the need for redundant typing, employees are given the time to enhance crucial customer relationships while water is being tested.
By streamlining the water testing station experience, employees also have additional time to talk to customers about how the backyard is used and provides an opportunity to upsell products and services. This maximizes the natural competitive advantage specialty retailers have over big box or online retailers by maximizing the opportunity for quality personal interactions.
MOBILE APPS TAKE CUSTOMER SERVICE TO A NEW LEVEL
With stiff competition from online retailers, brick-and-mortar pool and spa stores must compete on service and the total shopping experience. Delivering exceptional experience can be challenging; insufficient checkout resources at peak times lead to long lines, frustrated customers, and lost sales, but a mobile app used within the store can mitigate this problem.
RELATED: Business Software Saves the Day!
By adding a live mobile application, staff can use mobile tablets and smartphones to access the information — including water test results from current or past tests — anywhere on the retail floor. Being able to provide answers from any terminal or on any screen in the store improves service and impresses customers.
Retailers can also provide better and faster service to customers with the retail "line buster" feature, or work the floor with inventory look-ups and instant access to customer history and profiles. Use a tablet, integrated magnetic strip reader or pocket barcode scanner to complete sales transactions, process credit cards and email receipts and keep customers moving and engaged, not standing and waiting.
EFFICIENCY IS THE KEY
Retailers rely on their water test station and software to create the opportunity to get to know clients, their pools and spas, to develop relationships, build customer loyalty and sell more products and services, but if software systems aren't integrated or fully automated, there's still money on the table.
Integrating water testing software with business software can unlock opportunities to improve customer service and sales by simply saving time, and making this data mobile within your store makes the entire operation more efficient.
Rachael Pritz is executive director at RB Controls, Pittsburgh.