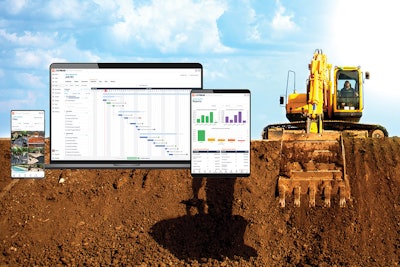 Photo courtesy JobTread
What's the target profit margin on your construction jobs? That's Eric Fortenberry's favorite question to ask pool builders at industry trade shows.
"Half of the time, they can't answer that question. Then they realize that's probably something they should think about," says the CEO and founder of JobTread, a Richardson, Texas-based firm that develops construction estimating and project management software. Originally designed for the general contracting industry, JobTread is now targeting the pool industry.
"Whether you're building a pool, a home or doing a remodel, a lot of the fundamentals are the same — managing proposals, managing budgets, managing subs," Fortenberry says.
JobTread provides end-to-end construction management software that helps pool builders manage all of their processes, from pre-construction to project completion. The platform creates a central location to manage jobs, teams, documents, photos, finances, customers, vendors, subcontractors and more, and its budget-first approach creates financial transparency throughout the project.
Fortenberry formally introduced JobTread in 2019 after creating it to help a commercial contracting firm manage about $5 million worth of construction work. The company ran up to 30 jobs concurrently and generated inconsistent gross profits, he says. With JobTread, the number of concurrent jobs jumped to more than 70. Target profit margins were hit, and there was no need to increase staff.
"I think one of the biggest challenges for business owners is really understanding their numbers and all of the key cost drivers that are going into their bills — because some of them have never built out a detailed budget," Fortenberry says. "Our approach is to figure out all of the costs that are going to go into a job, and then we automatically calculate the sales price based on the target profit margin. In order to accurately price your jobs, you have to be able to determine what the job is going to cost you."
This article first appeared in the August 2022 issue of AQUA Magazine — the top resource for retailers, builders and service pros in the pool and spa industry. Subscriptions to the print magazine are free to all industry professionals. Click here to subscribe.