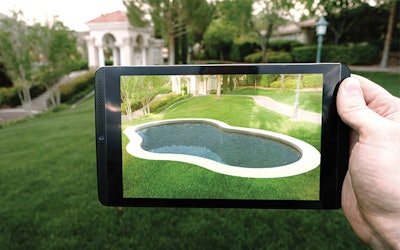 Watching Noah Nehlich demonstrate Structure Studios' latest innovation is like watching a magic trick. First, he puts on the floor something that resembles a mouse pad. Then he holds up an iPad. Suddenly, a pool appears on the screen as if it were installed into the very floor on which we stand.
As Nehlich walks around the mouse pad on the ground, called a track pad, he can see the pool from all sides. With a press of a button, he can swap the pool for a different shape, size, color.
Now you see it, now you don't.
But it's not magic — it's augmented reality, a technology that blurs the line between the physical and digital worlds. AR is seeping into just about every field, from the art world and gaming industry to the military and medical fields. In Silicon Valley, startup wunderkinds are racing to develop the next big product that utilizes AR technology.
Many think AR has the potential to impact business, entertainment and design, and Nehlich is one of them. Below, he explains more about how he envisions the pool and spa industry using augmented reality.
Show, Don't Tell
Imagine a standard site visit. You arrive, take some measurements and chat with the homeowners about the design they're looking for. Maybe you bring along a book of past projects or click on a laptop slideshow presentation.
With AR, everything changes.
"With this, they'd be able to go in the backyard while they're taking their measurements, lay down a track pad and hand their iPad to the customer. The customer could then drop real pools into their space and walk around to see what they like in their actual property," Nehlich says.
This level of visualization resolves a common concern among homeowners: making sure a design won't clash with their home. With AR, not only can your clients literally see how the design fits into their backyard, they can try out different color combinations in a commitment-free way. AR also makes it easy to take more creative "risks" with their design, like adding unique fountains or a trendy deck material. In other words, AR gives new meaning to the "try before you buy" ideology.
"There's something magical about when you're holding the tablet in your own hands," Nehlich says, "and you have an object that you expect in your mind… and it appears in the real world. You can walk around it and see it from all angles. It's a magical feeling,"
Rated E for Everyone
While AR clearly has a lot of potential for high-end builders to show off elaborate backyard escapes in a customer's own backyard, Nehlich is excited to see how mid-range pool builders utilize the app. For builders who specialize in package vinyl and fiberglass pools, efficiency is critical to annual revenue, and the best sales consultations are the ones that communicate the most information quickly and effectively. Instead of spray painting a Grecian pool shape on a client's lawn, showing them a composite or taking the time to render the project using software, these builders can use AR to show several designs in seconds.
"All the shapes from all the manufacturers are already pre-loaded into the app, just like they are in Pool Studio, so they can go to the property and just drag and drop their whole line of whatever brand of composite pools or vinyl pools they sell," Nehlich says. "So in the lower-end pool markets, it'll be a really valuable tool beyond what they're doing today."
AR is also a good match for remodeling experts, who can use the app to show smaller adjustments and add-ons.
"I was at someone's house and they needed wok fire pots on their pool. So we put a track pad on the back end of the pool, tossed in the fire pots and they fit great. The client could walk around and decide on the shape they wanted," Nehlich says. "It was only fire pots, but it was so fast that it made sense to use for even a small application like that. So there's a potential that the remodel guys will see a big advantage to this as well."
And while small businesses are always trying to keep overhead low, Nehlich says it won't break the bank to break into AR.
"The cost of entry will be much lower than Pool Studio, because with Pool Studio, you need a laptop and that's at least $900. With this, we're running it right now on $300 tablets. So the cost of entry will be much less," he says.
Training is also a nonissue, Nehlich says.
"We have people testing it out, and we hand it to them and tell them, 'Just point it at the tracker.' And a model appears, and it's just intuitive what to do after that. There's really no training," he says.
Augmented reality may sound a bit futuristic to some, and to that, Nehlich points to his history of pushing industry professionals outside of their comfort zone.
"When we came out with the first concept of Pool Studio, when we showed it off at the trade show, people came up to us left and right and told us we were ahead of our time and we'd never make it," he says. "So I hope everything we do is cutting edge and a little bit ahead of our time."
Technically Speaking
One of the biggest misconceptions about augmented reality is that it's the same as virtual reality. They're actually two different concepts.
Virtual reality takes aspects of our physical world and brings them into a digital world. When playing a virtual reality-based video game, for example, you might wear a headset, which brings you to the digital world. You're replacing the real world with a virtual one.
Conversely, augmented reality takes aspects of the digital world and brings them to our physical world. In other words, the real world is augmented by digital information. Structure Studios' app falls into this category, as it renders digital versions of products, like pools and spas, onto the real backyard environment.
Quick Facts
Structure Studios' AR app requires just a couple tools: the track pad and a tablet. The track pad, Nehlich explains, is specially designed by Structure Studios and is used to indicate the scale of the surrounding environment.
"Because it's a very specific size, it knows everything that [the user] drops in the scene will be 1:1 ratio with the real world," he says.
As such, the app only works with this specific track pad, which is sent to those who license the app. This also ensures the app is used by professionals only.
When ready to use the app, the user simply tosses the pad down in the backyard and fires up the app. Then, while pointing the tablet at the track pad, he or she can select from an extensive catalog of products, including pools, outdoor kitchens, structures, fountains and more. In addition, users can create custom designs, import them to the app and then show off the final design to their clients.
Nehlich says the app will be licensed separately from Pool Studio, and is expected be released in late summer 2016.
Hot Tubs on Demand
If you're a Coast Spas dealer, you might already be familiar with augmented reality, as the manufacturer released its own AR app last year called Virtual Coast Spas.
"It's neat because people can actually see the spa in their yard," says Jon MacAulay, general manager at Coast Spas Lifestyles (Langley, British Columbia). "Sometimes people have a hard time visualizing what things are going to look like, and what I've found is customers get a little bit more excited about it."
The app can be used on tablets or smartphones in tandem with an AR target that can be downloaded online. Unlike Structure Studios' app, which has a universal track pad size, Coast Spas offers several sizes for its target, and the AR model scales up or down accordingly. A 77-inch wide banner, for example, can be used for a full-size replica, while a standard letter size target is ideal for tabletop displays. MacAulay keeps a stack of card-sized targets on hand to pass out to customers.
"Customers like showing the plans to their friends; it makes for cool dinner conversation if they're getting excited about buying a hot tub," he says. He also notes that the smaller targets are ideal to use at off-site events, like home shows, for showing customers the full range of options the line offers.
Yet AR is more than a party trick; it's a tool that MacAulay says has helped redefine Coast Spa Lifestyles as a high-tech, modern company.
"Nobody else has anything like that, so when they go away, it leaves customers feeling that we are current," he says. "Being current is extremely important, especially in this day and age. It just gives the client that extra bit of confidence that we are always striving to be the best and to give them as many options as we can."
Test Drive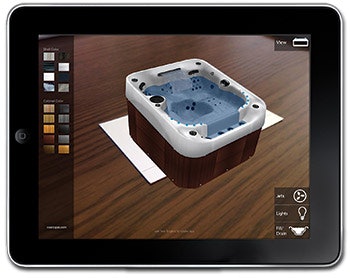 The best way to learn about augmented reality is to try it yourself. Here, we walk you through how to use the Virtual Coast Spas app so you can see AR in action.
1. Download the Virtual Coast Spas app in the Apple App Store. (Sorry, Android users, the app is currently available for iOS only.) It can be downloaded on an iPhone or an iPad.
2. Print off a logo from Coast Spas.
3. Open the app.
4. You'll see a message that says "Scan the Coast Spas Logo." Direct your camera toward the logo.
Presto! A hot tub appears. On the left side of your screen, you can select from various interior and cabinet color options.
Comments or thoughts on this article? Please e-mail [email protected].