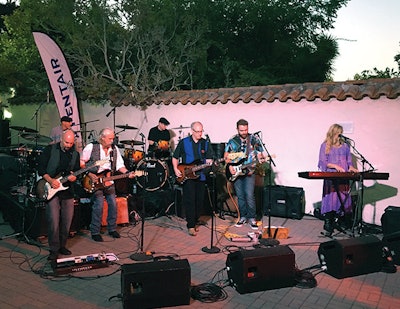 Swimming pools and music go together like pumps and filters, and a lot of fine musicians work day jobs maintaining pools, quietly strumming imaginary guitars or pounding out drum solos on buckets of tabs as they wait for the backwash water to run clear. Wouldn't it be great if some of the best backyard musicians gathered together to form an all-pool-pro band?
Well, about 30 years ago, they did just that. And they've been playing pool shows on and off ever since.
Back in 1989, guitar player/singer Eric Christiansen put together the Pool Man's Band and they played their first pool show. Over the years they returned, year after year, to the PIE Show in Monterey and the Western Pool Show in Long Beach, thrilling crowds of fellow pool pros with their unique brand of cool, fluid music.
RELATED: Pools by Day, Fun by Night
Like all bands, over the years, some people quit and some people joined, but the band kept going, bringing their sound to annual pool shows and other venues in California. There have been nine iterations of the Pool Man's Band over the years, and some very long sabbaticals, but the group reunited again recently to rock the PIE show in Monterey.
By all accounts, even after three decades, the band has not lost a lick. According to Christiansen, "This year's band is the best group of musicians we've had yet. We all work in different cities and play in other bands, but we rehearsed all summer long to prepare for this one gig."
It was a smash, said one PIE show attendee, 40-year industry veteran and AQUA media advisor Stan Chambers. "It was great to see the Pool Man's Band back. Everyone raved about the great performance that Eric and his crew put on. If you didn't know it already you'd never believe they had real jobs. Hopefully we see them back again next year."