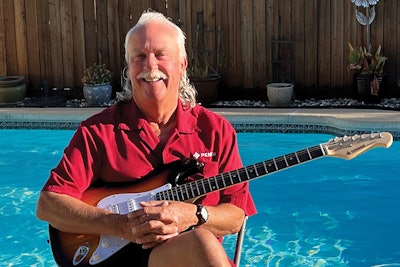 Photo courtesy Eric Christiansen
It was the spring of 1989, the Western Pool & Spa Show had just ended, and Eric Christiansen was enjoying some beverages in a bar with his fellow trade show attendees. He's a musician, so naturally, he had his guitar with him and due to the lack of nightly entertainment, he decided to get it out and play a few songs.
After a few beautiful tunes, what was once just a typical moment in a bar was transformed into a united experience through the magic of music. Ironically, there were other industry professionals in the bar crowd who were also musically gifted, and the only possible thought between them was: We should put together a band — a pool man's band!
And the rest is history. "We formed the first version of The Pool Man's Band," Christiansen says, "and it just snowballed from there."
The Pool Man's Band played regularly for years at both the Western Pool & Spa Show in the spring and the Pool Industry Expo in the fall; however, it's been a couple of decades since they have performed in Long Beach, Calif., for the Western Show. The PIE Show this month in Monterey, Calif., remains their steady (annual) gig.
"We perform mostly covers of classic songs," says Christiansen. "Rock n' Roll, Country and Country Rock are our genres of choice. Typically, whoever is singing the song will pick it, and since all of our vocalists have slightly different musical tastes, there's always a variety of hits in our setlist."
The Pool Man's Band will put on three, 45-minute shows at the Hyatt Hotel in Monterey, Calif., on the night of Friday, September 15 from 6 to 9 p.m. PDT. Current band members are: Greg Crumbo, lead guitarist, Diablo Valley Pool Pros; Eric Christiansen, guitarist and vocalist, Pentair Aquatic Systems; Dean D'Orio, bass guitarist and vocalist, Superior Pool Products; Brandon Hendrickson, guitarist and lead vocalist, Aquascape Custom Crafted Pools; Nick Woodson, drummer and vocalist, Pentair Aquatic Systems; Joe D'Orio, drummer, Advanced Pool Service; Lindsey Spight, keyboardist and vocalist, POOLCORP.
"Anyone who has ever been in The Pool Man's Band also works, or has worked, within the pool industry," says Christiansen. "My idea was not to put just any band together, but to put one together that consisted of musically talented pool and spa professionals because I wanted to entertain fellow pool people at our industry trade shows. Our performance is a nonprofit deal; we don't do this for the money, we do it for the fun of playing music together."
---
This article first appeared in the September 2023 issue of AQUA Magazine — the top resource for retailers, builders and service pros in the pool and spa industry. Subscriptions to the print magazine are free to all industry professionals. Click here to subscribe.