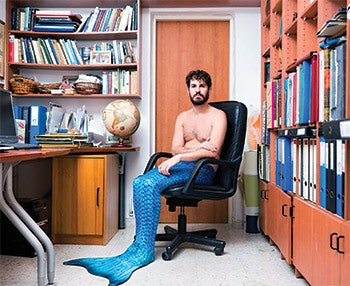 The stories of half-fish, half-human creatures of the deep go back thousands of years, inspiring classic movies like Disney's "The Little Mermaid" and Tom Hanks' "Splash." Now, legend has it a community of mermaids is washing up on Israel's social scene.
Together with fellow mermaid-lover Michelle Koretsky, Shir Katzenell started an unusual Facebook page: a group for aspiring mermaids. As a kid, Katzenell dreamed of swapping her sea legs for a fin and sequined bikini. To her surprise, many had the same idea and the group quickly garnered nearly 1,000 followers.
RELATED: The School for Mermaids
Katzenell is now a full-time mermaid and spends her time organizing events (the group gathers at public swimming pools across Israel), selling beautiful, brightly-colored tails — some with $800 price tags — and teaching newbies how to properly swim with a tail fin. The group also raises awareness about ocean preservation.
For some members, swimming as a mermaid simply reminds them of their childhood and sparks joy. For others, it is about individuality and freedom of expression.
One member, Udi Frige, compares disclosing his mermaid obsession to coming out in the LGBT community. "It's my thing. It's unique. It's who I am," he tells The Associated Press.
For the group's co-founder Michelle Koretsky, becoming a mermaid allows her to let go. "When I'm flying through the water with my tail, I forget about my worries," she says. "For that second, I'm a child again. I'm free."