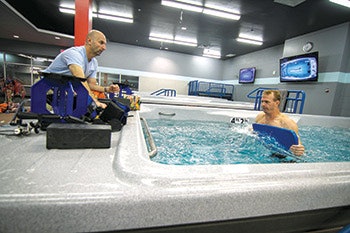 Most people wouldn't immediately think of Saco, Maine, as a place synonymous with top-flight aquatic training facilities. Yet nestled in this quiet and often frigid northeastern burg is a state-of-the-art indoor facility offering training across a range of aquatic sports and activities.
The Michael Phelps Skill Center is unusual not only for its unlikely location, but also for the fact that it's a swimming facility that has no swimming pools. Instead, it features four large, high-tech swim spas from Master Spas, all appropriately from the Michael Phelps Signature Swim Spa line. These continuous swimming systems, used in conjunction with underwater cameras and video displays that facilitate instant feedback from coaches, provide cutting edge swim training.
During a recent surprise visit to the Master Spas' annual sales conference in Fort Wayne, Ind., Phelps told the group that training in a swim spa, "was the number one thing that helped me with my stroke technique." Quite a ringing endorsement coming from the worlds all-time most decorated Olympian.
Since the facility opened in 2013, it's quickly established itself as a place where a range of users can improve their swimming. "It's an interesting mix of people they've got coming in there," says Bob Lauter, president of Master Spas. "They've got kids who are learning to swim, because it's a safe environment; it's not this big body of water that they're getting into, so they're not afraid.
"And," he adds, "you have elite athlete swimmers and triathlete swimmers that are coming in to swim and develop their stroke. Then you've got senior citizens that have had a hip replacement, bad knee, or just want to lose weight. So this whole cross-section of users, you'll see all of them there every day."
It's no coincidence the warehouse-like facility is located near Portland where Phelps' agent, Peter Carlisle of Octagon Sports, is based. According to reports, plans to open similar centers in other cities are currently underway.