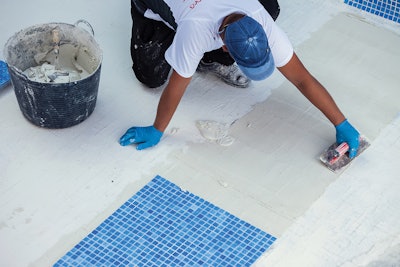 For the past several years, apprenticeships have seen a surge in popularity as employers have recognized their value in attracting people to skilled trades. At the same time, apprenticeship programs are highly coveted by non-college-bound students, military veterans, and career-changers eager for on-the-job training in vocations that offer the potential for career advancement.
Responding to this opportunity to help build the national pool and spa workforce, PHTA launched its first apprenticeship program for the service and maintenance sector in 2021, and just this summer launched the new U.S. Department of Labor (DOL) Registered Pool Installer Technician Apprenticeship Program for the construction sector.
Not only do apprenticeship programs open doors for recruiting, but they also enhance training opportunities that are tailored to company needs and develop highly skilled employees committed to safety and excellence in their craft.
WHAT IS THE POOL INSTALLER TECHNICIAN APPRENTICESHIP PROGRAM EXACTLY?
A Pool Installer Technician performs a supporting role in the activities involving the construction of swimming pools, spas, water features, decks, and related
components such as piping, filtration, hydraulics, safety, electrical systems, pool equipment, and various pool structures.
Apprentices attain new competencies, both technical and behavioral, through 3,500 to 4,500 hours of on-the-job learning. Competency in the work processes outlined in the apprenticeship program can be demonstrated through a variety of venues including observation, proficiency demonstration/aptitude exam, questions and answers, learner's products, simulations, project work, mentor testimony, and/or evidence all was demonstrated on the job.
The employer can assess each apprentice's prior experience to determine if credit for advanced standing can be awarded for the work processes schedule and related instruction. Prior experience can be assessed through resumes, interviews, job assignments, and/or demonstration of competencies. Assigned mentors will assess apprentices for credit for prior experience at any time during the probation.
WHAT DO APPRENTICES LEARN THROUGH THE PROGRAM?
The Pool Installer Technician Apprenticeship Program supplies unparalleled teaching, mentoring, and learning connections. Through structured training, apprentices will learn to:
Develop and practice worksite safety and maintain safe work environments.
Determine proper transit use on a worksite and/or proper water level use as necessary.
Read plans in relation to pool and spa construction.
Calculate elevations and slopes.
Read a tape measure and select the correct hand tools necessary to perform tasks related to pool construction.
Apply the correct order of operations of pool construction.
Properly maintain erosion control, including drainage for downspouts.
Set up temporary site protection.
Apply basic pool hydraulics principles during pool installations
Effectively apply equipotential bonding principles during pool construction to reduce the risk of equipment damage and personal injury.
Demonstrate proper safety protocols with safety setbacks from overhead electrical lines, heater vents, or other hazardous locations.
Determine if site documentation was completed before construction starts through resources such as easements.
Comply with the International Swimming Pool and Spa Code (ISPSC). Contact the utility when needed to mark the area before digging.
Not to mention professional and soft skills that are essential to employee growth and customer service!
READY TO GET STARTED?
PHTA makes it easy for employers to enroll int he Pool Installer Technician Apprenticeship Program. There are three simple steps — and above and beyond that, the Association offers a "concierge" service supported by a team of consultants to ensure you have the support you need to engage in the program. Contact [email protected] or visit apprenticeship.phta.org/register to take the first step.