We'll say it: Swim spas are totally underrated.
They offer aquatic exercise on demand, saving precious time traveling to and from the gym. They provide therapy and relaxation — not to mention a lot of fun. And, perhaps most importantly, swim spas are compact enough to fit in almost any backyard or exercise room.
The problem of the swim spa is a problem of imagination. Many customers haven't seen them at work in the backyard environment and can't envision what a handsome and useful addition they can be.
But we're here to help. In the following pages, you'll find a collection of just some of the ways you can install a swim spa — and do so beautifully. In some cases, the swim spa is a discreet presence, tucked in a corner or blended in with rock features or decking. In other cases, the swim spa is the focal point, adorned with attractive accessories and accents.
You don't think swim spas can be made attractive? Just take a look at these.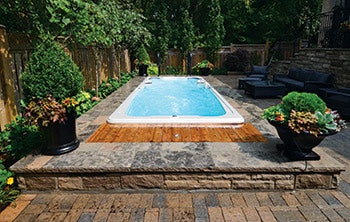 Backyard Oasis
The owners of this Toronto-area home were looking for the full swim experience, but also wanted room for seating and gardens. Thus they chose a swim spa, in this case a 19-foot-long fx AquaTrainer from Hydropool. Built by BonaVista, based in Ontario, the AquaTrainer is submerged in the ground and accented with stone facing and flagstone coping crafted by a local stone mason. Not only is it attractive, but the concrete vault that houses the mechanical equipment keeps the swim spa thermally efficient. The owners use the swim spa year round, with a tapered thermal cover in the winter months and a solar cover for the summer months.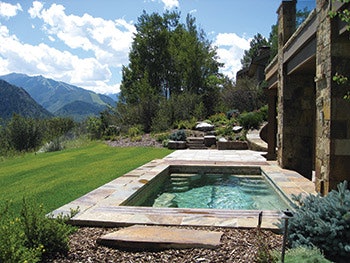 A View of the Mountains
It's a large family that lives in this home in Aspen, Colorado, and they needed a multi-use product to meet all their aquatic needs. For them, a swim-spa was the ideal solution. This swim spa was custom-made by NESPA Tiled Spas and features a tumbled quartz mosaic, a Current Systems Riverflow pump, benches for sitting, an automatic Coverstar cover and a slew of jets, including calf and floor foot jets. Not only can the family at this home use the swim spa for various exercises, from walking to strenuous swimming, but they can also turn on the jets and enjoy some hydrotherapy.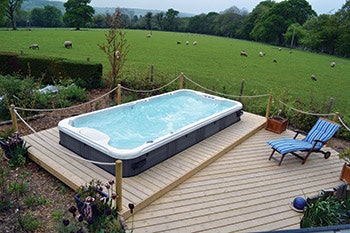 An English Retreat
This model is L.A. Spas' In-Fit 16 PRO Exercise Pool, sold by U.K. retailer Welsh Hot Tubs to a customer in West Wales. Welsh Hot Tubs managed the entire project, from the sale to ground clearance, excavation, concrete work (which included pouring a 6-inch reinforced-concrete slab), building the retaining walls, installing a drainage system and, finally, landscaping the surrounding area.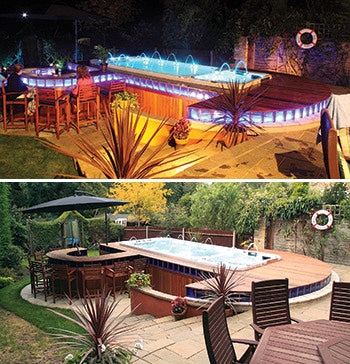 All Decked Out
The owners of this home in Bagshot, a small village south of England, wanted a leisure area as well as some kind of swimming pool. But a small backyard with limited access and a quick timeframe meant the team had to move quickly, and a swim spa was the perfect solution. The homeowners went with Catalina Spa's Marathon 18/5, which was craned in. An interesting note on the design of the swim spa: the cold discharge air is utilized to cool the wine storage area. We'll drink to that.
Right on the Border
Swim spas are ideal for smaller backyards, and this project in Vaughan, Ontario, is the perfect example. To create this backyard, John D'Ambrosio, president of Pro-Land Landscape Construction, and his team built concrete retaining walls toward the back of the property, allowing them to sink the Hydropool swim spa to ground level. (This, however, caused a few headaches since special permitting is required when building retaining walls less than four feet from the property line.) A steel frame was created around the swim spa to extend four feet on either side. Epay decking was placed on either end and is easily removed for anyone who needs to climb down and check out the equipment. This was D'Ambrosio's first swim spa project, but he says it went smoothly. "Except for dealing with the city to allow us to do it, the actual project itself went quickly."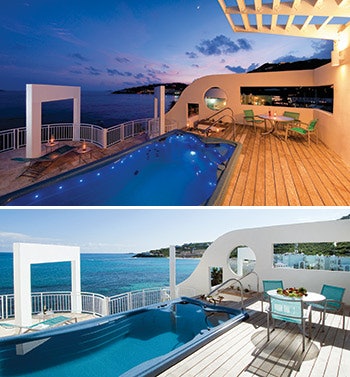 By the Sea
This installation gives "aloft" a whole new meaning. Located on the top of an apartment complex in St. Martin, Master Spas' H2X model overlooks a beautiful oceanic landscape. According to Master Spas Customer Service Manager Ken Miller, the project started with a flat roof upon which the H2X was placed, and then everything else was built around it. Features include weathered teak decking and areas for grilling and dining, making this rooftop a destination all its own. (Photos courtesy of Master Spas)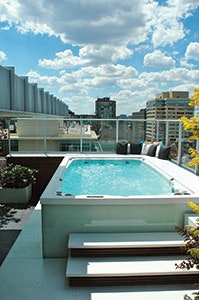 Rooftop Oasis
For the customer with the penthouse lifestyle, swim spas are a perfect way to create both a relaxing escape and an exercise spot — and all without having to leave the house. This project, built by BonaVista in Ontario, perfectly captures that dynamic using a rooftop Hydropool swim spa with a custom Corian surround. And that view of Toronto ain't bad, either.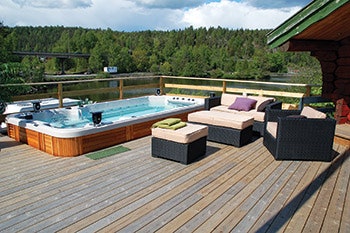 By the Lake
While living on the lake has its benefits, there's one definite downside: a winter season that prevents any kind of aquatic fun. In need of year-round aquatic access, the owners of this home in Oslo, Norway, opted for Catalina Spa's 16-foot Relay model. For the installation process, the swim spa was lifted onto a concrete platform via helicopter; the deck was subsequently built around it.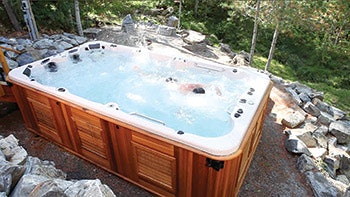 Into the Woods
What do you do when you want a pool, but don't have the space? With a super steep backyard, building a pool on this property in Smelterville, Idaho, was out of the question — yet it was perfect for a swim spa. The homeowners carved out a terrace in the backyard, accessible by stairs, and with the help of a crane, lifted the swim spa into place. The swim spa, an Arctic Ocean, is Internet-control ready — a must-have feature for these homeowners, as they travel extensively and require remote operation.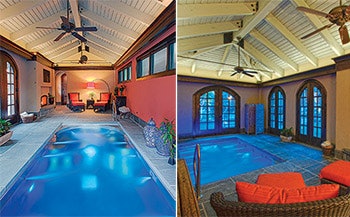 Superior Interior
This Denver-based project, built by BOA Construction, features a custom stainless steel swim spa by Diamond Spas. According to the pros at Diamond Spas, customers commonly turn to swim spas because they want to swim, but don't want a massive swimming pool to do so. Taking the Goldilocks approach, this custom swim spa is just right. This project measures just over 9 feet by 14.9 feet and includes an automatic safety cover.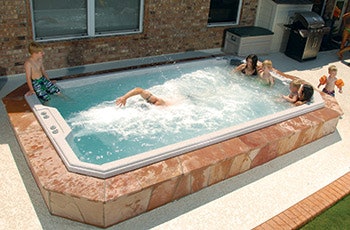 Texan Escape
The Scott family of Katy, Texas, sought a swim spa for therapy and relaxation purposes — and to keep the family's two sons in top form for the swim team. The property, which overlooks a golf course, is subject to height restrictions that required the Sunbelt Luxury Swim Spa to be submerged in the ground. Contractors on the project, the Kona Pools team, used Texas flagstone for the surround; the surrounding white areas are Kool Deck imprinted on concrete.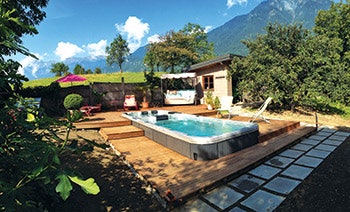 French Countryside
At this home outside Lyon, France, if you're not looking at the breathtaking mountains, you're looking at this spa from Passion Spas out back. And as it turns out, swim spas are quite popular throughout Europe. "Because of space restrictions and permitting required for inground pools, swim spas are a much more economic product from a space and price perspective," says Rick Mouw, president of Almost Heaven Saunas and partner in Passion Spas USA. According to Mouw, the model seen above is an Aquatic 3.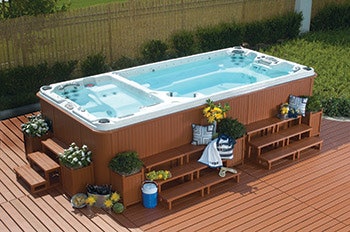 Dressed Up
Some swim spas are installed to blend in, but others prefer them to serve as a focal point. Case in point: Cal Spas' Ultimate Fitness Swim Spa F 1770, which features cabinets, steps and planters to perfectly match the deck on which it sits. Just goes to show that sometimes, all you need are the right accessories to really make something shine.