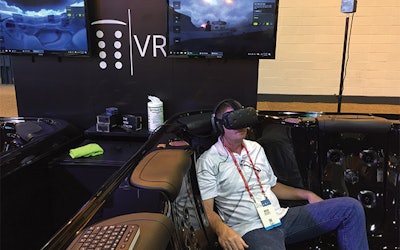 Virtual reality is one of the biggest movements in technology right now, largely due to its simple premise: Just put on a headset and you can be transported to a whole new world.
Naturally, VR perfectly complements the gaming industry — its inherent qualities, like first-person perspective and the ability to look in all directions, blur the line between reality and the game world like never before. (It's no surprise that VR headsets were the hot item for Christmas.) At the same time, tech giants like Google, Facebook and Apple are racing to discover ways VR can expand beyond the gaming sphere and into other fields.
As it turns out, a hot tub manufacturer is among the first to explore the idea of VR as a sales tool.
RELATED: Is Augmented Reality the Next Big Thing for Pool Design?
At the November Pool | Spa | Patio Expo in New Orleans, Bullfrog Spas debuted a VR program it hopes will help its retail partners draw in more customers and, more importantly, win them on the brand. We spoke to insiders at Bullfrog about how the system was developed, how it's intended to help retailers and addressed the elephant in the room: Is VR just a fad, or is it here to stay?
Captive Audience
Bullfrog's VR program consists of two parts: an interactive spa-building program, in which guests use VR remotes to "grab" spa colors and JetPaks to create a custom model; and what is perhaps the more innovative piece, a five-minute immersive story of the Bullfrog brand.
When developing the latter, titled "The New Reality," Bullfrog Creative Director Samson Madsen needed to balance two goals: create a sales message that communicates the features and benefits of the Bullfrog brand and do it in a way that feels genuine.
"That was something I was really clear about when I first started doing it," Madsen says. "I was like, 'Listen, this is a totally different medium. And if we're not true to it, it'll seem too sales-y. You want it to feel like it's an experience, not like you're being pitched something."
The final result — which took about 10 months of rigorous development and required Madsen to create a custom camera rig to execute — is a promotional video with a heavy cinematic twist, including several impressive visual effects. (To learn more about what the experience was like, see the sidebar.)
RELATED: Pool Builder Turns to 3-D Printing Technology
By turning the promotional video into an engaging "journey," as Madsen puts it, VR solves a marketer's biggest headache: maintaining a rapt audience.
"The big difference is that it's immersive," says Jake Ricks, Bullfrog's digital marketing manager. "It not only grabs your attention and gets you focused on hearing the marketing message, but additionally, it blocks out everything else. So that's a big reason to have one of these in your showroom — you're able to completely captivate somebody."
"The New Reality" is designed to be viewed from the corner seat of a Bullfrog spa. It's a charmingly sly way of incorporating a classic sales tactic into the VR experience by getting the customer interacting with the product as soon as possible.
"The moment they start sitting in things and grabbing things and touching things, they're starting to take a much higher interest in the purchasing decision," Madsen says. "If on your first meeting you all of a sudden get in the product, you're now touching and interacting with the product — you don't even feel like you're being sold to. And when you get out of it, you already have an emotional attachment.
"Even if they go cross-shop you somewhere else with another brand, it's going to be really hard to shake that feeling," he adds.
A New Lure
With online merchants continuing to disrupt the traditional in-store sales process, retailers are thirsty for new ways to keep the foot traffic coming. Cabela's and Target, for example, are adding in-store restaurants and cafes; even grocery stores are adding bars and dining areas. These changes are helping transform brick-and-mortar stores into destinations that encourage guests to stay longer and visit more often. According to Ricks, it's time for hot tub retailers to think similarly.
"A lot of the sporting stores, Scheels and Cabela's and places like that, they're places people can go and spend almost half a day. They're trying to really captivate those people and create a fun experience," he says. "I think that's never been top of mind for spa dealers, of course; you just don't think that much about going and spending any amount of time at a spa store, but VR actually makes it so there's a reason to come try it."
Madsen puts it simply: "If people aren't interested in coming in to see a hot tub, they may be interested in coming in and watching and playing with VR."
Retail, Evolved
While the VR experience is a new, engaging way of interacting with customers, Bullfrog is especially excited about its potential outside the showroom.
"Having these two experiences gives the dealers the opportunity to completely expand the retail experience," Madsen says. "Instead of opening up another 5,000- or 10,000-square-foot showroom, you now have the ability to open up a kiosk at your local mall.
"Think about the power this gives — you don't have to hire a super high-commission or high-wage salesperson," he adds. "You can hire a $15 per hour person to take orders or create lead gen while sitting at your local fair, or mall, or parking lot somewhere."
"For a long time, retail has looked for tools that can be used as kind of a 'silent salesperson,'" Ricks says. "Like in-store POP, this is just a technologically advanced poster on the wall. It helps the customer understand and experience the product."
Rad or Fad?
Dealers can smell a gimmick a mile away — and given its status as a hot, trendy piece of tech, dealers may find VR easy to overlook. Madsen, however, finds those who try the system change their tune.
"Even dealers that are apprehensive, saying, 'You gave me a gimmick! This is another thing that I've got to pay for, and who knows what's going to happen to it,' when they get out of it, they're overwhelmingly turning to their business partners to say, 'We've got to get this.'"
Shawn Maynard, a Bullfrog dealer with three locations in Utah, had reservations about VR in the dealership setting.
"I wasn't really skeptical of the technology of it, I was really more skeptical of the concept of it," he says. "My preconceived notion was this is a thing for stores that don't have good salesmen. But the more I thought about it, the more I realized that there were times at my store when I have more than one customer, maybe two or three waiting in line, and this is a thing I can use in my store to entertain the people who are waiting their turn."
Bullfrog's VR kit includes the headset, the two programs, handheld controllers for the spa design program, a computer, a TV (used to show what the user is experiencing in the headset) and stands for proper display. Altogether, the kit is about $4,000 — a price point that may cause a few double takes.
"I know from our dealer standpoint, the $4,000 price point was a bit of a rub if they hadn't seen it. But as soon as they came out of it, it was like, 'We'll take two,'" Madsen says with a laugh.
Ricks thinks it's important to keep the cost in perspective, especially when compared to other marketing materials.
"You contrast that with a lot of standard POP that spa retailers are using these days, things like printed fabric and large-scale POP, and the cost is actually not that bad," he says. "Couple that with the fact that you can run standard video on your screen while people aren't using the VR, and you can continually update this stuff, because it's digital. It's not like the fabric sign you have to buy every two years."
After his VR experience at the PSP Expo, Maynard ordered one kit. He plans to test it out for six months and see how it performs.
"If it works and it behaves like you hope it will, then the price is a bargain," he says. "If it's just flashy technology that's interesting for a minute and then you set it in the corner, probably not."
My VR Experience
"Just put this on," a Bullfrog staffer tells me, handing me a headset.
We're at the PSP Expo in New Orleans, and I'm sitting in the corner of a Bullfrog spa, preparing to test out the beta version of "The New Reality."
I slip the headset on — it's surprisingly heavy — and put on headphones. Even though we're in the midst of a busy trade show floor, I can't see or hear anything. It's like being suddenly shut in a dark room.
Then the video begins.
It opens on a Bullfrog spa in a heavenly dreamscape of softly rolling clouds, the sun shining in the distance. The guide, a young woman named Hope, walks around the spa, orienting me to the experience. She offers a reminder that I can look around in all directions, including behind. I take her up on it, taking time to admire the truly lovely surroundings.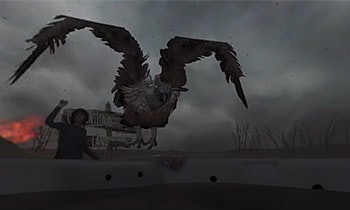 "Try not to get too cozy just yet — we should cover some things first," she says.
I'm glad I took time to appreciate the clouds, since our next stop is "Conventional Land," a post-apocalyptic landscape with a thunderous sky, a fire in the background and, for good measure, a vulture perched on the edge of the spa, tearing into a carcass. It's just a little intense.
"This world of conventional spas is very, very uncomfortable," Hope says, dramatically understating things. I'm still sitting in a spa, but this one is filled with murky water. The JetPaks have been replaced with small jet returns and one lonely headrest.
As she discusses the plumbing found in conventional spas, Hope is slowly encompassed, and constricted, by snake-like plumbing. She struggles as the "monster" slowly climbs her torso, but with a furious effort she escapes. (Whew!)
Now free from her captor, Hope wants to make sure that thing is dead.
She grabs a nearby stick and attacks the beast (now off-screen) with it.
"The '80s called: They want their plumbing back," she yells between strikes, which land with a heavy thud.
When she's satisfied, Hope takes a moment to collect herself, tucking her hair back in place behind her ear. With a hand on her hip and her weapon slung over her shoulder, not unlike the final girl in a horror movie, she brightens.
"Luckily for you, there is a better way," she says, before whisking me away.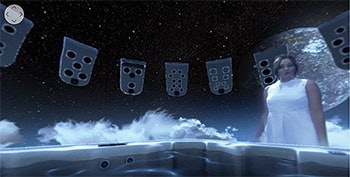 We've arrived somewhere above the atmosphere. It's a beautiful, serene locale with a few clouds, a large planet and a sky speckled with stars. I take a moment to look around and take it all in.
Hope begins describing Bullfrog's mission as the JetPaks rise from my spa into the air. I look up to follow their trajectory.
"A beautiful piece of technology emerges, sets itself apart and rises far above conventional spas," Hope says.
The Jetpacks descend as Hope begins to explain the JetPak Therapy System. As she touches a JetPak, it moves down into the spa. That's when I notice the water in this tub is perfectly clear, with a beautiful shimmer.
"Look down for a moment," Hope says. The spa interior disappears to reveal the structure of the base, including the plumbing system. It's a nice touch.
"Your Bullfrog Spa will never rot, warp or corrode," she explains. As she says "rot," she opens her palm to reveal a weathered branch. At "warp," the branch contorts. At "corrode," she opens her other hand to reveal a rusted piece of metal. It's nice visual metaphor, one I missed entirely on my first view. (I was too busy looking down, like she told me to.)
"Go ahead and indulge in the most advanced spa experience, designed just for you," Hope concludes. She walks away and disappears in a sci-fi glimmer.
After watching that, I have to admit — I want to.
Comments or thoughts on this article? Please e-mail cailley@aquamagazine.com.