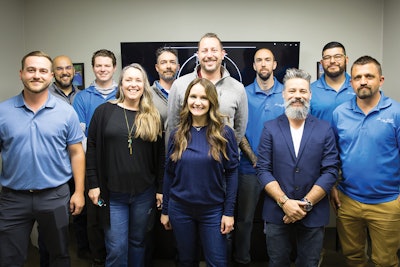 Photo courtesy Angela Wilson Photography
Paul Collins, founder and CEO of Living Water Custom Pools in Plano, Texas, started out in the pool and spa industry the same way many other veterans have, working from the bottom up. However, his story is unique in that he was given the opportunity, with little to no schooling or training, to design and build pools for a well-established company: Riverbend Sandler Pools, with the guidance and support of a few professionals, of course.
"I ended up going through the ranks there," says Collins. "I cleaned pools, and then I worked in the retail store. I formed a good relationship with a gentleman who sold a lot of pools and had a lot of industry connections. Right around this time — I think I was 19 years old — Riverbend was moving to a different design software called AutoCAD. They asked me if I knew how to use it, and I said yes even though I didn't, but I had always thought designing pools would be really cool, so I lied. I had been drawing and doodling all over the place ever since I was a little kid; I just loved being creative. I naively applied for the job and spent about a week just playing around and learning the new program. The sales manager really liked me, so I was able to start tracing his drawings in AutoCAD. I did this for about two years."
When Collins first went to the Riverbend vice president after this two-year drawing span to inquire about designing pools himself, he was immediately shut down. However, shortly thereafter, the VP decided to leave the company, and instead of hiring a new one, Riverbend CEO Charles Barnes decided to take complete charge.
"He kind of threw me a bone," says Collins. "He told me that if I could sell and design pools on my own time, with the leads that nobody else wanted because they were too far out, then he'd pay me for it. So that's how I actually started designing pools, and I took this initial opportunity very seriously. I sold more pools than anyone else thought I could, especially at a time when social media wasn't really a thing, so acquiring leads was much more difficult."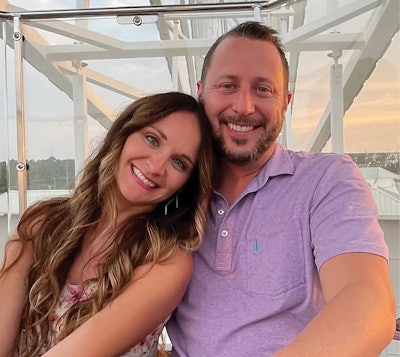 Also at this time, pools were a type of commodity in the Dallas area. Customers would buy pools to cool off in and saunas to relax in, but the outdoor structures — like a kitchen, for example — were rarely built and thought of by both designers and customers alike. However, a designer named George O'Campo had different, creative ideas when it came to breaking the backyard pool status quo, and took Collins under his wing to broaden his designer portfolio.
"We got really excited when designing different stuff," says Paul. "We were doing things other folks weren't really thinking about at the time. But then the recession hit in 2008, and when we went from 12 designers to six, I was one of the people who got laid off. I was told that I was talented, but they had other guys that had been with the company forever, so they had to move me into remodeling. They promised to give me leads once the economy was back up and running; however, I withered on the vine. At the time, I didn't see remodeling as an opportunity. It was torture dealing with existing work because I was so hung up on starting with a blank canvas, I just didn't have the right mindset for the job."
Luckily, another industry giant stepped into Paul's professional journey while the recession was still in full swing, asking if Paul would come design for him instead.
"I got recruited by Chad Daines at Southernwind Pools. He appreciated my work and work ethic, so he asked me to leave Riverbend and come design for him. It was a very difficult decision, but I couldn't keep remodeling and doing the same thing over and over again, so I made the switch. I still remember selling my first $100,000 pool. I thought there was no way anyone would spend that much money on a leisure item, especially during a recession. I mean heck, I lived in a house that only cost $60,000 at the time, so I just couldn't comprehend it. But I think designing a custom backyard that suited a person's needs gave that personal touch people were willing to pay for."
As the years went on and the recession passed, Paul started posting his designs on Facebook, not really understanding how digital marketing worked, but definitely reaping the benefits from it. The wife of his last boss, Charles Barnes, stumbled upon his photos, which resulted in his former company asking him to come back to it and work there as a full-time designer. So, he chose to go back to Riverbend Sandler Pools and really begin his independent journey.
"I would ask my customers basic questions like, 'What made them want to get a pool in the first place? What did they want to do in their pool?' Their answers would really help me get an initial visual of the project and from there, my creative brain and skill would just take over."
Paul's career changed from designer to CEO when he had the privilege of meeting and working with Scott and Ashley Bass in Amarillo, Texas. This was another lead that no one else wanted to touch because of how far out it was from Dallas, but for Paul, it was a moment in time that was both life-altering and career-changing.
"I'll never forget them," says Paul. "I was actually going through a divorce at the time, and they really helped me out. They were such a great couple, and they really believed in me. They praised my design and building skills, and told me about the potential pool market in the Amarillo area. After meeting them, I decided to step out on my own. I got remarried and started a family, so I just couldn't work 70-hour weeks anymore. I decided to create a business that focused on building around 10 really good pools every year, so that none of my employees would ever have to work over 40 hours a week, myself included."
Living Water Custom Pools became an official LLC in 2013. From its inception, it has continued to grow and push the boundaries of traditional pool design. "At first it was really scary," says Paul. "It was such a big leap of faith. But my new wife, Julia, and I decided to go for it, and we haven't looked back since."
This article first appeared in the May 2023 issue of AQUA Magazine — the top resource for retailers, builders and service pros in the pool and spa industry. Subscriptions to the print magazine are free to all industry professionals. Click here to subscribe.