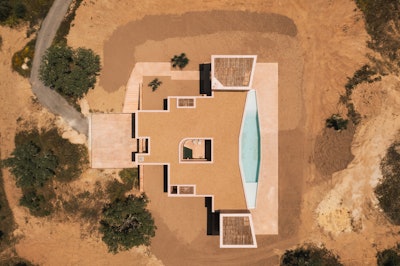 Photos courtesy Francisco Nogueira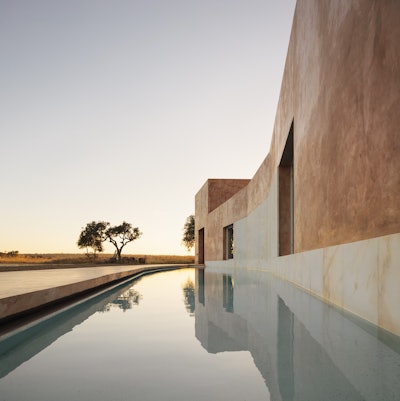 A geometric house in Portugal, completed by Bak Gordon Arquitectos, was built to highlight an unusually shaped swimming pool.
Nestled in the country's Alentejo region, Casa Azul's design was heavily influenced by its environment. "The house emerges from the figure of an extensive pool, facing south, as if it was a resonance box of the entire landscape," the studio says. "[The pool] was designed to reflect the surrounding rural landscape, which is formed of grassy and sandy terrain."
Inside, opposite the pool, an open-plan room serves dual function as both a living and dining space. Two fresco rooms, described by the studio as "places of transition between interior and exterior," flank the structure on either side.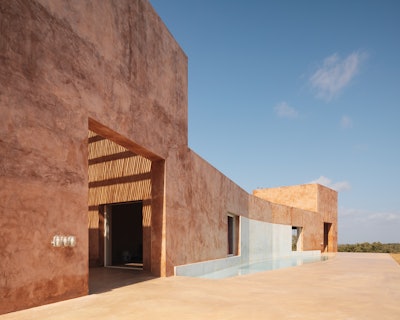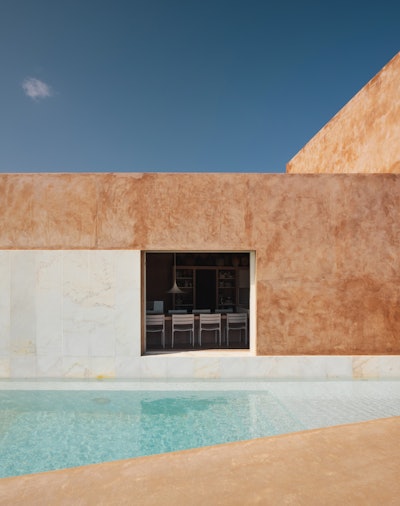 Emphasizing the relationship between light and shadow, Bak Gordon Arquitectos notes the "shape and geometry of spaces" and "insightful openings" that flood natural light into the house and provide excellent views. The remainder of its interior — with three bedrooms and three bathrooms — is framed around a central courtyard that features another smaller pool.
The Alentejo region, spanning about one-third of Portugal, is known for its plentiful cork oak groves. The crop has long been a key export for the country. In fact, today, the area provides around 50% of the world's supply of cork.
Fitting, then, that Bak Gordon Arquitectos chose a cork insulation for Casa Azul. "We like to think about how we relate to the landscape," the studio explains. Additionally, the house is lined with lime mortar, a material that has long been used in Alentejo's ancestral buildings.
This article first appeared in the October 2022 issue of AQUA Magazine — the top resource for retailers, builders and service pros in the pool and spa industry. Subscriptions to the print magazine are free to all industry professionals. Click here to subscribe.