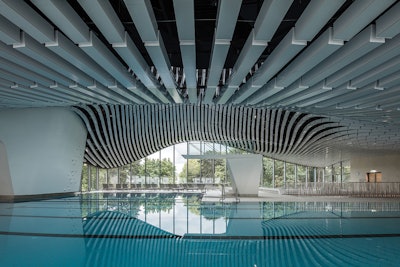 All photos courtesy Christian Richters | Berger+Parkkinen Associated Architects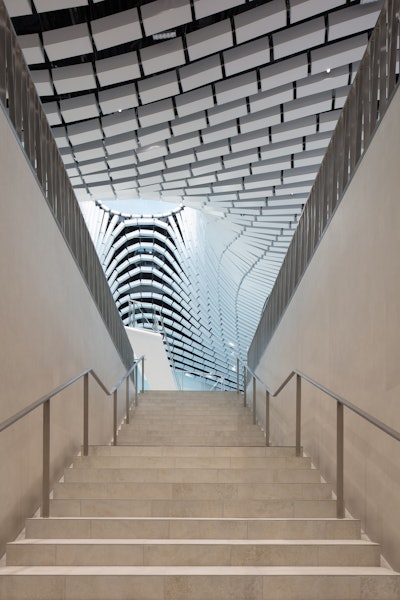 Highlighting the surrounding landmarks and mountains of Salzburg, Austria, the geometric swimming facility called "Paracelsus Bad & Kurhaus" — designed by Berger+Parkkinen Associated Architects — is a visionary architectural project.
"The building's outstanding impact is a result of the dialogue between the new spaces and existing surroundings — the baroque gardens, known as Mirabellgarten, the old town and the surrounding mountains," says architect Alfred Berger. "The indoor swimming pool is conceived as an expansion of the park on the third floor. Through the visual integration of the city's treasures, the project offers a unique combination of physical relaxation and cultural inspiration."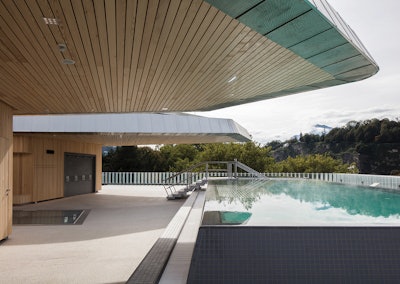 Wide, central stairs lead guests from the main entrance, through the three plinth floors, to the swimming level beyond, with most of the facility being naturally lit by the sun during daytime hours. There are four different, ceramic pools: a sports pool, a diving pool, a kiddie pool and a relaxation pool, all of which sit below a wavy, ceramic ceiling. This swimming level opens — through the implementation of storey-height glass elements — on the trees, gardens and city beyond, further emphasizing the beautiful, urban surroundings of the structure.
At the top of a building, there are sauna facilities, a relaxation zone and an outdoor swimming pool, which provides guests with the sense they are bathing above the city's rooftops. "In our projects, references to the built environment, natural surroundings and the social context are extremely important," says architect Tiina Parkkinen.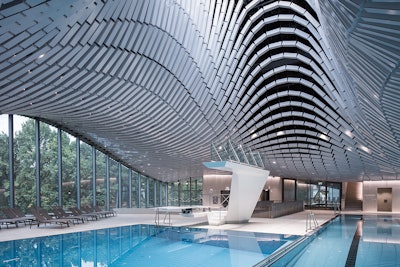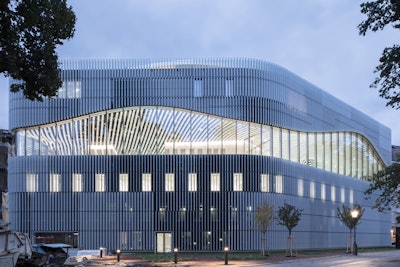 From the very beginning, the project planning team aimed to build a highly efficient building — a goal that was met after a comprehensive sustainability analysis was performed, and the facility was awarded the highest level of certification: Klimaaktiv GOLD.
This article first appeared in the June 2023 issue of AQUA Magazine — the top resource for retailers, builders and service pros in the pool and spa industry. Subscriptions to the print magazine are free to all industry professionals. Click here to subscribe.