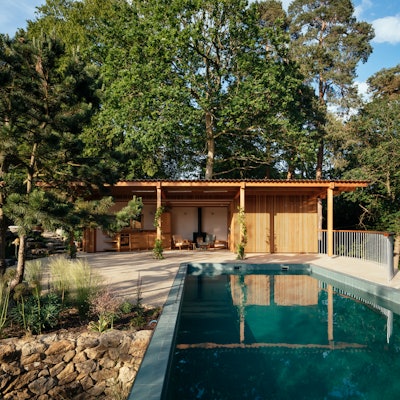 All photos courtesy Jim Stephenson
Located within an organic garden in Surrey, England, a swimming pool and pool house were designed by Surman Weston — an architecture studio based in London — to capitalize on the natural, open landscape of the greenery surrounding the structures.
The Surman Weston team worked closely with landscape designer Mathew Childs in order to place both the pool and pool house naturally and harmonically into the existing garden. The client's house is perched on top of a hill — near Reigate Heath, a Site of Special Scientific Interest (SSSI) — with gardens descending in every direction. However, the client wanted Surman Weston and Mathew Childsto create a new space for rest, exercise and socializing in the south-facing, rear garden, so that's exactly what they did.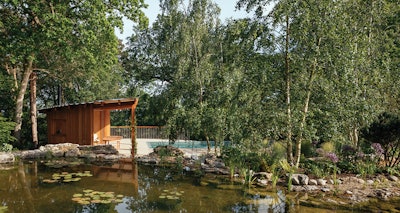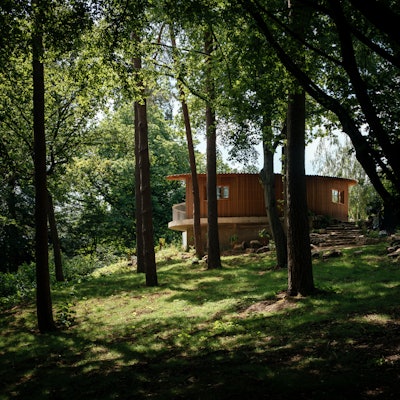 The pool house acts as a bold, geometric counterpoint to the setting, which is a combination of woodlands, gardens and ponds. A concrete disc was placed to level out the height difference between the gardens and woodlands, creating a podium and terrace for the pool house. The swimming pool is over 30 feet long, and is chlorine-free to stick with the client's "natural" theme of the entire backyard space.
The house was built using only three main materials: concrete, timber and corrugated aluminum roofing. Large sliding doors allow it to fully open up to the terrace, transforming the compact, internal space into a large outdoor room, perfect for entertaining guests and dining. The structural frame, sliding door frames and cladding are all made from Douglas fir, which will fade over time to match the muted tones of the surrounding oak, beech, pine, ash and hazel trees.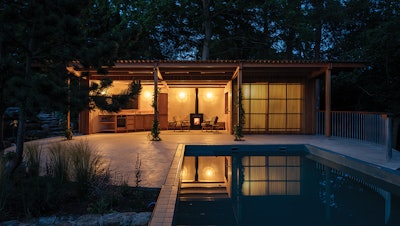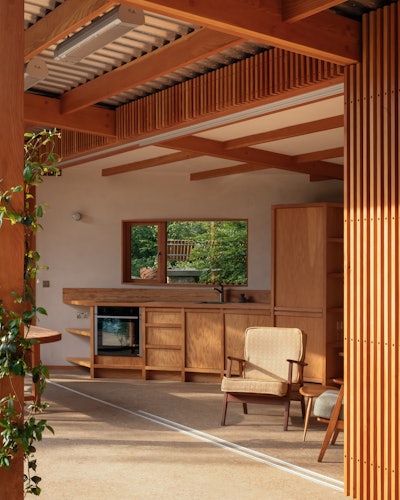 Inside the pool house, Douglas fir was also used in the kitchenette and soffit. These wooden elements are set against the natural plaster that was used for the curved rear wall and sloping soffit, and when combined with the wood-burning stove and marble hearth, it creates an inviting and cozy space that the client can enjoy year-round.
"It was a pleasure to work on a project in such a natural setting in which we could create a finely crafted sculptural insertion," says Tom Surman, Surman Weston director. "We have such a range of projects — from the more socially minded examples... to residential refurbishments where the external architectural expression is often limited — so it was very satisfying to work in a context that allowed us to play with the combination of landscape, composition, materials and craft."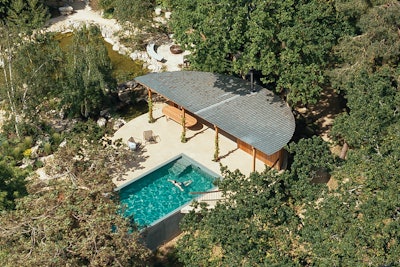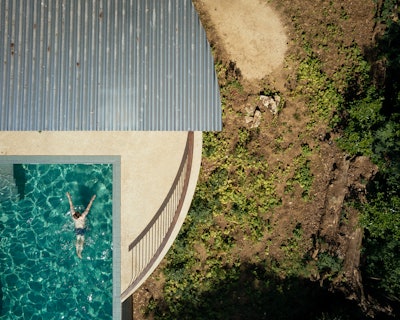 This article first appeared in the July 2023 issue of AQUA Magazine — the top resource for retailers, builders and service pros in the pool and spa industry. Subscriptions to the print magazine are free to all industry professionals. Click here to subscribe.