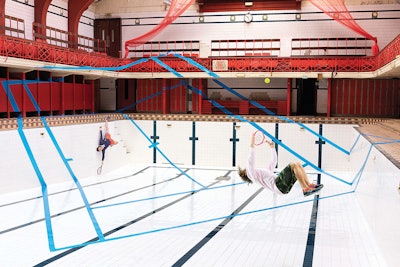 All photos courtesy Joseph Ford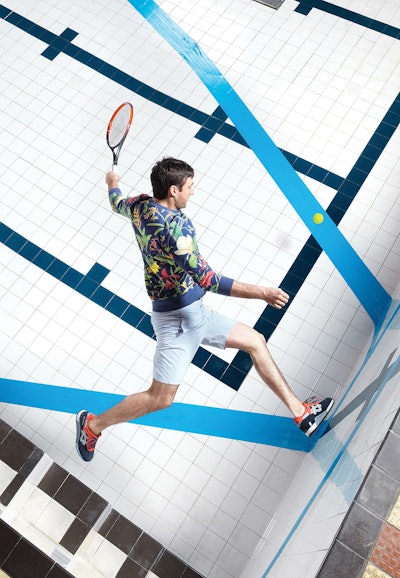 Picture this: 1.5 miles of blue gaffer tape, seven assistants, two anamorphosis artists, two parkour artists, one derelict swimming pool, a tennis match, a trusting director of photography and a talented photographer named Joseph Ford. Fortunately, you don't really need to ponder what all these components would morph into for long because the photos embellishing this page are the result of said "picture."
"This was one of the most challenging shoots I've ever done," says Ford. "For the uninitiated, anamorphosis is a distorted projection or perspective requiring the viewer to occupy a specific vantage point to view the image correctly. A famous example of anamorphosis is Holbein's 'The Ambassadors,' where a distorted skull appears in the foreground. Viewed from the front, the skull is hard to decipher; viewed from the side, the skull becomes clear."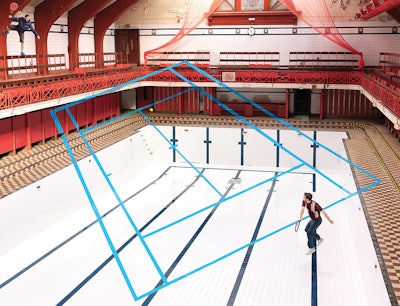 The shoot was originally undergone for an editorial in Avaunt Magazine. The team used the tape to carefully map out the boundaries of a tennis court within the rundown pool to intentionally distort the perception of space. In this case, the anamorphic image can be viewed correctly from the building's second floor balcony.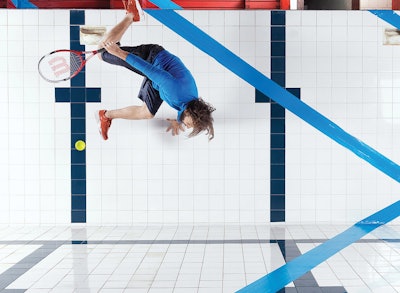 "We spent three days in freezing conditions setting up and shooting this anamorphic tennis match," says Ford. "Everything is for real. The tennis court was laid out by hand by a team under the direction of Papy and Milouz from TSF Crew. The parkour artists, David Banks and Kevin Lancombe from Parkour Generations, jumped off balconies, ran sideways along the walls and generally risked serious injury to create these images."
This article first appeared in the June 2023 issue of AQUA Magazine — the top resource for retailers, builders and service pros in the pool and spa industry. Subscriptions to the print magazine are free to all industry professionals. Click here to subscribe.