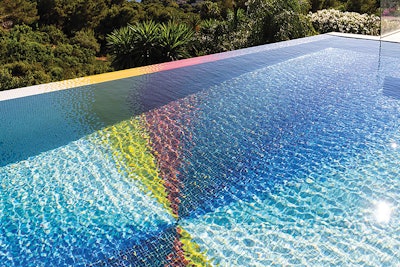 All photos courtesy Felipe Pantone
Celebrated for his colorful, pixeled and digitalized art works, Felipe Pantone turned a conventional swimming pool into an exquisite site. Using 130,000 glass mosaic tiles, the "Infinite Pool" appears to be in constant motion, creating a kaleidoscope optical effect for the fortunate homeowners and visitors.
Pantone, an Argentinian-Spanish artist, is based in Valencia, Spain, but his work is celebrated all across the world. With previous exhibitions and installations in Paris, London and Mexico City, Pantone's striking use of color and geometry can be seen across all his works, especially this one.
For this project, Pantone wanted "to create an effect that had never been seen in a pool before: an underwater design that focuses on the light." Choosing just seven colors for his design, Pantone got to work.
ONIX, a glass mosaic manufacturer, provided Pantone with thousands of mosaic tesserae to use for his project, and with the various tones of blue, yellow and red, Pantone placed the tiles at the bottom of the pool, starting from the center and extending to the walls, in a prismatic order, creating a helix of bright glass mosaic tiles.
The "Infinite Pool," as Pantone cleverly named it, gives the illusion that the vivid mosaic tiles are constantly in motion, almost as if the glowing spiral were alive, due to the rippling water and the ceaseless movement of light.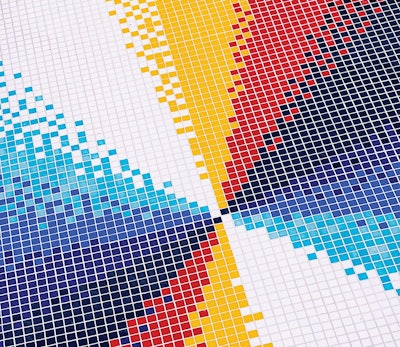 The "Infinite Pool" is located in the backyard of a charming seafront home in Jávea Spain. The home, designed by architect Esther Santos, is a contemporary minimalist home that strikingly differs from the brightly colored pool. "I love the contrast it forms with the rest of the house," says Pantone. "With its clean-cut forms, as well as with the views and the setting."
While the pool is not open for curious visitors, the evermoving rainbow is a mesmerizing sight to see.
This article first appeared in the June 2023 issue of AQUA Magazine — the top resource for retailers, builders and service pros in the pool and spa industry. Subscriptions to the print magazine are free to all industry professionals. Click here to subscribe.